Volume 10 – August 2021
Greetings from DISG Secretariat
Dear Readers,
First of all, we would like to congratulate that the Tokyo Olympics were finished successfully despite the difficult situations. It was also a great pleasure to see the outstanding performance of Southeast Asian athletes, especially female athletes. We want to offer a round of applause for all the athletes.
Below are this month's topics.
First, the result of the second batch of the Asia DX demonstration project, which is one of the flagship projects of ASEAN-Japan cooperation, was announced last week and 40 projects were selected across Southeast Asia in total with the first batch. This is an initiative to support the partnership between companies in ASEAN and Japan with the funding of the Government of Japan to promote digitalization in various fields such as mobility, healthcare, and agriculture.
Second, the ASEAN-Japan Foreign Ministers' Meeting was held on 3rd August where it was confirmed that green and digital are two important pillars on the economic front. The adoption of a joint document aimed at green recovery across East Asia was very encouraging news for the region. There was also a statement from Japan regarding vaccines and other medical treatment support to ASEAN.
Third, FJCCIA, a coalition of Japanese companies operating in ASEAN had the opportunity to meet with ASEAN Secretary-General H.E. Lim Jock Hoi and others in tandem with JETRO. They confirmed that they would cooperate and work closely together on i) maximizing the potential of the ASEAN intra-market and broader economic integration, ii) inclusive digital transformation, and iii) a more sustainable and resilient future.
Please refer to the following pages for further details.
Lastly, we are happy to announce that our next DISG webinar is coming soon on 26th Aug with a topic of Green Growth. We hope many participants will enjoy this opportunity to get better understanding about how Japan and ASEAN can realize and accelerate the energy transition.
We are deeply concerned about the current difficult situation in the region and hope that peaceful daily life will be restored as soon as possible.
Stay safe and healthy,
KOBAYASHI Hirokazu
Chair of AMEICC DISG Task Force
Executive Director, JETRO Singapore
The result of the 2nd batch of Asia DX demonstration project ("ADX")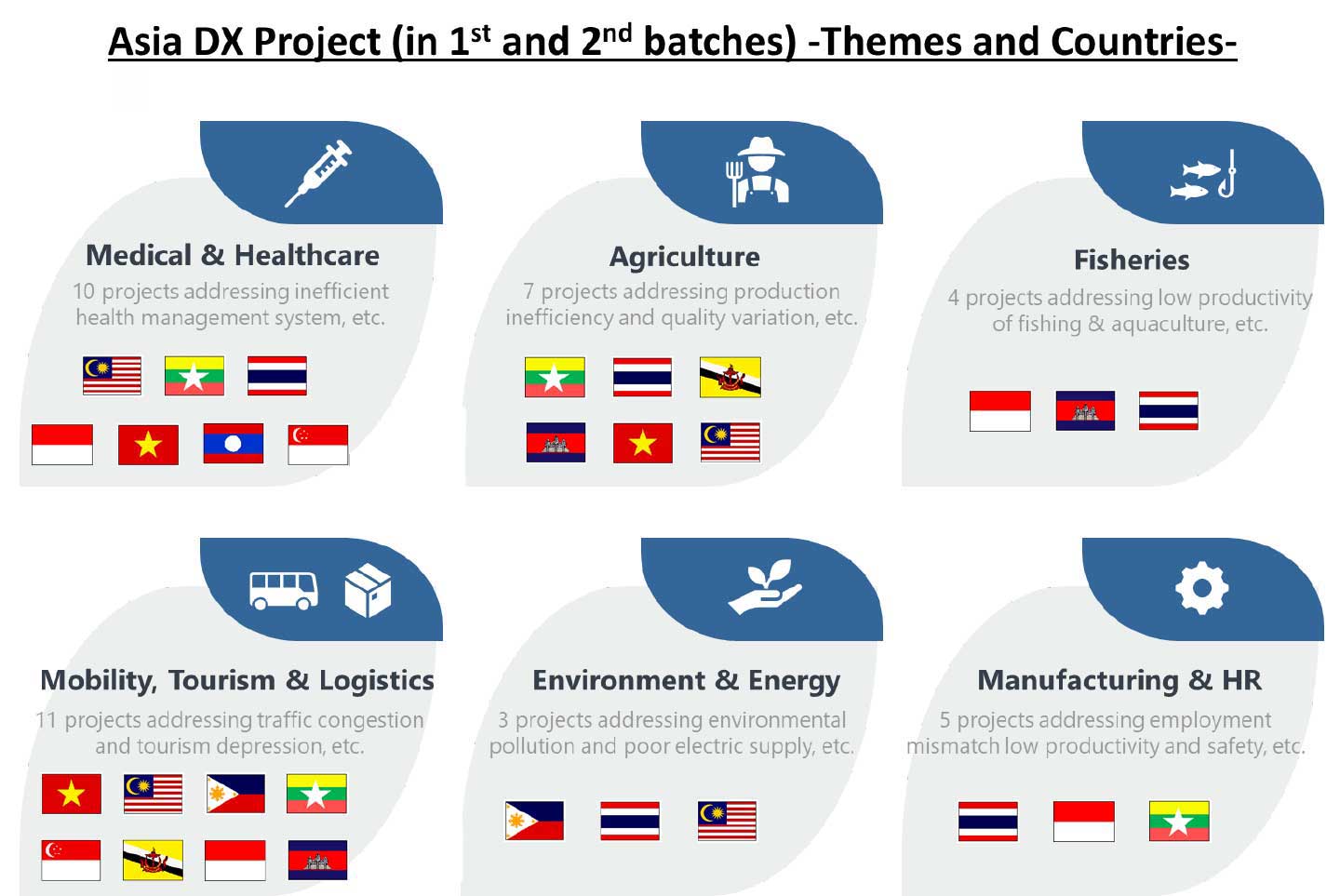 On 3rd August, it was announced that 17 demonstration projects were selected as the second batch for the Financial Support Program for Strengthening Asia Digital Transformation (ADX). To sum up with the first batch, 40 projects were adopted altogether across the region. This program, funded by METI Japan and one of the flagship projects among ASEAN-Japan Economic Resilience Action Plan, aims to promote digital innovation to solve various socio-economic challenges in ASEAN including ones brought by COVID-19 and covers expenses for demonstration projects on digital technologies carried out by Japanese and ASEAN companies jointly. The 40 projects are well diversified in terms of themes, which includes medical & healthcare, agriculture, fisheries, mobility,tourism & logistics, environment & energy, and manufacturing & HR.
Details of the individual project will be taken up in our webinars and newsletters.
ASEAN-Japan Foreign Ministers' Meeting

*1 & *2 https://www.mofa.go.jp/mofaj/press/release/press3_000547.html
On 3rd August, the ASEAN-Japan Foreign Ministers' Meeting was held online.
Vietnam Foreign Minister H.E. Mr. Bui Thanh Son welcomed the steady progress of ASEAN-Japan relations over the past three years when Vietnam served as ASEAN Country Coordinator for Japan, and expressed his intention to further deepen the strategic partnership between ASEAN and Japan.
Minister Motegi expressed his sympathy for the outbreak of many new COVID-19 infections in ASEAN countries, and as a true friend of ASEAN, Japan provided comprehensive support in the field of health care and vaccines for ASEAN to overcome this difficult situation together by supporting the reconstruction framework and maintain and strengthen the principles of rule of law, openness, transparency, and inclusiveness in the Indo-Pacific region. It is important to create concrete cooperation that will lead to support for the ASEAN Outlook on the Indo-Pacific (AOIP) issued by ASEAN and its progress, which is the cornerstone of the realization of the "Free and Open Indo-Pacific (FOIP)".
In addition, Minister Motegi mentioned that ASEAN and Japan will celebrate the 50th anniversary of friendly and cooperative relations in 2023. During the celebration of the 50th anniversary, there will be an invitation for the leaders of ASEAN countries to visit Japan where a special summit meeting will be held. Finally, there was also a proposal to bring ASEAN-Japan relations to a new stage, in which every country expressed their respective support.
Dialogue between ASEAN SG and Japanese Business leaders
in ASEAN region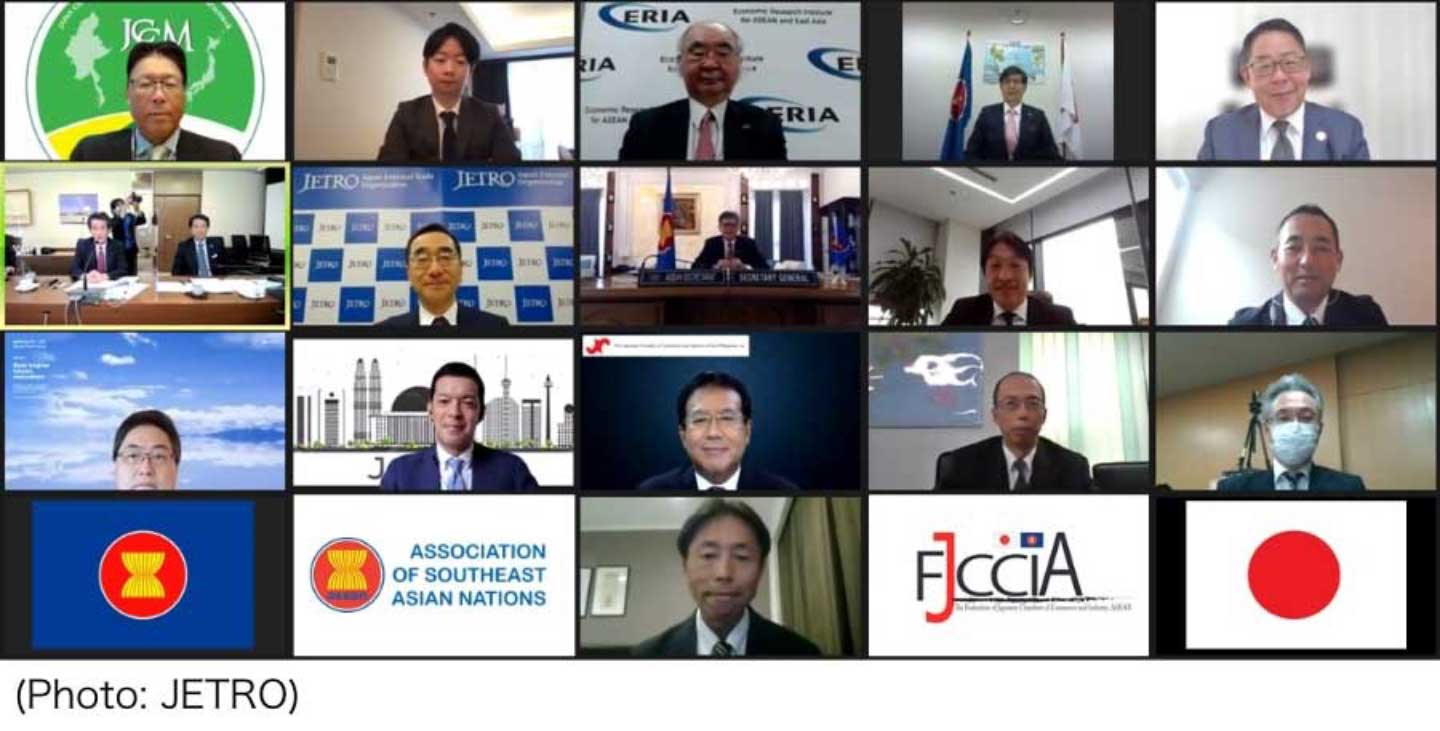 The 13th dialogue between the Federation of Japanese Chambers of Commerce and Industry in ASEAN (FJCCIA) and the ASEAN Secretary-General was held on 7th July.
The FJCCIA is a coalition of 10 Japanese chambers of commerce and industry from 9 of the 10 ASEAN countries, with a membership of 7,332 companies as of June 2021. The FJCCIA has been holding dialogues with the Secretary-General of ASEAN once a year since 2008.
Following the ASEAN Comprehensive Recovery Framework (ACRF), which ASEAN aims to achieve, Mr. Inoue Soichi, Chairman of the FJCCIA proposed cooperation and requests in three areas: i) maximizing the potential of the ASEAN intra-market and broader economic integration, ii) inclusive digital transformation, and iii) a more sustainable and resilient future. He also reported on the recent tightening of visas and work permits for expatriates in Vietnam, Singapore, and other countries, and requested for the ASEAN Secretariat to communicate with the ASEAN Member States, saying that this would lead to a decline in future investment and technology transfer.
Besides, he added that FJCCIA welcomed the progress of the DISG and looked forward to further cooperation and support by the ASEAN Secretariat and AMS in the further development of the DISG in the future.
In response to Japan's proposal and request, H.E. Dato Lim Jock Hoi, Secretary-General of ASEAN responded that the ASEAN Secretariat would raise these key recommendations of the FJCCIA to the AEMs and relevant sectoral bodies, with follow-up actions and would provide their responses in timely manner.
The 6th DISG Webinar
"Promoting Green Growth and Energy Transition in ASEAN region"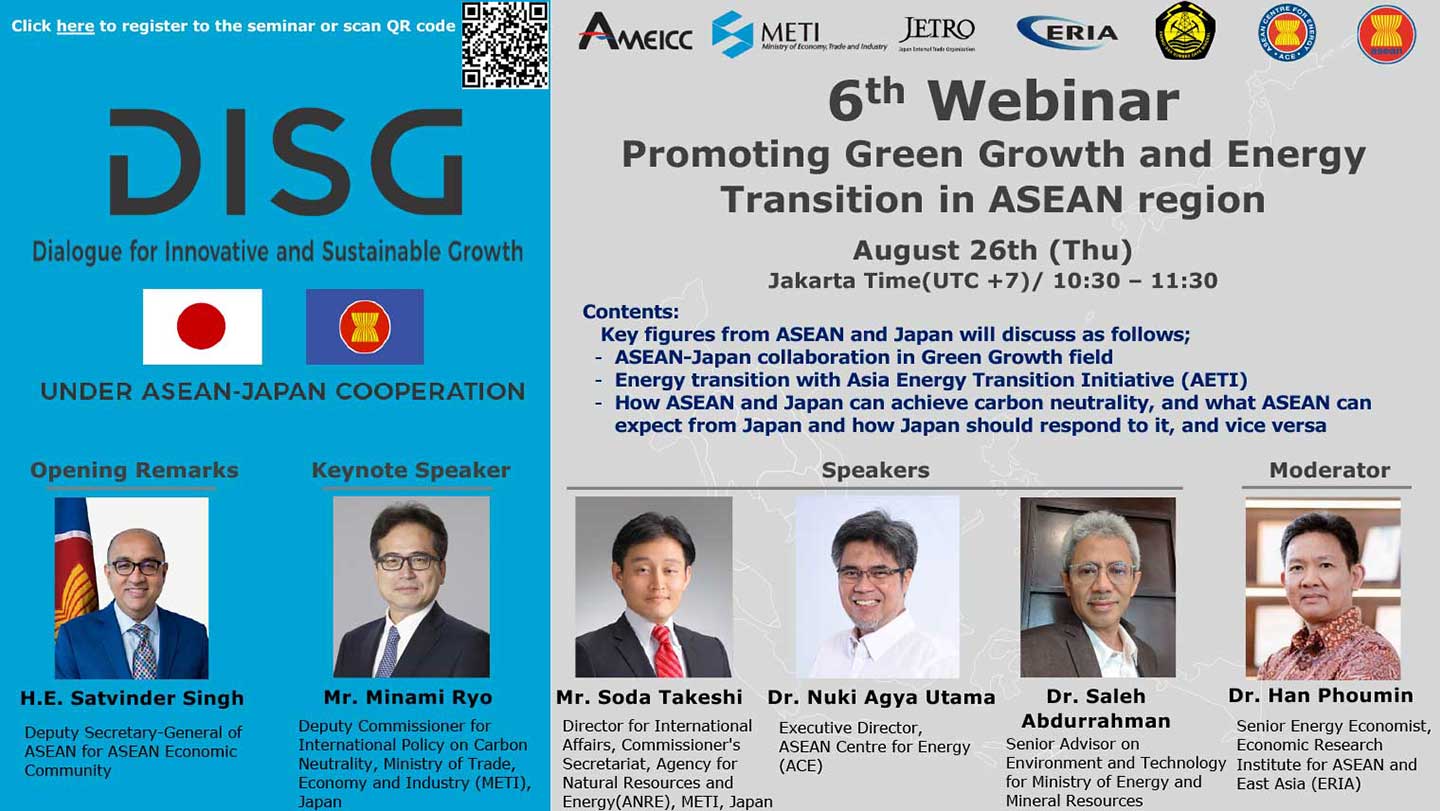 We're pleased to announce the 6th DISG webinar in the theme of "Promoting Green Growth and Energy Transition in ASEAN region" to be held 10:30-11:30AM(UTC+7) on 26th August (Thu).
In this webinar, key figures from ASEAN and Japan will share the latest information of ASEAN-Japan collaboration in Green Growth field as well as the importance of promoting energy transition with AETI, Japan's comprehensive support initiative for energy transition in Asia.
Then they discuss what benefits would be brought to ASEAN industry, government and academia regarding AETI, how ASEAN and Japan can achieve carbon neutrality, and what ASEAN can expect from Japan and how Japan should respond to it, and vice versa.
| | |
| --- | --- |
| Opening Remarks : | H.E. Satvinder Singh, Deputy Secretary-General of ASEAN for ASEAN Economic Community |
| Keynote Speech : | Mr. Minami Ryo, Deputy Commissioner for International Policy on Carbon Neutrality, Ministry of Trade, Economy and Industry (METI), Japan |
Panel Discussion
Mr. Soda Takeshi, Director for International Affairs, Commissioner's Secretariat, ANRE, METI, Japan
Dr. Nuki Agya Utama, Executive Director, ASEAN Centre for Energy (ACE)
Dr. Saleh Abdurrahman, Senior Advisor on Environment and Technology for Ministry of Energy and Mineral Resources
Dr. Han Phoumin, Senior Energy Economist, Economic Research Institute for ASEAN and East Asia (ERIA) (Moderator)
Please register here to join us.