The result of 2nd Batch of Asia DX project coming up and 40 projects selected in total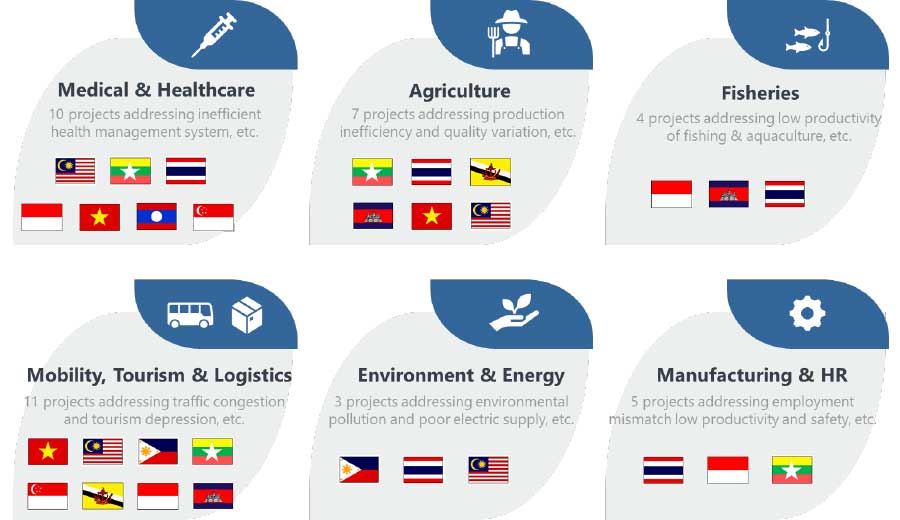 On 3rd August, it was announced that 17 demonstration projects were selected as the second batch of the Financial Support Program, named "Asia Digital Transformation (ADX)" program.
The Financial Support Program, funded by METI Japan and one of the flagship projects among ASEAN-Japan Economic Resilience Action Plan, aims to promote digital innovation to solve various socio-economic challenges in ASEAN counties. This program covers expenses for demonstration projects on digital technologies carried out by ASEAN and Japanese companies jointly. Through the implementation of the demonstration projects, Japanese companies will proactively contribute to deliberating measures for further disseminating digital innovations and to creating a business environment in collaboration with the governments and private sector in ASEAN countries.
The result of the first batch was already announced last October and 23 projects selected are ongoing. Adding 17 projects in the second batch, 40 projects in total are flagship projects to promote collaboration between ASEAN and Japan's companies in the digital innovation under the ADX program.
These 40 projects are well diversified in terms of themes, which includes medical, agriculture, fisheries, mobility, tourism, environment, energy, manufacturing and so on as follows. Besides these are implemented across ASEAN region because of wide range of Japanese companies' business activities.
Details of the individual project will be taken up in the DISG website in the near future.
You can see details of all of 40 projects below. Please click on a country name you are interested in to find out more about the project.
Project Name
Japanese Company
Local Partner
Type of Business
Development of temperate vegetable cultivation technology in Brunei using the container-type robotic cultivation system "EcoNursery"
See detail
ELM Inc.
SUPERFISH GROWERS SDN BHD
Agriculture
Proof of Concept for On-demand Shared Mobility in Brunei
See detail
Mitsubishi Corporation
Dart Logistics Sdn.Bhd.
Mobility
Project Name
Japanese Company
Local Partner
Type of Business
The Project of PoC on financial DX through application for visualization among mobility after-sales service providers and member drivers in the Kingdom of Cambodia
See detail
CAMPFIRE SOCIAL CAPITAL, Inc.
Global Mobility Service (Cambodia) Co.,Ltd.
Mobility
Development and demonstration projects of the Production Management System with farm-raised tilapia utilizing a digital transformation(DX) for building the aquaculture economics in Cambodia
See detail
FishBiotec Co.,Ltd.
Rainbow Progress Enterprise Co.,Ltd.
Fisheries
Project to introduce "Iroha", the Japanese Crop Monitoring Service, and promote DX in Cambodia
See detail
SkymatiX, Inc.
JC Agricultural Cooperatives Co.,Ltd.
Agriculture
Development and demonstration of a MaaS digital platform for tourism in Angkor (Cambodia)
See detail
Toyota Tsusho Corporation
Siem Reap Provincial Government, etc.
Tourism
Project Name
Japanese Company
Local Partner
Type of Business
Development and implementation of an OEE losses analyzer (OLA)
See detail
Fuso Machine Works, LTD.
PT. Toyo Business Engineering Indonesia /
PT Trmitra Chitrahasta
Manufacturing
Surface fishery digitalization in Indonesia
See detail
OceanEyes Co.,Ltd.
PT Kopernik
Fisheries
The project for the development of a more accurate monitoring service business for telemedicine and other situations using sensing devices in Indonesia
See detail
PARAMOUNT BED CO.,LTD.
PT. Metro Healthcare Indonesia. Tbk
Medical/
Healthcare
Social IoT services in Bali, Indonesia, to support its inbound tourism industry
See detail
Sojitz Corporation
PT. Digitalinstincts Teknologi /
PT. Aino Indonesia
Tourism
Project Name
Japanese Company
Local Partner
Type of Business
Provision of health-management platforms by leveraging Personal Health Record infrastructure
See detail
Ryobi Systems Co.,Ltd.
AMZ Group Co., Ltd.
Medical/
Healthcare
Project Name
Japanese Company
Local Partner
Type of Business
Development of an online medical platform based on personal health records in Malaysia amid the COVID-19 epidemic
See detail
Allm Inc.
Sunway Medical Center
Medical/
Healthcare
Development and introduction of solutions for contribution to the DX of dialysis clinics in Singapore and Malaysia
*This project is implemented also in Singapore.
See detail
Allm Inc.
DaVita Care Pte. Ltd.
Medical/
Healthcare
Smart City Bus POC (Proof of Concept) Project aiming to mitigate traffic congestion in Cyberjaya, Malaysia
See detail
Artisan Inc.
TK International Sdn Bhd / Cyberview Sdn Bhd
Mobility
Automobile recycling demonstration project utilizing IoT End-of-life vehicles management system in Malaysia
See detail
KOBELCO CONSTRUCTION MACHINERY CO.,LTD.
Eco-R (Malaysia) Sdn Bhd
Environment/
Energy
Oil palm disease early detection business by ultra-high precision spectrum measurement
See detail
Polar Star Space Co.,Ltd.
FELCRA BERHAD, etc.
Agriculture
Development and Demonstration of "EV Mobility Data Platform" to Promote the Spread of Electric Vehicles in Selangor, Malaysia
See detail
SmartDrive Inc.
Management & Science University (MSU) / Garisan Industries Sdn Bhd
Mobility
Project Name
Japanese Company
Local Partner
Type of Business
Project for PoC on the quality and traceability of agricultural products through a farming support platform based on an AI image recognition model in Myanmar
See detail
ARUN Seed, Certified Non-Profit Organization
Greenovator Co.,Ltd.
Agriculture
Trial and marketing of the excretion disorder rehabilitation program in Myanmar
See detail
Fujita Medical Instruments Co.,Ltd.
Innovasia MJ Co.,Ltd.
Medical/
Healthcare
Introduction of COVID-19-FREE Digital Assessment Tool for the tourism industry in Bagan, Myanmar
See detail
Nippon Koei Co.,Ltd.
Bagan Hotel Association, Hotel Operators, Travel Agents, IT Vendors
Tourism
Demonstration project of streamlining education and training using visual-based manuals in Myanmar
See detail
STUDIST CORPORATION
Growth Myanmar Co.,Ltd.
Human Resource
Project Name
Japanese Company
Local Partner
Type of Business
Demonstration project of smart mobility platform in the country of Philippines
See detail
Broadleaf Co.,Ltd.
Angat Pilipinas Transport Cooperative
Mobility
Creating sustainable Islands in the Philippines by building a distributed energy platform
See detail
CHALLENERGY INC.
Philippine National Oil Company (PNOC) /Department of Energy
Environment/
Energy
Improving visibility and traceability for cross-border supply chain
See detail
IHI Jet Service Co.,Ltd.
HAKOVO PTE, LTD.
Logistics
Project Name
Japanese Company
Local Partner
Type of Business
Development and introduction of the Helppad, an excretion care system developed in Japan to solve the shortage of nursing staff
See detail
aba Inc.
Leave a Nest Singapore Pte.Ltd.
Medical/
Healthcare
Development and introduction of solutions for contribution to the DX of dialysis clinics in Singapore and Malaysia
*This project is implemented also in Malaysia.
See detail
Allm Inc.
DaVita Care Pte. Ltd.
Medical/
Healthcare
Advanced Road Management using Big Data from vehicle camera mounted on commercial vehicles in Singapore
See detail
Nippon Koei Co.,Ltd.
Car Club Pte Ltd.
Mobility
Demonstration project to implement "AI-based medical interviews" at private clinics in Singapore
See detail
Ubie, Inc.
Private clinic chain in Singapore
Medical/
Healthcare
Project Name
Japanese Company
Local Partner
Type of Business
Development of a service with disease risk prediction model in Thailand
See detail
Hitachi, Ltd.
Major private hospital group
Medical/
Healthcare
The Project of Building a productivity improvement service business by IoT tools and surporting improvement in Thailand
See detail
i Smart Technologies Co.,Ltd.
Mobile Innovation Co.,Ltd.
Manufacturing
Verification of a business model using digital technologies and power infrastructure standards for thermal power plants
See detail
JERA Co.,Ltd.
KHANOM ELECTRICITY GENERATING COMPANY LIMITED
Environment/Energy
Demonstration of horticultural strawberry cultivation in hot areas (in Chiang Mai, Thailand)
See detail
Nihon Agri, Inc.
DENSO INTERNATIONAL ASIA CO.,LTD.
Agriculture
Advanced Safety management system for Manufacturing and Construction site worker by using image sensing AI
See detail
NIPPON STEEL ENGINEERING CO.,LTD.
AI and Robotics Ventures Company Limited
Manufacturing
Demonstration project for localization of simple aquaculture water quality monitoring service using DX in Thailand
See detail
OPTEX Company, Limited
HAPPY FARM KERDPHOL CO.,LTD.
Fisheries
Demonstration project to build a digital infrastructure for rice farmlands information in Thailand using satellite data
See detail
Sagri Co.,Ltd.
ListenField / The Thai Ministry of Agricultural Cooperatives (MOAC)
Agriculture
Career education media platform business for Thai university students
See detail
The Asahi Shimbun Company
Ozaki Consulting Co,Ltd.
Human Resource
Development project of data platform for shrimp farming in ASEAN region by using IoT/AI technologies
See detail
Umitron K.K.
Charoen Pokphand Foods Co.,Ltd.
Fisheries
Project Name
Japanese Company
Local Partner
Type of Business
Development of an AI-assisted online bacteria identification support platform aimed at promoting DX in the infectious disease area in Vietnam
See detail
CarbGeM Inc.
Bach Mai Hospital
Medical/
Healthcare
Development of smart clinic chains aimed at promoting DX in the clinic sector and development of medical big data platforms in Vietnam
See detail
Medring Co.,Ltd.
Japan Vietnam Health Bridge Co.ltd.
Medical/
Healthcare
Implementation of "Pig Net", a DX production management system, in the Vietnamese pig farming industry
See detail
Sojitz Corporation
Pig farming and feed manufacturing-related companies, etc.
Agriculture
The Project of AI Route On-demand Share Bus Demonstration in Hanoi, Socialist Republic of Vietnam
See detail
WILLER Inc.
Renaissance Vietnam, Inc., etc.
Mobility