Focus on ASEAN-Japan Collaboration 2:Mitsubishi Heavy Industries Asia Pacific
ASEAN-Japan collaborations to address social challenges in ASEAN region
AMEICC Secretariat is interviewing several Japanese companies which provide innovative and sustainable solutions to social challenges in ASEAN region. Let us introduce such activities contributing to ASEAN development as examples of ASEAN-Japan cooperative projects. Today, we would like to introduce Mitsubishi Heavy Industries Asia Pacific Pte. Ltd., which is working to implement hydrogen powered "tri-generation" plant for data centres in Singapore.
Interviewee: Mr. Ujiie Junya from
Mitsubishi Heavy Industries Asia Pacific Pte. Ltd.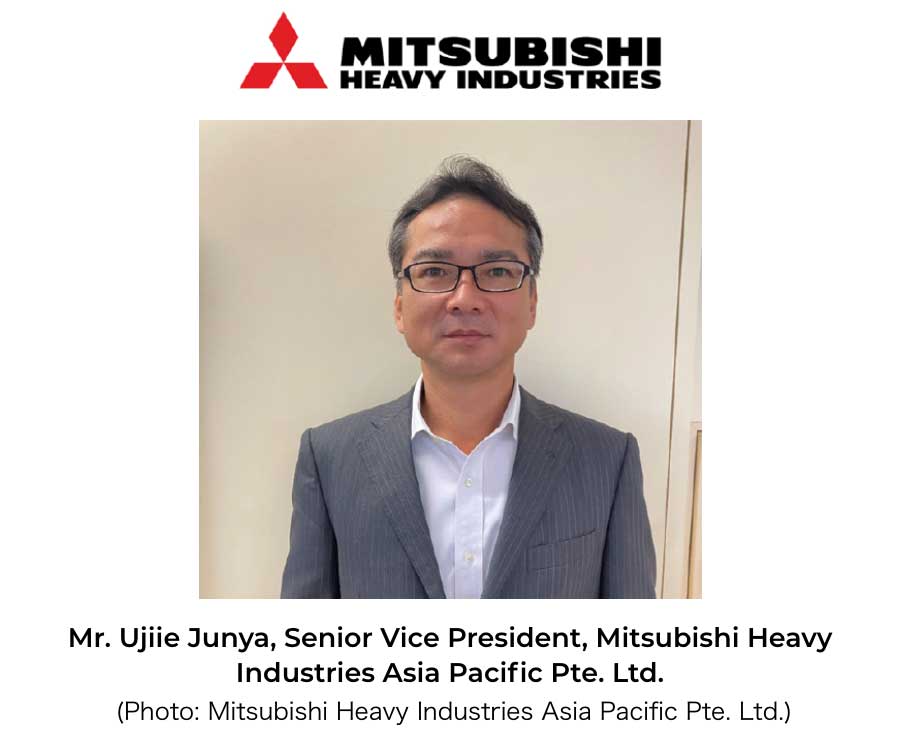 Q :
What's the reason for implementing hydrogen powered plant for data centres in Singapore?
A :
In recent years, there is a growing demand for data centres due to the rapid increase in data traffic, resulting from expansion of global digital economy. Singapore is one of the core countries for data centres. It is an ideal location since it is the hub of submarine cable, which is essential for data communication. It rarely suffers from natural disasters, offers fair and competitive business environment, and has developed solid data protection system.

On the other hand, there is an increasing trend toward eco-friendly data centres around the world. Particularly, global companies such as Google, Apple, Facebook, Amazon, Microsoft (GAFAM) are focusing on decarbonization to achieve zero-emission of greenhouse gas throughout their data centres. Singapore is no exception to this trend and the use of hydrogen, one of the clean energy resources, is attracting attention. Taking advantage of the fact that Singapore currently uses natural gas as a main source of energy, we believe that we can contribute to Singapore by developing hydrogen (extracted from natural gas) powered plants with our expertise as one realistic way to achieve "carbon neutrality".
Q :
What is hydrogen powered "tri-generation" plant? To what extent does it contribute to greenhouse gas reduction?
A :
Our project in Singapore has two pillars.

As a first pillar, we would produce hydrogen in Singapore by using a technology called SMR (Steam Methane Reforming). In this SMR technology, we resolve natural gas into hydrogen and other elements by high temperature and pressure to extract hydrogen. Since CO2 emission in this process is collected and stored with the CCS (Carbon dioxide Capture and Storage) technology, we would produce hydrogen in a clean way even though it is produced from fossil fuel (natural gas).

As a second pillar, we would generate electricity by rotating gas turbine with hydrogen combustion. The key point of this pillar is that each energy source; electricity, water and steam produced from hydrogen powered plant would be circulated and used effectively in the whole process. The hydrogen produced by SMR is used in the gas turbine. The electricity and water generated by the gas turbine is sent to data centres where the electricity is used as power and water is used to cool down. Steam from the generation process is contributed to the production of hydrogen as well. This is called "tri-generation" power plant because it circulates three different types of energies: electricity, steam and cooling.
The circulation of these three energies, compared to the case where each of the process was carried out separately, enables to reduce the required energy by approximately half.
Overview of hydrogen powered "tri-generation" plant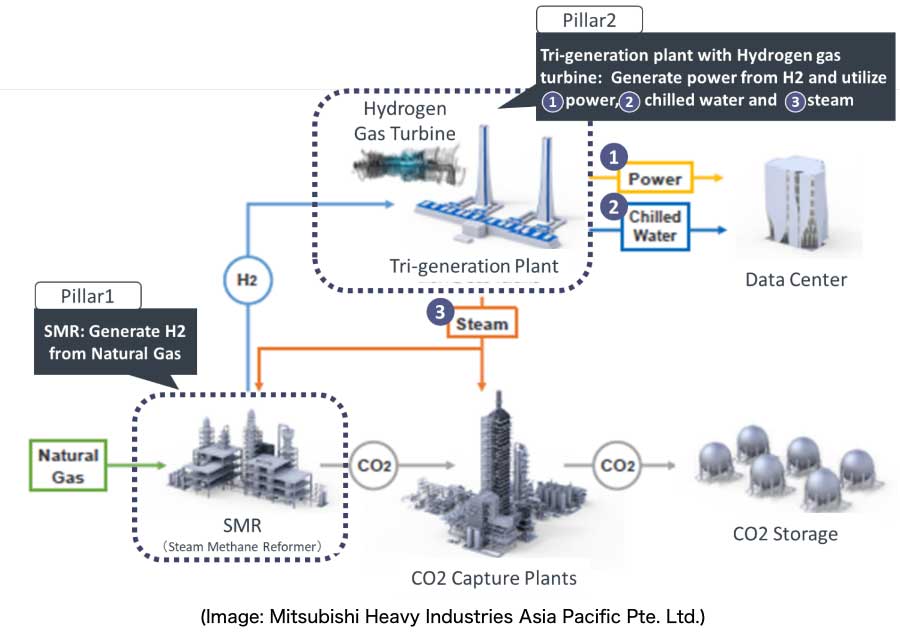 Q :
What are Mitsubishi Heavy Industries' strengths in implementing this power plant?
A :
Our biggest strength is that we conduct thorough analysis on cutting-edge technologies worldwide, and put them into practical use in various fields. Particularly in the use of hydrogen, we have a vast knowledge and skills acquired through developing hydrogen-powered rockets and pumps for hydrogen etc. We are a leading company in the development of gas turbine utilizing hydrogen and ammonia. We have an experience in a project to generate electricity from renewable energy originated hydrogen in Utah, U.S.A. In addition, we have the largest CCS facility, and develop special marine vessels to handle liquidated CO2.
Q :
Why did you decide to partner up with Keppel Data Centres Holding Pte Ltd?
A :
Keppel Data Centres is one of the world's leading data centre companies. It is wholly-owned by the subsidiaries of Keppel Corporation, which is one of Singapore's flagship multinational companies. Keppel Data Centres will be able to leverage the strengths of Keppel's eco-system of companies to support this project. For example, it can tap on the Group's asset management platform Keppel Capital, infrastructure development and operation arm Keppel Infrastructure, and its electricity retailing unit Keppel Electric. Our strength is in providing facilities which enable the whole process of "tri-generation" power plant. With each company's know-how combined together, we believe there would be greater synergy.
Q :
What are future prospects of the project in Singapore and in other countries?
A :
Our initial goal is to implement tri-generation power plant and establish the business model in Singapore before expanding into other ASEAN countries. However, liquidated CO2 collected during the hydrogen production process could be sent to oil producing countries, such as Indonesia and Malaysia, and press fit it into low productivity oil land for EOR (Enhanced Oil Recovery). If there is this kind of needs, we are much willing to contribute.
We expect more ASEAN companies will start to establish data centres within their countries in the future. We believe that hydrogen powered power plant could become the common practice in providing energy to data centres.
Comments from Keppel Data Centres Holding Pte Ltd

Data centres are essential infrastructure on which the digital economy runs.

Mr Wong Wai Meng, CEO of Keppel Data Centres commented, "As a leading designer, developer and operator of data centres across Asia Pacific and Europe, Keppel Data Centres is committed to drive sustainable solutions for the industry. The exploration of hydrogen infrastructure is part of our strategy to work towards decarbonisation. We are happy to collaborate with Mitsubishi Heavy Industries and tap on their vast experience and technology capabilities in our journey."