Promoting Green Growth and Energy Transition in ASEAN region:
August 26th (THU) 10:30 -11:30 (UTC+7)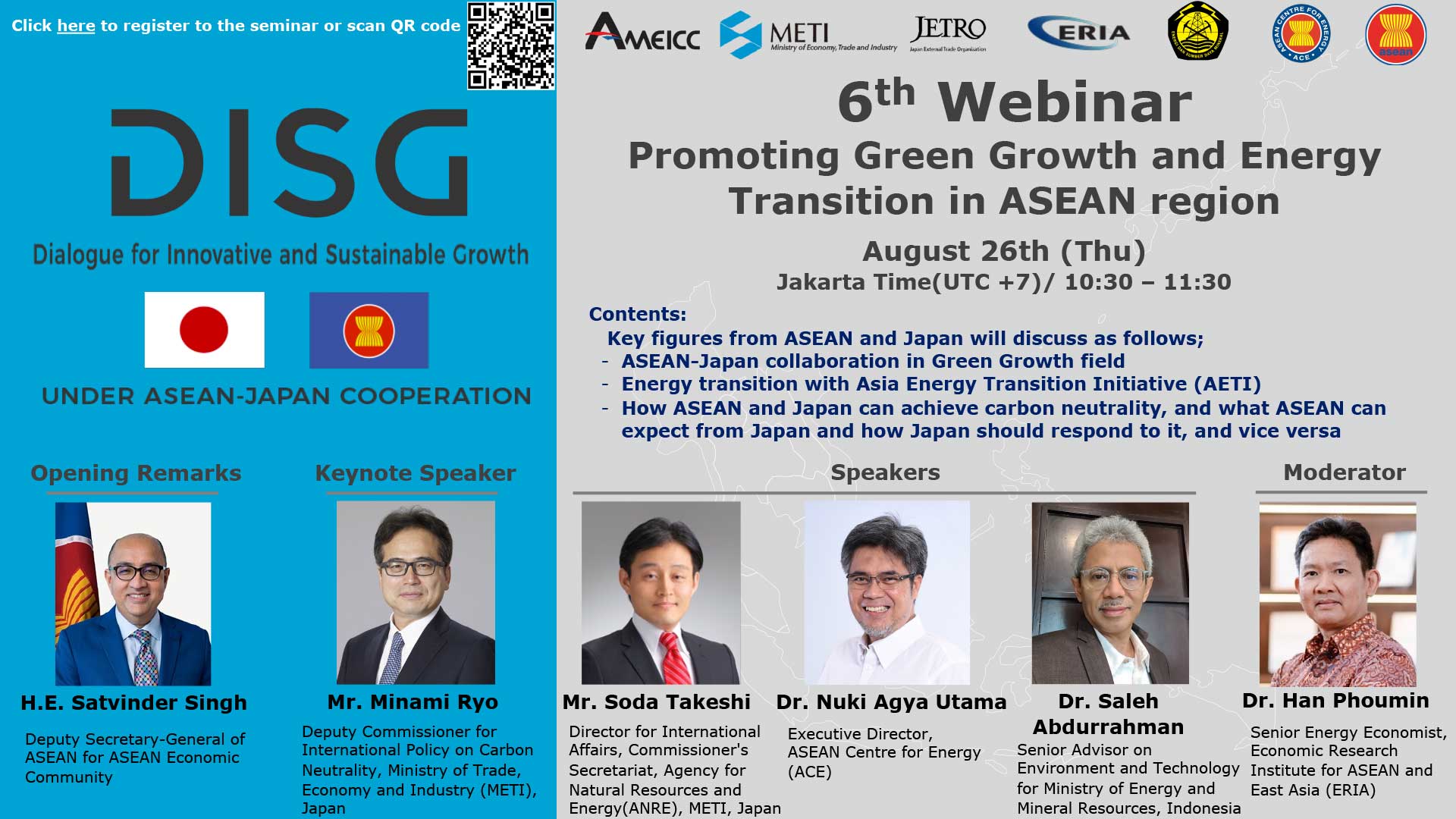 Overview
Amid growing social consciousness in climate change globally, "Green Growth" is currently an important keyword. Government and business sectors must address to create virtuous cycle of economic growth and environment, and it is a big challenge for ASEAN region where energy demand has been increasing. In line with this, Japan proposed to ASEAN the "Asia Energy Transition Initiative (AETI)" as a comprehensive support measure for energy transitions at the Special Meeting of ASEAN Ministers on Energy and Minister of Economy, Trade and Industry of Japan in June 2021, and it was welcomed by ASEAN countries.
In this webinar, key figures from ASEAN and Japan will share the latest information of ASEAN-Japan collaboration in Green Growth field as well as the importance of promoting energy transition with AETI, Japan's comprehensive support initiative for energy transition in Asia.
Then they discuss what benefits would be brought to ASEAN industry, government and academia regarding AETI, how ASEAN and Japan can achieve carbon neutrality, and what ASEAN can expect from Japan and how Japan should respond to it, and vice versa.
Speaker
Opening remarks : H.E. Satvinder Singh, Deputy Secretary-General of ASEAN for ASEAN Economic Community
Keynote Speech : Mr. Minami Ryo, Deputy Commissioner for International Policy on Carbon Neutrality, Ministry of Trade, Economy and Industry (METI), Japan
Speakers of Panel Discussion:
Mr. Soda Takeshi, Director for International Affairs, Commissioner's Secretariat, Agency for Natural Resources and Energy (ANRE), Ministry of Trade, Economy and Industry (METI), Japan
Dr. Nuki Agya Utama, Executive Director, ASEAN Centre for Energy (ACE)
Dr. Saleh Abdurrahman, Senior Advisor on Environment and Technology for Ministry of Energy and Mineral Resources
Moderator : Dr. Han Phoumin, Senior Energy Economist, Economic Research Institute for ASEAN and East Asia (ERIA)
Date and Time
August 26th (THU) 2021
Jakarta Time (UTC+7) 10:30 -11:30