Volume 7 – May 2021
We are very much pleased to announce that "ASEAN-Japan Business Week" will be held from May 24th to 28th, 2021. This online event is the first one of this kind as a collaboration among relevant public and private organizations both from ASEAN and Japan. During the event, a variety of webinars will be held under the themes of "Innovative and Sustainable Growth", which is fully in alignment with our DISG, and we AMEICC DISG team is playing a central role as a coordinator.
H.E. Kajiyama Hiroshi, Minister of Economy, Trade and Industry Japan, H.E. Lim Jock Hoi, Secretary-General of ASEAN, The Hon. FDr. Ar. Siti Rozaimeriyanty DSLJ Haji Abdul Rahman, Chair of ASEAN-BAC, and other valuable speakers will discuss how Japan and Southeast Asia can develop business opportunity towards the better future of the region. We truly hope many of you are joining us and enjoying a stimulating discussion together.
Another good news from Japan to the region is about the Regional Comprehensive Economic Partnership (RCEP). On 28th April, Japan's parliament approved joining RCEP. We hope this would encourage our collective steps for RCEP to take into effect as early as possible and promote regional trade and investment further.
Other contents in this Newsletter:
Japan-U.S. Summit Meeting and the Leaders Summit on climate change; PM Suga reiterated the importance of international cooperation in the Indo-Pacific region
Close look at ADX Project: SkymatiX in Cambodia
ASEAN-Japan Business Week
-toward Innovative and Sustainable Growth-

The Southeast Asia region has always been at the heart of international business for Japanese companies and it becomes even more important for them to increase the market value of their businesses in responding flexibly and rapidly to the massive transformation such as "digitalization" and "green growth" etc. in the ASEAN region.
METI and ASEAN-Japan relevant organizations therefore decided to organize the "ASEAN-Japan Business Week -toward Innovative and Sustainable Growth-", online seminar series as an opportunity to examine the current situation and potential of Southeast Asia business from the perspective of Japanese companies, with the keywords of "Innovation" and "Sustainability", which are in alignment with DISG webinar series.
During the seminar, leading companies will introduce specific examples of their initiatives, and a wide range of experts from various fields will discuss the challenges and measures to accelerate and expand these initiatives.


| | |
| --- | --- |
| Date: | May 24th 2021 (Monday) – May 28th 2021 (Friday) |
| Format: | Online |
| Language: | Japanese (with simultaneous interpretation in English and Japanese) |
| Hosted by: | Ministry of Economy, Trade and Industry (METI), Japan Business Federation (JBF, Keidanren), Japan Chamber of Commerce and Industry (JCCI), Japan External Trade Organization (JETRO), Research Institute of Economy, Trade and Industry (RIETI), ASEAN Secretariat (ASEC), ASEAN Business Advisory Council (ASEAN-BAC), ASEAN-JAPAN Business Council (AJBC), ASEAN Economic Research Institute for ASEAN and East Asia (ERIA), AEM-METI Economic and Industrial Cooperation Committee (AMEICC) Secretariat |
| Supported by: | Nikkei Inc. |
| Participation Fee: | Free |
Please see here for the detailed information (Detail will be updated next week)
Japan parliament approved the RCEP
Japan parliament approved on April 28th, 2021 the Regional Comprehensive Economic Partnership (RCEP) free trade deal among 15 Asian and Oceanian countries including 10 ASEAN Member States plus Japan, China, South Korea, Australia and New Zealand. Japan became the second economy outside ASEAN to give its formal approval to the RCEP.
The RCEP, signed by the 15 countries last November, will come into effect 60 days after it is ratified by six of the ASEAN members and three of the other countries. As of April 28th, Singapore, Thailand and China have completed procedures for ratification.
You can learn more about the RCEP with our past DISG webinar held on March 24th, 2021 through this post-webinar report.
Japan-U.S. Summit Meeting
and the Leaders Summit on Climate hosted by U.S.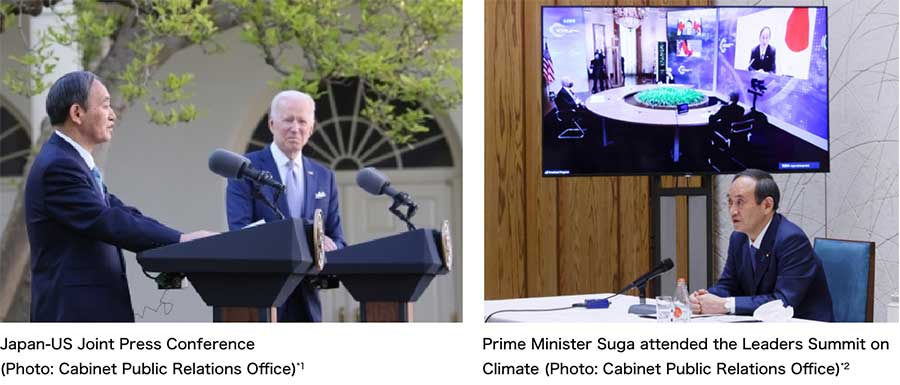 *1 https://www.mofa.go.jp/page4e_001123.html
*2 https://www.kantei.go.jp/jp/99_suga/actions/202104/22kikou.html
On April 16 (EDT), Mr. SUGA Yoshihide, Prime Minister of Japan, while visiting Washington DC, held a Japan-U.S. summit meeting with the Honorable Joseph R. Biden, Jr., President of the United States of America. The leaders held 150 minutes of meetings in total and issued a joint statement titled "U.S.-Japan Global Partnership for a New Era."
In the joint statement, the leaders acknowledged that the climate crisis is an existential threat to the world and realized that Japan and U.S. must play a critical role in leading the global effort to combat this crisis. In recognition of this responsibility, President Biden and Prime Minister Suga have launched the Japan-U.S. Climate Partnership on Ambition, Decarbonization, and Clean Energy. This partnership has three pillars: 1) Cooperation and dialogue on climate ambition and implementation of the Paris Agreement; 2) Climate and clean energy technology and innovation; and 3) Cooperation on accelerating the transition to a decarbonized society in third countries, particularly in the Indo-Pacific.
For the abovementioned third pillar, Japan and U.S. affirm the commitment to cooperate to support developing countries, including those in the Indo-Pacific region, to rapidly deploy renewable energy, drive the decarbonization of their economies, and accelerate diverse, ambitious, and realistic transition paths in the region, towards the realization of net zero emissions globally no later than 2050.
Please see here for the further detail of Japan-U.S. Summit Meeting
Please see here for the full version of "Japan-U.S. Climate Partnership on Ambition, Decarbonization, and Clean Energy"

One week later, on April 22nd-23rd, 2021, the Leaders Summit on Climate, hosted by the United States was held in a virtual format. Prime Minister Suga attended the leaders' session on April 22 and delivered his statement.
At the summit, Prime Minister Suga declared that Japan aims to reduce its greenhouse gas emissions by 46% in fiscal year 2030 from its fiscal year 2013 levels, setting an ambitious target which is aligned with the long-term goal of net-zero by 2050. Furthermore, he stressed that Japan will continue strenuous efforts in its challenge to meet the lofty goal of cutting its emission by 50%.
Also, Prime Minister Suga stated that, in order to create a virtuous cycle of the economy and the environment and to realize robust growth toward Japan's ambitious goal for 2030, the Government of Japan will work to maximum utilization of decarbonized power sources, such as renewable energy, and take incentive measures sufficient for inducing investment by companies.
In his speech at the summit, Prime Minister Suga mentioned"Japan-U.S. Climate Partnership on Ambition, Decarbonization, and Clean Energy" and declared the commitment on accelerating transition of developing countries including Indo-Pacific countries to a decarbonized society.
Please see here for the full version of Prime Minister Suga's statement
ADX Project Introduction in Cambodia (SkymatiX)

SkymatiX aims to provide an agriculture productivity solution by analyzing the leaf-color of crops in Cambodia. The solution called "Iroha", uses images of agricultural land taken by drones and uploads the images to a cloud storage for analysis to check the crop growth status and identify any abnormality such as weed and amount of herbicide requirement. The solution allows real-time land monitor.
The uniqueness of the solution is that it combines GPS which gathers agriculture land information and image analysis technology for the detail. Also, the solution can be used with any type of drone as long as those drone's image have location information. With about 3 hours of training, the users can set the drone routes with an application and have the drones fly the pre-set routes automatically. Last but not least, whole "Iroha" image analysis process can be completed remotely which means the business structures will not be affected by COVID-19 crisis.
The project is partnered with JC Agricultural Cooperatives Co., Ltd (JCAC) who has a close relationship with the local stakeholders involved in agriculture. Since 2014 JCAC has been selling agricultural machinery and materials to local farmers (mainly to rice growers) and created a microfinance institute for local farmers in cooperation with Japanese investors, to strengthen their relationships and support for the local farmers. SkymatiX entrusted JCAC with a project to verify "Iroha" system implementation between 2018 and 2019.
Please see here for the details of the contents.
Apart from SkymatiX's project, DISG have published 5 other introductions of ADX series including Toyota Tsusho in Cambodia (Tourism & Mobility), Kobelco in Malaysia (Environment), Medring in Vietnam (Healthcare), Fuso Machine Works in Indonesia (Manufacturing), and Sagri in Thailand (Agriculture). Please follow the link for more information on each project.
We thank everyone for your interest and support. Please look forward to the future webinar series and information dissemination through newsletters and our website, social media, etc.
As announced in this newsletter, ASEAN-Japan Business Week online seminar series will be held from May 24th to 28th.
-------------------------------------------
Mr. KOBAYASHI Hirokazu
Chair of AMEICC DISG Task Force
Executive Director, JETRO Singapore