Introduction of ADX Project 3: Medring (Healthcare)
ASEAN-Japan collaborations on challenging DX projects
It was announced that 23 demonstration projects were selected as a first round of the Financial Support Program, which was designed to strengthen Asia Digital Transformation (ADX) on October 14th. AMEICC Secretariat is interviewing several Japanese companies selected for this program. Third interviewees are MEDRING Co., Ltd ("Medring"), a Japanese Health tech start-up established in 2019 and its partner, Japan Vietnam Health Bridge Co., Ltd. ("JVHB"), a Vietnamese medical service company established in 2018. These two companies aim to develop "smart clinic" chain, which by the use of digital technologies (i.e., electronic medical records) provides high-quality medical services at low cost; with the medical data collected with "smart clinic", companies will be able to develop and market new products and services for ASEAN.
Interviewee: Mr. Abe Kazuma from Medring and
Mr. Tuấn NGO Quoc from JVHB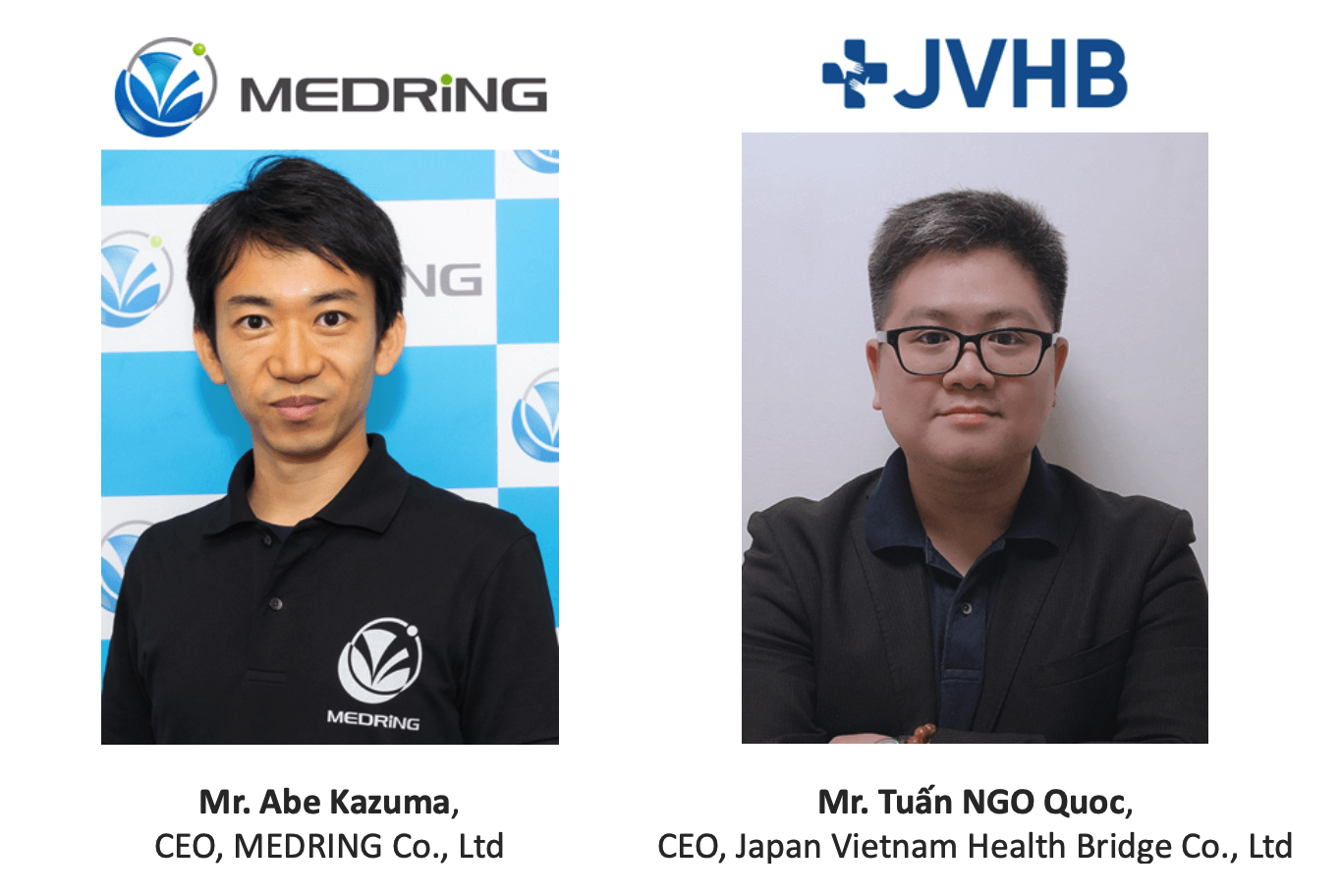 Q :
(For Medring) Why did you choose Vietnam?
A :
There are two reasons. First, the country provides a favorable environment for doing business and has a great potential as a market. The country is also politically stable, and has achieved economic growth even amidst COVID-19 crisis. Second, through our visits to Vietnamese hospitals and clinics, we noticed some issues in their medical system and we want to contribute to resolve those issues with our expertise. More specifically, one of the fundamental issues in Vietnam is the uneven distribution of medical resources and services, which means that both the patients and the doctors tend to occupy large hospitals. As there is a very small pool of doctors in the country, and most of them work at large hospitals, there is usually a shortage of doctors in local clinics. This stops people from getting daily check-up easily at local clinics, and they tend to wait to go to see a doctor until the symptoms become severe. These people with severe disease turn to large hospitals and as a result, the wait time to receive treatment becomes longer and increase severity of the disease. The current medical system in Vietnam prevents early discovery and treatment of diseases. We believe our solutions will solve these issues and drastically improve the image of Vietnamese medical system.
Q :
(For Medring) Please tell us the detail of your plans in Vietnam.
A :
We plan to provide two solutions from short-term and medium to long-term perspectives.

As the short-term solution, we're working towards opening up our first smart clinic Medring Tokyo International Clinic("METiC"), which aims to solve the issues in Vietnamese medical system, at a Japanese mall "AEON" in Hanoi by end of this year. Then, we plan to create "METiC" clinic chain. With this short-term plan, we hope to implement and provide equal and affordable medical care for everyone, similar to Japan's, which has a high level of hygiene management and customer services. From the patients' perspective, they will be able to make appointments online, fill out any necessary intake forms by scanning QR code at the reception and make payments electronically. Such system is effective in preventing the spread of COVID-19 in terms of reducing time people spend at clinics and lower the risk of close contact, assuring safe and comfortable environment for the visitors. From the doctors' perspective, on the other hand, it becomes possible to provide high-quality medical services at low cost by using digital technologies; among these technologies, electronic intake forms filled out by patients and electronic medical record based on these forms play a crucial role. One of the issues we have noticed was that the doctors examine patients without obtaining the patients' full information and their medical history. The electronic intake forms will allow doctors to access to patients' detailed medical records easily online, leading to proper diagnosis and appropriate treatments. Furthermore, our system enables to organize information filled in the intake forms by detailed categories (e.g., what kind of disease a patient had in the past, what kind of allergies he/she has) in the electronic medical record. This makes it possible to collect and manage patients' information more quickly and efficiently, reducing some of the workload of the doctors, eliminating the skill and resource gap between large hospitals and the clinics, and contributing to medical cost reduction. We plan to further develop this AI system to assist doctors by automatically creating options on the severity of the disease and what medications or supplements should be prescribed based on the patient's online medical records.

In regards to medium- to long-term plan, the medical data acquired throughout the smart clinic chains can be used to assist the development and marketing of new products and services, with the help of pharmaceutical and medical equipment manufacturers, for ASEAN. These medical data will become useful in verifying the effects of the latest and the current medicine from Japan.
Overview of the solution in the short term and medium to long-term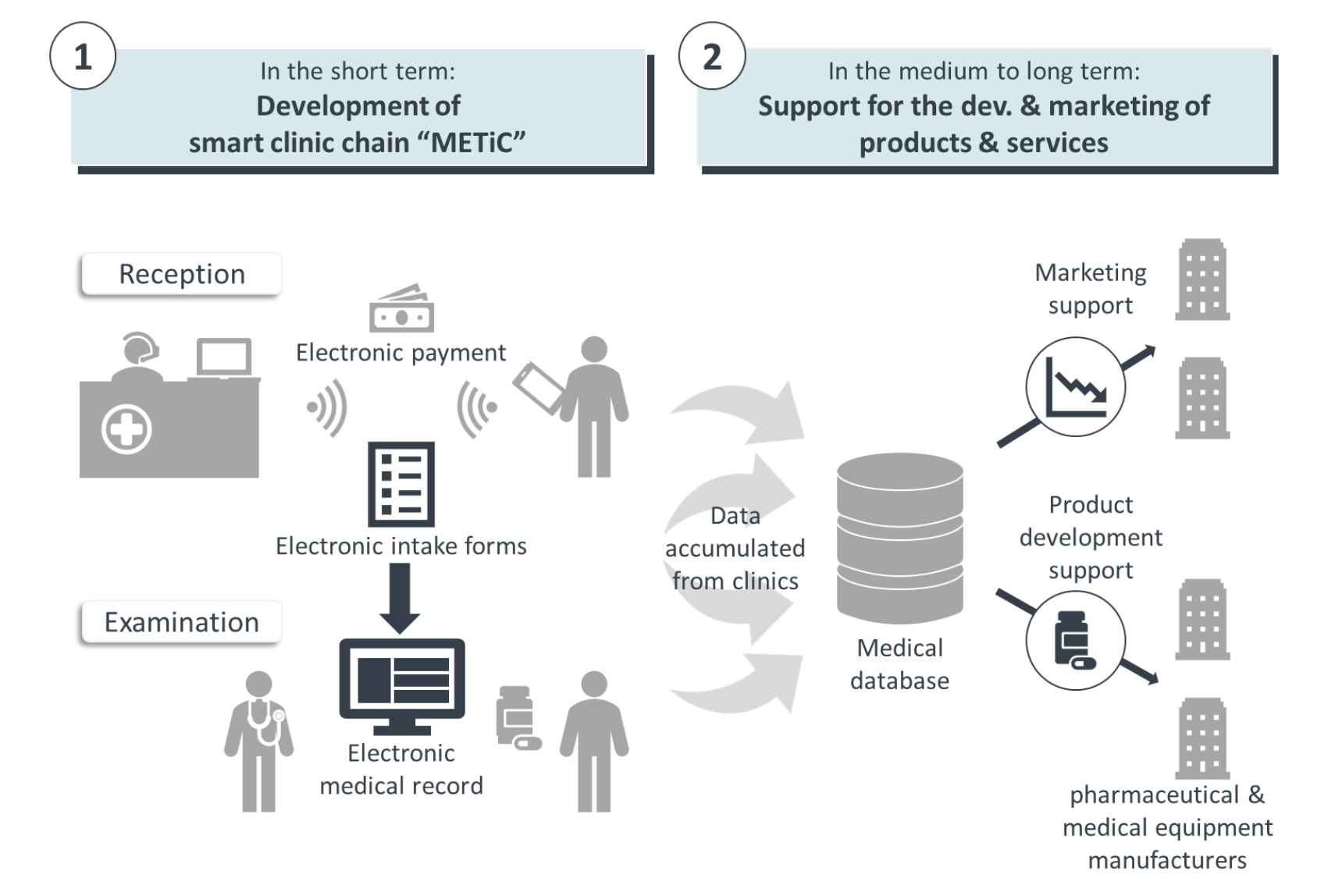 Pre-opening of the first smart clinic "METiC", in AEON Mall in Hanoi (Oct 31st 2020)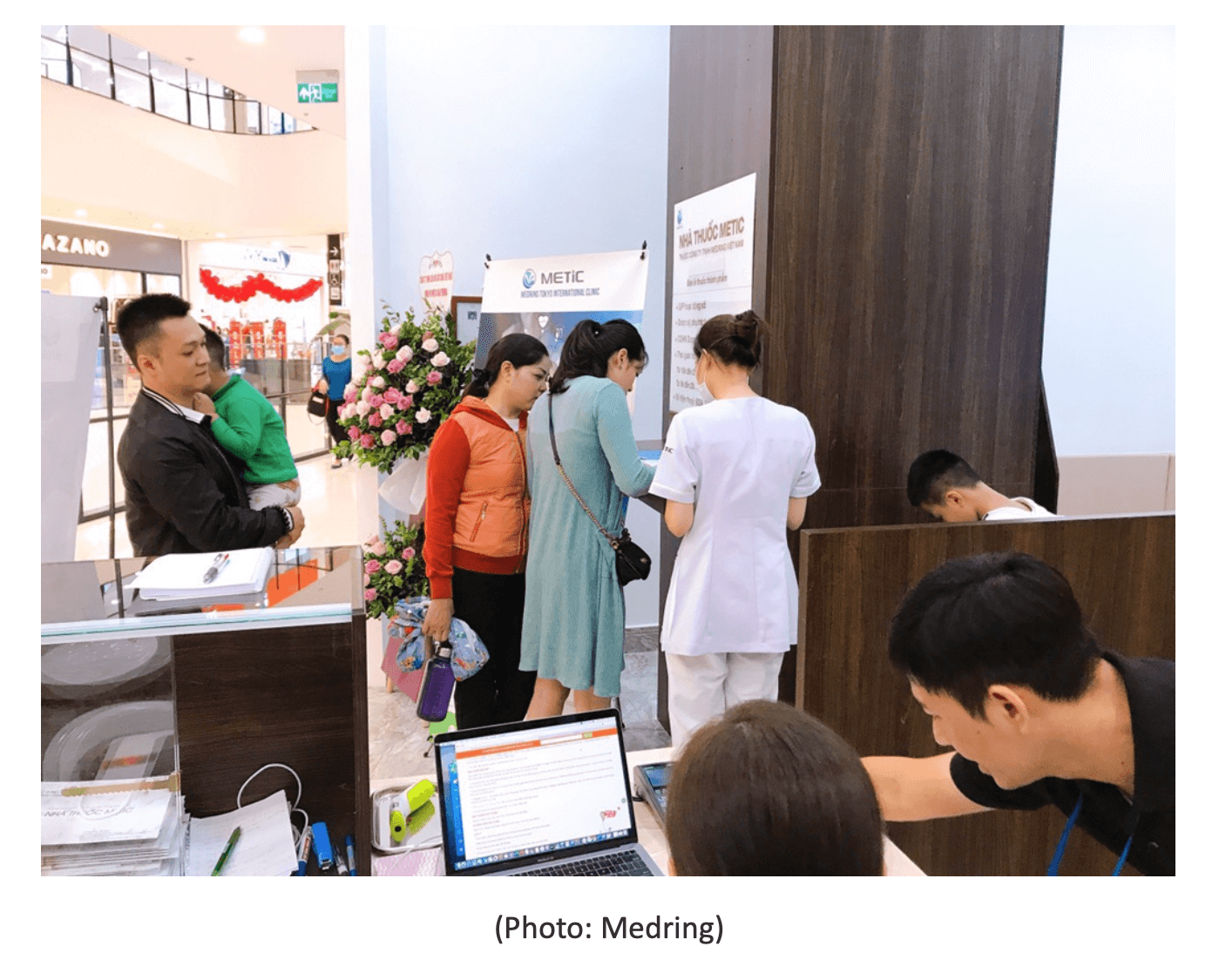 Q :
(For Medring) What are the innovative features and uniqueness of this system?
A :
Not many smart clinics are operating using digital technologies in the current global and Vietnam markets yet. Japan has the highest life expectancy in the world and is also known for its excellence in controlling lifestyle-related illness, anti-aging etc. One of our strengths is that we can provide services that are combined with these remarkable "Japanese way" of medical services. We expect to see rapid increase in demand for this "Japanese way" of medical services to handle COVID-19 patients as those with lifestyle-related illness tends to suffer from more severe symptoms of the virus. By starting up the smart clinics in the early stage compared to other companies, it enables us to gather sufficient amount of medical data which allows us to develop and implement AI system for appropriate treatments and prescribe the right medication with extreme precision.
Q :
(For Medring) Why did you choose JVHB as a partner for this project?
A :
JVHB manages clinics, recruits and trains medical workers in Vietnam. They not only have extensive network of doctors, but also abundant knowledge on clinic operation, both of which are essential in developing clinic chains in Vietnam. Thanks to JVHB, we have never had difficulty in finding doctors. JVHB provides us consultation on clinic operations, and with its ability to act promptly and appreciation towards the "Japanese way" of medical services, they are an indispensable partner to us.
Q :
(For JVHB), why did you decide to partner up with Medring?
A :
Even though the medical service in Vietnam has improved over the past years, there remains a lot of issues, not only in terms of treatments but also the customer services. We decided to partner up with Medring because we saw a potential in the smart clinic model to address these issues, and we share a same future vision of improving the Vietnam's medical system through the development of clinic chain.
Q :
(For Medring) With the demonstration experiments coming up, what are the next steps and future prospects of this project?
A :
Our plan is to open up approx. 6 to 7 smart clinics (directly managed by us) at AEON Malls in Vietnam by the end of this demonstration project (within 1.5 years). The intent is to create and position these smart clinics where people can freely drop in when they go shopping. After this demonstration project, we will work with local businesses, continue to expand our clinic chain, and also start to build clinic chains in other ASEAN countries by around 2022 - 2023; specifically in Indonesia, Cambodia or Myanmar. The smart clinic system / "Japanese way" of medical services, using the digital technologies provides more accessible, low-cost services to everyone and it can be reimported to Japan, where the public funding may not be able to support its medical system in the near future.
Members of METiC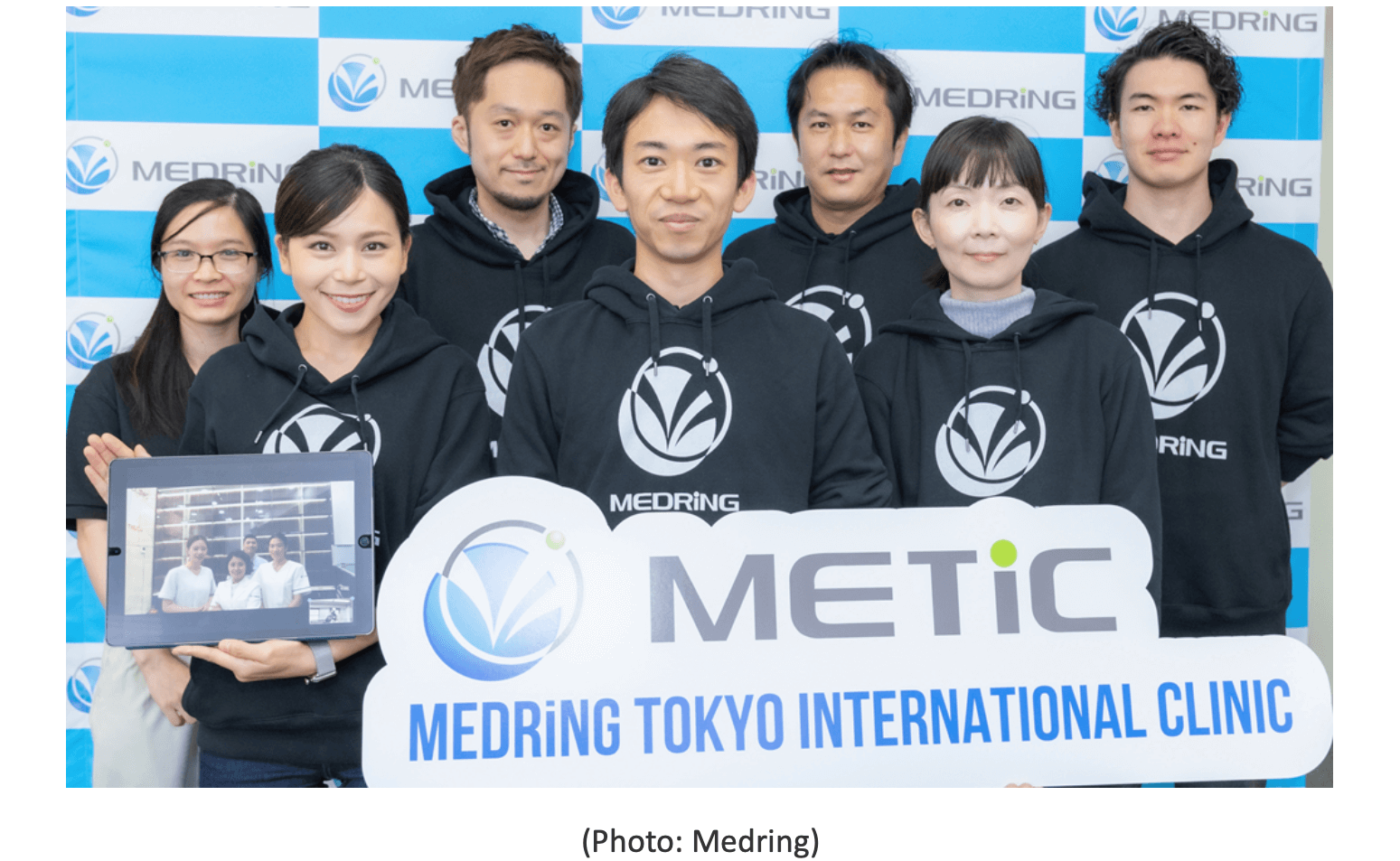 Comments from a doctor of METiC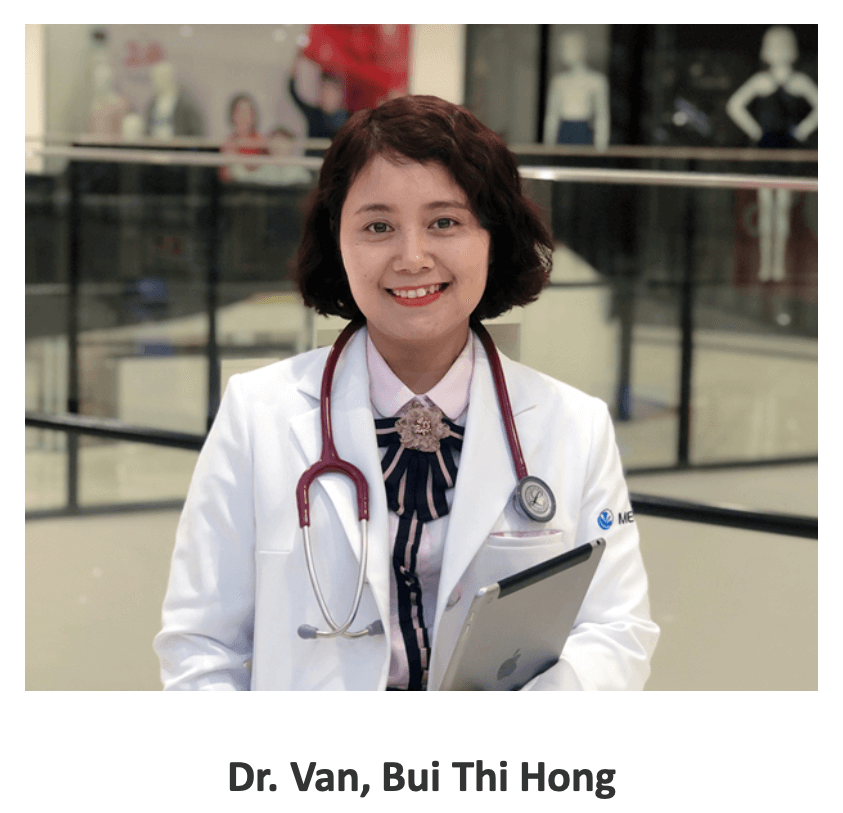 My name is Bui Thi Hong Van, I was born in 1984, I am currently a doctor of METiC Clinic under Medring Vietnam Co., Ltd. I am very honored to be working at METiC with Japanese standard smart clinic - that is very new in Vietnam.
A characteristic of the Vietnamese health system is that most people go to public hospitals for medical examination and treatment, thus making public hospitals become overloaded. Patients have not had much access to high-quality medical services right from the primary health care stage.
The METiC clinic system is established with the desire to meet that needs of the people – patients will get benefit from high quality medical services right from the initial examination. METiC Clinic applies electronic medical records and artificial intelligence technology (AI) to support doctors' work. That will help doctors a lot: minimizing errors in medical examination and treatment. In addition, AI technology applied in medicine will warn, set up a nutrition program as well as guide exercise program for patients at home with the goal to change habits to form a healthier lifestyle that is also very important besides medication. METiC is the place that receives the supervision of doctors at the University of Tokyo using Japan's most advanced medical technology, realizing 3 main goals:
• Helps Prevent disease
• Sickness will be detected in time
• And disease will be controlled well
I think that with the Japanese standard METiC clinic system applying new technology will be welcomed not only in Vietnam but also in ASEAN countries in the region.
My future goal when working at METiC is to access and master to AI technology applied to the health care of Vietnamese people, thereby AI technology will be widely applied into the clinic system in Vietnam and ASEAN countries.