Introduction of ADX Project 4: Kobelco Construction Machinery (Environment)
ASEAN-Japan collaborations on challenging DX projects
It was announced that 23 demonstration projects were selected as a first round of the Financial Support Program, which was designed to strengthen Asia Digital Transformation (ADX) on October 14th. AMEICC Secretariat is interviewing several Japanese companies selected for this program and KOBELCO CONSTRUCTION MACHINERY CO., LTD. ("Kobelco"), a Japanese construction machinery manufacturer established in 1999 is the fourth interviewee. The company aims to establish automobile recycling industry in Malaysia by developing a system enabling to trace abandoned end-of-life vehicles (ELVs) with IoT, and by providing know-how on efficient and environmentally-friendly ways of dismantling the ELVs.
Interviewee: Mr. Tanaka Kiyokazu
from KOBELCO CONSTRUCTION MACHINERY CO., LTD.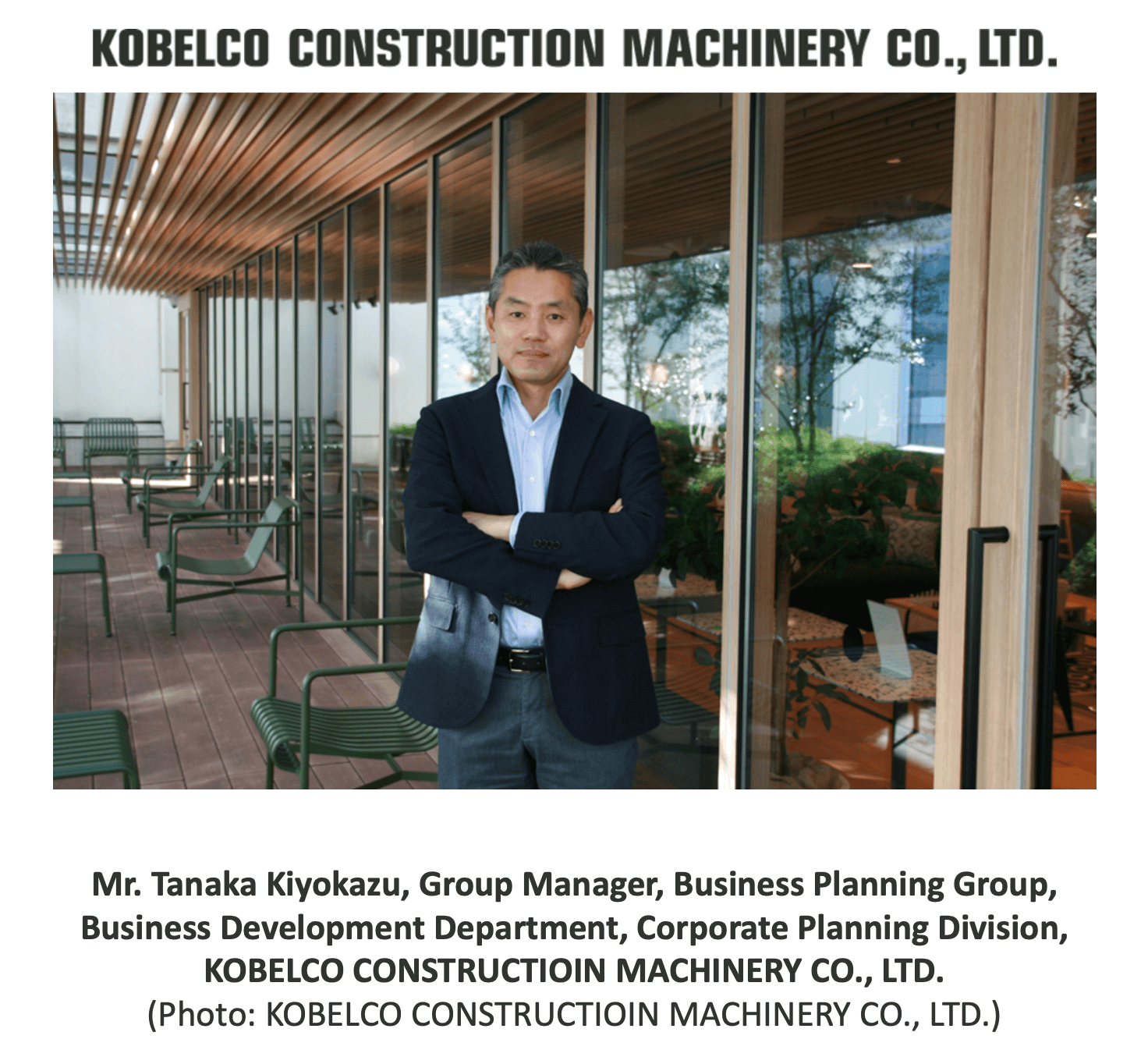 Q :
Why did you choose Malaysia?
A :
There are two reasons. First, we want to be a part of resolving automobile recycling issues, which are twofold. One of the issues is ELVs are being abandoned on the roads in Malaysia. In the country, there are many cases in which cars are resold, resulting in long vehicle years on average. Without appropriate recycling system in place, the owners of old cars tend to abandon them once they become unusable (e.g., break-down), not knowing how to dispose them. According to Malaysian Government, there are about 8 million abandoned ELVs. The other issue is, even when the abandoned ELVs are found and collected from the roads, they are sometimes not properly dismantled due to the absence of requirements for doing automobile recycling business. This improper dismantling process is creating resource waste, environmental pollution as well as causing operational inefficiency. Currently, auto parts vendors extract from the ELVs only the parts necessary for them, and the valuable resource materials such as copper are being wasted. The work is completed at inappropriate facilities, draining toxic oils and liquids into the soil and causing environmental pollution. The dismantling processes are done manually and creating inefficiency. Malaysian government, recognizing the situation, is working to implement a certification system, Automotive Authorized Treatment Facility (AATF), which the certification will be granted to those companies with proper dismantling facilities and technologies. We believe that our solution will contribute to the effective implementation of this system.

Secondly, we chose Malaysia because it is its politically stable and has a favorable environment (safety etc.) for doing business.
ELV abandoned on the road in Malaysia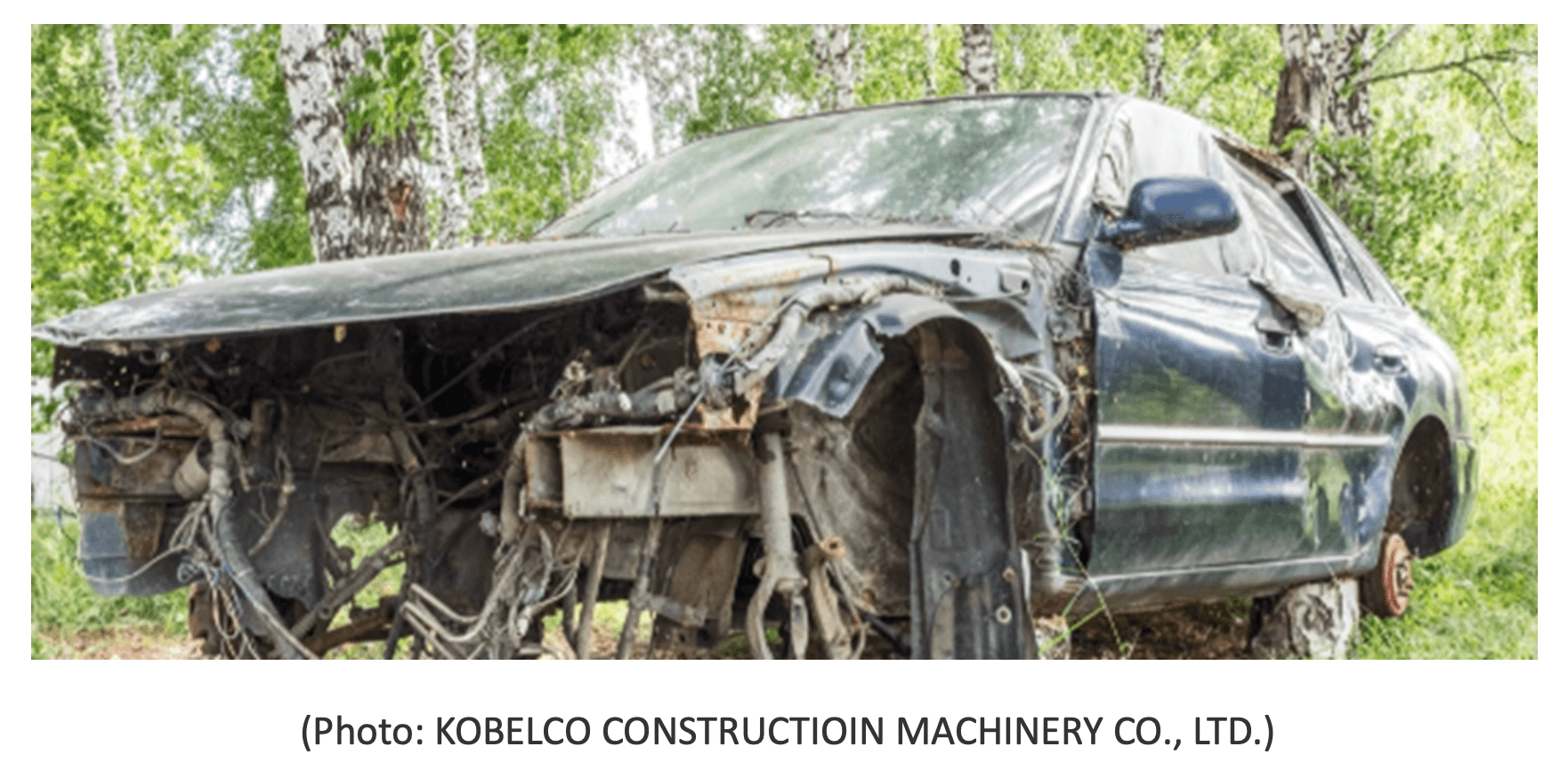 Q :
Please tell us the detail of your plans in Malaysia.
A :
By partnering up with local company Eco-R Malaysia Sdn Bhd. ("Eco-R Malaysia"), we are planning to develop two solutions to establish automotive recycling industry. As the first solution, we provide a central management system, by the use of IoT, to manage and use the information of the ELVs, from when they were found and collected off the roads, transported to the facilities to the completion of dismantling. The system has a two-step development process. As the first step (began last year), we developed a pilot application which registers and manages the abandoned ELVs. The purpose of this process is to determine which cars have more values in terms of recycling and prioritize which ones should be retrieved. More specifically, we stick QR code on the abandoned ELVs, and by scanning the QR, their locations and more details such as pictures of the surrounding area, the car model and whether they are still operatable etc. can be registered and managed in the application. Now we are at the second step, which is this demonstration project. In this step, we are aiming to establish a centralized management system to record the timing of when they went into the dismantling facilities, dismantling processes and the process completion. Through this system, the government will be able to confirm that the abandoned ELVs have been properly dismantled. In addition, auto parts vendors can identify ELVs with valuable materials, may be able to sell them and generate profits.

As our second solution, in order to develop and boost the level of the industry, we provide know-how to auto parts vendors, which will be the main players of automobile recycling industry. Specifically, we provide know-how on efficient and eco-friendly ways of recycling. Instead of implementing just "Japanese way", we adjust it to accommodate the needs of Malaysia. For example, when we bring our auto dismantling machines into the Eco-R facility, we will actually run these machines, collect and analyze their operation data, engine output, etc. These data will help us determine and allow us to provide the most effective way to use the machines in Malaysia. Another instance would be to provide know-how on how to design the dismantling facilities so as not to allow toxic oils and liquids to flow out during the dismantling processes, by considering the structure of local factories.
Q :
What are the innovative features and uniqueness of these solutions?
A :
This project itself is unique in that we are providing solutions with the digital technologies (e.g., IoT driven dismantling management, efficiency improvement of the dismantling machines through data analysis, etc.) to address automobile recycling issues. In addition, our proposed solutions are aimed to realize both their sustainability and economic efficiency. To increase sustainability, our solutions focus on preventing harms to the environment and making good use of any valuable resources through appropriate dismantling processes. Through this project, we will also be contributing to generate profit for the companies by increasing efficiency of dismantling processes and enabling them to collect and sell valuable metals.
Overview of the solution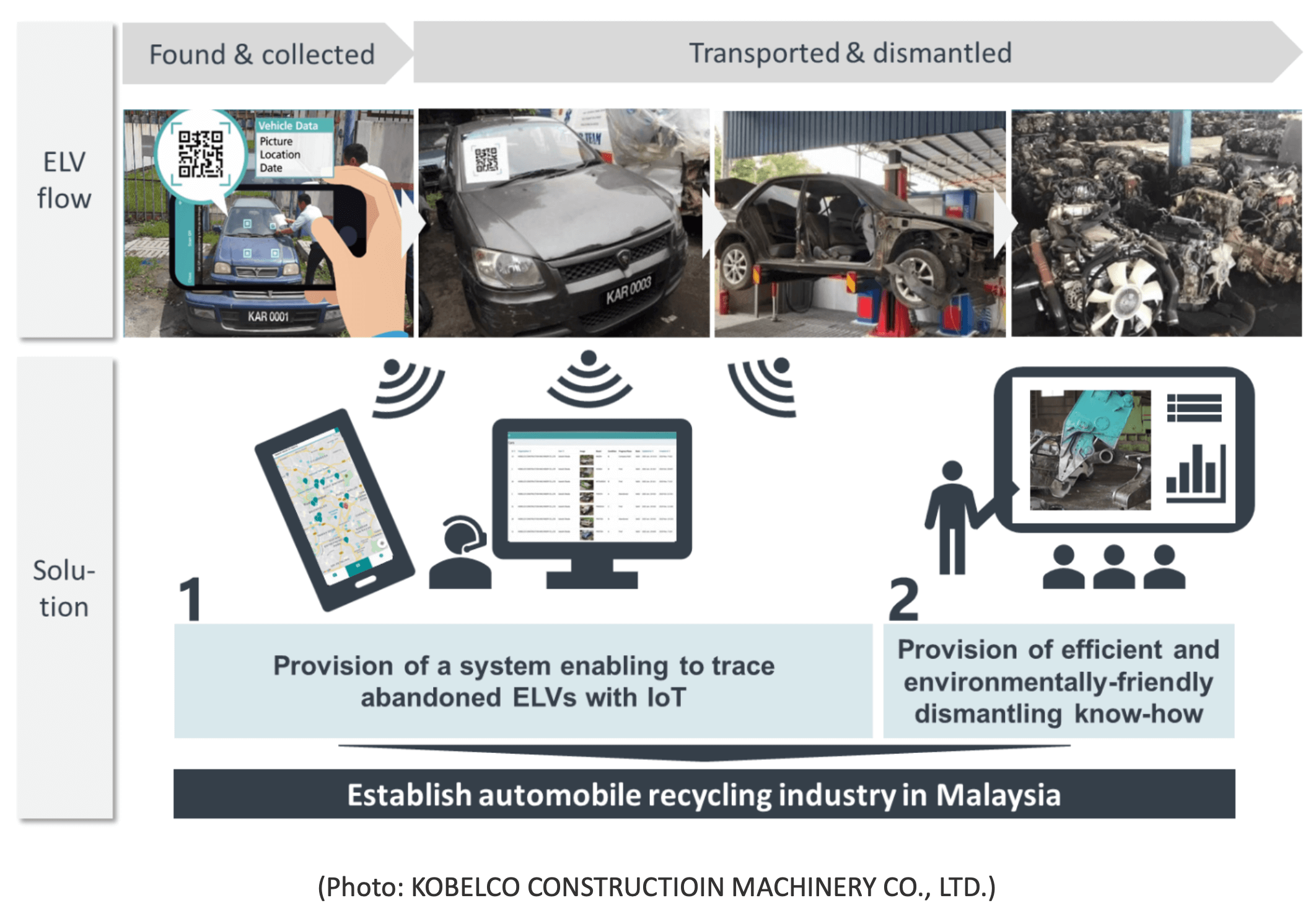 Q :
Why did you choose Eco-R Malaysia as a partner for this project?
A :
CEO of SUNGAI SENDOK HOLDINGS SDN. BHD., an investor of Eco-R Malaysia is also the president of Malaysia Automotive Recyclers Association (MAARA) which is the largest association of Malaysian auto parts industry. This means that through Eco-R Malaysia, we could have vast connections with auto parts vendors, which will be the main players of automobile recycling industry. On top of that, Eco-R Malaysia has a deep understanding of how automobile dismantling processes work in Malaysia and their expertise would help us customize our services for the local markets.
Q :
After the success of this project, what are the next steps and future prospects?
A :
Our first goal is to establish automobile recycling as a business in Malaysia, starting from Kuala Lumpur, then we will extend our services to other cities such as Johor and Penang. In about 3 to 4 years, we hope to expand our business to ASEAN region; countries with larger automobile markets such as Thailand and Indonesia. Some of our clients in Japan showed interests in our services as well, to efficiently manage automobile dismantling processes, so there is a possibility that the solutions we will provide within this project may be reimported into Japan in near future.

In fact, automobile recycling is just the beginning of our journey to accomplish a world where metal resources are 100% recycled.
Comments from SUNGAI SENDOK HOLDINGS SDN. BHD.,
an investor of Eco-R Malaysia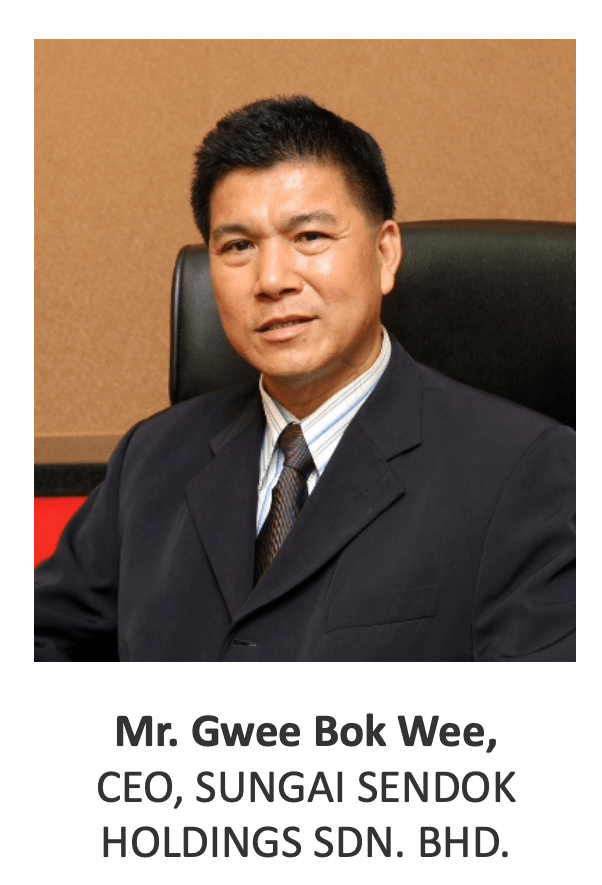 1

General expectation on this project

With the Malaysia impending move to introduce the ELV policy in the next coming years, Eco-R Malaysia hope that from this project, Eco-R Malaysia could secure and apply the best knowledge in terms of the system and processes on processing and managing ELVs.

This will enable Eco-R Malaysia to start on a best footing in processing and management of ELVs in the Malaysian automotive aftermarket, and making this into an economically and environmentally sustainable operation.
2

Expectation for the positive ripple effects of the proposed solution ((i) KAR-app (ii) New method of car demolishing to be implemented by Eco-R Malaysia together with Kobelco).

There will be numerous ripple effects in the local authorities' value chains caused by this project in terms of service excellence and environmental compliance through digitalization and the principle of IoTs.

In terms of abandoned vehicles management, for the local authorities, KAR-app will impact employee efficiency and citizen engagements. It will also enhance service transparency; and transparency will strengthen the citizen's trust in government and its civic engagement.

For the KAR-app, this will improve the services of the local authorities to the citizens; lessen the cost of operations (be it administration or enforcement activities). It will also drive and improve communications between the local authorities and the citizens, as the KAR-apps will enable the local citizens to provide on-the-spot reports on abandoned cars in their neighborhoods.

The Kar-app will provide transparencies and accountability in managing abandoned vehicles, as it will enable local authorities and Eco-R Malaysia through connecting systems and software to enable shared data, eliminate manual interventions, and minimize data entry redundancies.

The KAR–app will facilitate the ways local government are in data collecting and analytics. In fact, such collected data will also facilitate the Malaysian government for policy analysis and determinations.

On knowledge and technology transfer, this project will enable a Malaysian controlled Company like Eco-R Malaysia to learn and adopt the proper and safe methods of processing ELVs in compliance with environmental rules and regulations which have been widely proven and used by Japanese automotive recyclers. The interesting part here is that, Kobelco who is assisting in this project is already working with Eco-R Japan during the past decades. The augurs well for knowledge and technology transfers in ELVs processing and management to Malaysian companies.
3
Expectation for collaborating with Japanese company
One thing for sure, we do not need to reinvent the wheel, as Kobelco and Eco-R Japan are already well ahead in processing and managing car dismantling, be it for ELVs or auctioned vehicles.