Volume 13 – November 2021
Greetings from DISG Secretariat
Dear Readers,
I hope all is well with you.
I have heard from my Japanese colleagues that it's getting colder day by day. Although autumn in Japan is lovely, one of the advantages of being here in Southeast Asia is that you can enjoy summer all year round.
One of the major developments in ASEAN-Japan economic relations last month was the Asia Green Growth Partnership Ministerial Meeting (AGGPM) held for the first time. Including their ministers, many countries from ASEAN participated in the meeting. As climate change is undoubtedly one of the biggest challenges on the world's agenda, there were sincere discussions on what initiatives we could take to the distinctive issues in Asia including Japan and ASEAN.
Last week, a series of meetings among ASEAN leaders took place. I would like to pay the greatest tribute to the leadership of the Chair, Brunei, which has brought about a series of achievements. It was the first meeting with ASEAN leaders for our new Prime Minister KISHIDA Fumio, who became the 100th Prime Minister of Japan in October. Prime Minister Kishida expressed Japan's commitment to ASEAN's economic recovery and future development, including medical support for COVID-19, as well as the realization of energy transition, acceleration of digitalization, and supply chain resilience.
In the context of strengthening ASEAN-Japan cooperation, we also aim to further develop our DISG initiatives. As the first event in our second year, tomorrow we are organising our DISG Webinar on the theme of Smart Cities. Registration is still open, and we look forward to seeing many of you there.
Stay safe and well,


KOBAYASHI Hirokazu
Chair of AMEICC DISG Task Force
Executive Director, JETRO Singapore
The 7th DISG Webinar of the Series:
"Promoting Smart City in ASEAN region with Japan's Solution"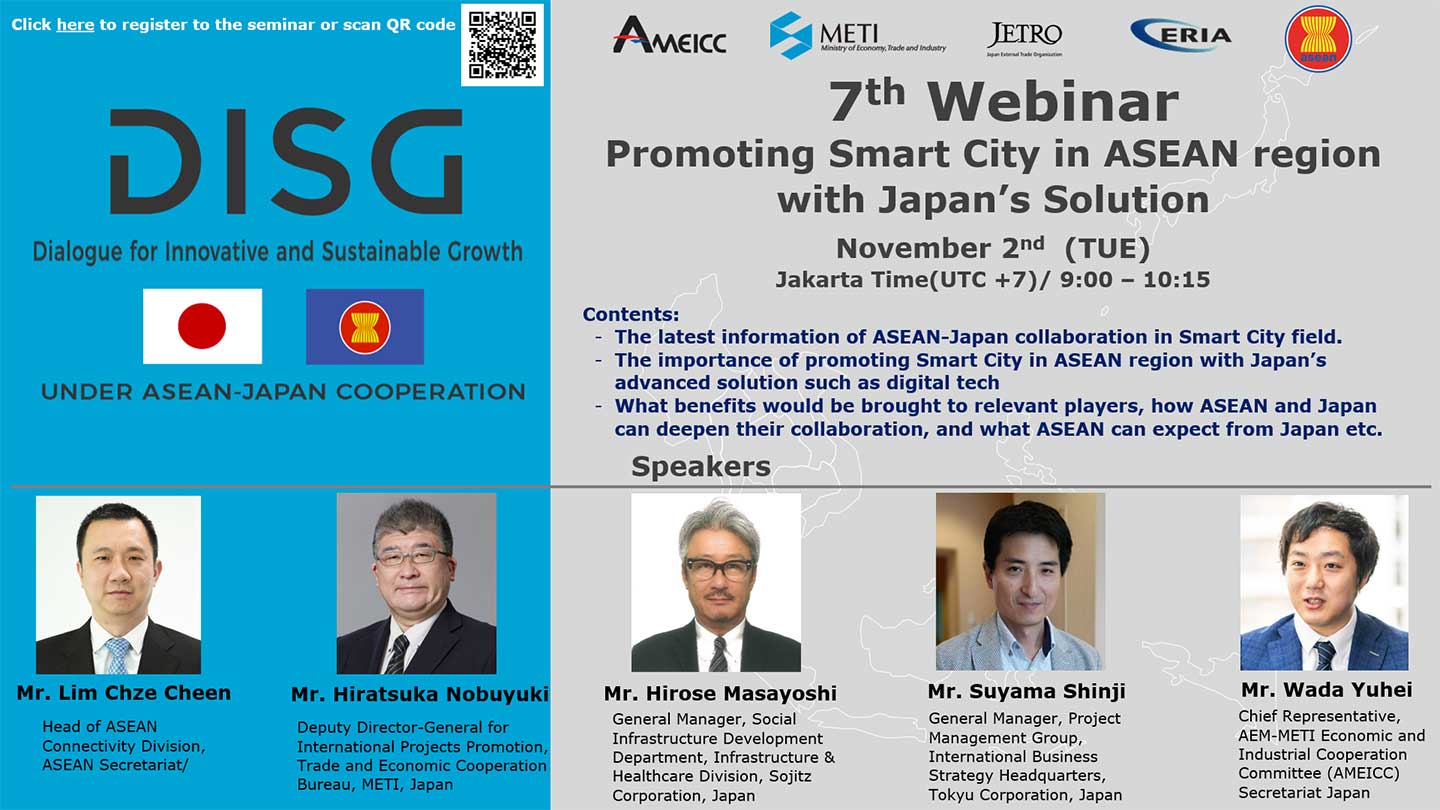 We're pleased to remind you the 7th DISG webinar in the theme of "Promoting Smart City in ASEAN region with Japan's Solution" to be held 9:00-10:15 AM(UTC+7) on 2nd November (Tue). Please don't forget to register and looking forward to seeing you on the webinar!
[Webinar Outline]
In this webinar, key figures from ASEAN and Japan will share the latest information of ASEAN-Japan collaboration in Smart City field as well as the importance of promoting Smart City in ASEAN region with Japan's advanced solution such as digital tech. Also this webinar will cover what benefits would be brought to relevant players, how ASEAN and Japan can deepen collaboration, and what ASEAN can expect from Japan etc.
For more detail, click here
[Speakers]
Mr. Lim Chze Cheen, Head of ASEAN Connectivity Division, ASEAN Secretariat
Mr. Hiratsuka Nobuyuki, Deputy Director-General for International Projects Promotion, Trade and Economic Cooperation Bureau, METI, Japan
Mr. Hirose Masayoshi, General Manager, Social Infrastructure Development Department, Energy & Social Infrastructure Division, Sojitz Corporation, Japan
Mr. Suyama Shinji, General Manager, Project Management Group, International Business Strategy Headquarters, Tokyu Corporation, Japan
Mr. Wada Yuhei, Chief Representative, AEM-METI Economic and Industrial Cooperation Committee (AMEICC) Secretariat, Japan
[Registration]
Register here
First Asia Green Growth Partnership Ministerial Meeting was held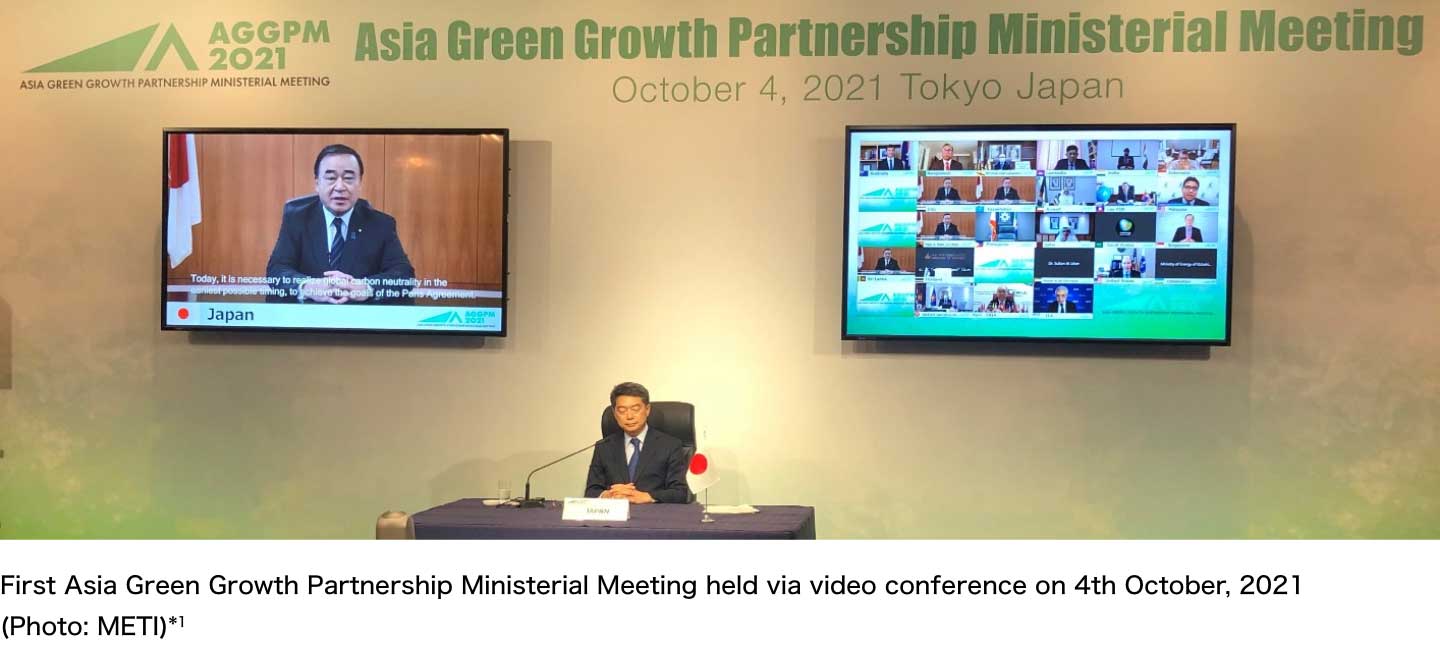 On 4th October, the first Asia Green Growth Partnership Ministerial Meeting (AGGPM) was hosted by the Ministry of Economy, Trade and Industry (METI), Japan. The meeting was virtually attended by ministries from 20 countries and delegates from 3 international organizations in Asia and other parts of the world. ASEAN members actively joined this meeting. 7 countries out of 20 countries were from ASEAN; Brunei, Cambodia, Indonesia, Lao PDR, Malaysia, Philippines and Thailand. Besides, ASEAN Secretariat and Economic Research Institute for ASEAN and East Asia (ERIA) participated as well.
The participants discussed the need to achieve green growth and accelerate various and realistic energy transitions toward achieving global carbon neutrality in the earliest possible timing. In particular, they affirmed that there is no single pathway to achieve carbon neutrality, but rather there are diverse pathways for each country, and that promoting innovation and actively engaging Asian countries will be important.
Let us introduce the highlights of the meeting.
Minister Kajiyama of METI, Japan delivered opening remarks in which he emphasized that efforts and contributions from each country will be essential to achieving global carbon neutrality, and that each country needs to work toward achieving green growth and accelerating energy transitions in Asia, and treating action on climate change as an opportunity.
He also highlighted that there is no single pathway to achieve carbon neutrality in Asia, but rather there are diverse pathways for each country, and that actively engaging them and promoting innovation will be important. In doing so, he reaffirmed Japan's intention to provide a wide range of assistance based on the Asia Energy Transition Initiative (AETI) announced this May, and introduced results of cooperation that have already materialized, such as individual dialogues with countries toward formulating roadmaps.
Then, Dr. Fatih Birol, the Executive Director of the International Energy Agency (IEA) also delivered opening remarks and stated that there is no one size fits all for clean energy transitions and the pathway will be shaped by each country's circumstances and capabilities. In addition, he highlighted that 3 technologies: CCUS, low carbon fuels such as hydrogen and ammonia and LNG would play an important role for energy transitions, and that the pace and pathway in Asian countries might be different from that of other regions because Asia will continue to face a rapid economic growth.
Please see here for further details.
Besides, do you remember our DISG 6th webinar this August? The theme was "Promoting Green Growth and Energy Transition in ASEAN region" and it was really well-aligned with the first AGGPM above. For your reference, summary of the discussion between ASEAN and Japan's experts is available from here.
The 38th and 39th ASEAN Summits were held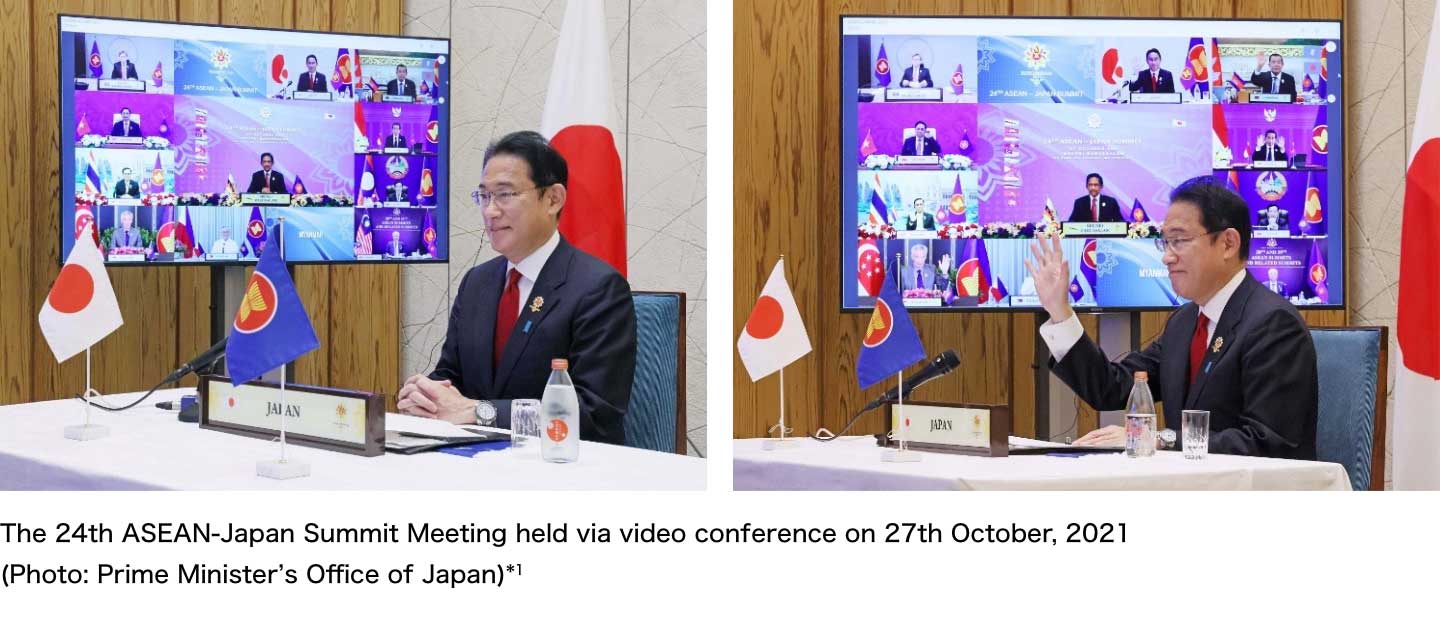 *1 https://www.kantei.go.jp/jp/100_kishida/actions/202110/27asean.html
The 38th and 39th ASEAN Summits were successfully held on 26th October 2021 under the Chairmanship of Brunei Darussalam and the theme "We Care, We Prepare, We Prosper". Related summit level meetings with external dialogue partners including Japan were also held from 26th to 28th October 2021.
The 24th ASEAN-Japan Summit Meeting was held on 27th October 2021, and Japan's new Prime Minister H.E. KISHIDA Fumio attended and co-chaired with His Majesty Sultan Haji Hassanal Bolkiah of Brunei Darussalam.
Prime Minister Kishida delivered his opening remarks and expressed that Japan would vigorously advance efforts to achieve a "Free and Open Indo-Pacific (FOIP)" in cooperation with ASEAN. Especially, he expressed his intention to welcome ASEAN leaders to Japan in 2023, which marks the 50th Anniversary of the ASEAN-Japan Friendship and Cooperation, and hold a Commemorative Summit meeting to raise ASEAN-Japan relations to a new stage.
He illustrated Japan's assistance to ASEAN to counter COVID-19. Major actions are as follows.
- Japan provided more than 16 million COVID-19 vaccines to ASEAN countries as well as approximately 296.3 million USD worth of grant aid which included the "Last One Mile Support" to improve cold chain delivery systems.
- Strongly supporting the ASEAN Comprehensive Recovery Framework (ACRF), Japan provided ASEAN countries with near-interest-free financial support loans of approximately 1.8 billion USD to contribute to their economic recovery.
- Japan fully support the ASEAN Centre for Public Health Emergencies and Emerging Diseases (ACPHEED) to become the core of regional efforts to counter communicable diseases. The training for public health officials in ASEAN countries has also been commenced.
Besides, Prime Minister Kishida announced the "ASEAN-Japan Climate Change Action Agenda 2.0" at this Summit to promote cooperation with ASEAN countries. In addition, Japan will provide comprehensive support to ASEAN countries through the formulation of roadmaps for energy transition, technical cooperation, and human resource development, including those under the Asia Energy Transition Initiative (AETI).
Please see here for further detail of "ASEAN-Japan Summit".
There are other meetings which Prime Minister Kishida attended such as "The 24th ASEAN Plus Three Summit Meeting" and "The 16th East Asia Summit Meeting".
Please see here for detail of "ASEAN Plus Three Summit".
Please see here for detail of "East Asia Summit".