Volume 14 – December 2021
Greetings from DISG Secretariat
Dear Readers,
We have just one month left of year 2021. Until last week it seemed that the COVID-19 cases in Southeast Asia were finally settling down and the borders were gradually starting to open up. It is strongly hoped that the new variant won't bring a huge discouragement for this positive momentum as the region became more resilient after going through a tough time.
In this month's newsletter, we are delighted that we could announce our next DISG webinar. We will be discussing the development of human resources for the Post-Covid Era, and I'm sure it will be an intriguing topic for everyone.
Secondly, we would like to introduce a report on Viet Nam and Japan. Prime Minister Pham Minh Chinh visited Japan and discussed with Prime Minister Kishida about Vietnam-Japan cooperation to strengthen the supply chain and to move towards carbon neutrality. In conjunction with this, a major investment conference was held targeting the Japanese business community.
And finally but not least, we will introduce a list of measures in the package of additional economic measures that Japan has now formally decided on, which is a list of measures for Southeast Asia. We are sure that there is a menu that will be of use to all ASEAN readers.
Please read below to find out more about each in detail.
I would like to conclude by wishing you all the best, in the hope that situation of the pandemic will show further improvement.
KOBAYASHI Hirokazu
Chair of AMEICC DISG Task Force
Executive Director, JETRO Singapore
The 8th DISG Webinar of the Series:
"Promoting ASEAN-Japan Collaboration for Human Resource Development"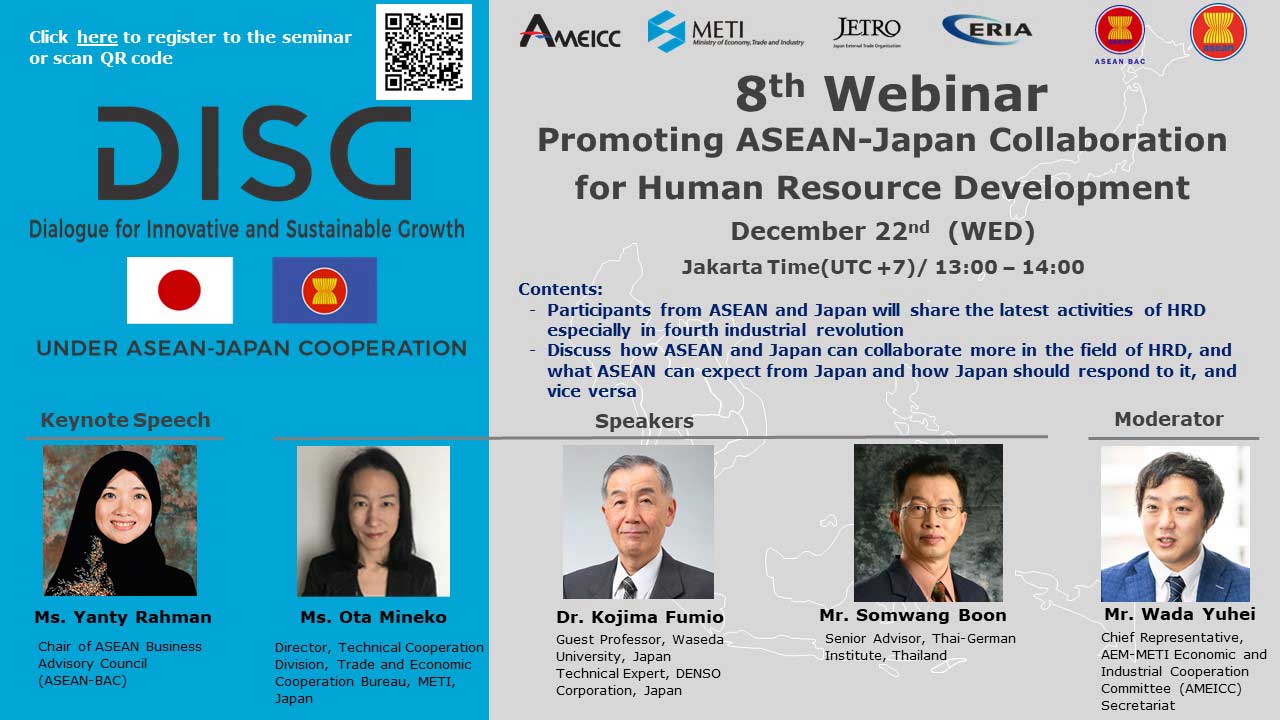 We're pleased to announce to you the 8th DISG webinar on the theme of "Promoting ASEAN-Japan Collaboration for Human Resource Development" to be held 1:00-2:00 PM(UTC+7) on 22nd December (Wed). Please don't forget to register and looking forward to seeing you at the webinar!
[Webinar Outline]
In this webinar, key figures from ASEAN and Japan will share the latest activities of HRD, especially in the fourth industrial revolution in Southeast Asia.
Then they discuss how ASEAN and Japan can collaborate more in the field of HRD, and what ASEAN can expect from Japan and how Japan should respond to it, and vice versa.
For more detail, click here.
[Speakers]
The Hon. FDr. Ar. Siti Rozaimeriyanty DSLJ Haji Abdul Rahman, Chair of ASEAN Business Advisory Council (ASEAN-BAC)
Ms. Ota Mineko, Director, Technical Cooperation Division, Trade and Economic Cooperation Bureau, Ministry of Economy, Trade and Industry (METI), Japan
Dr. Kojima Fumio, Guest Professor, Waseda University, Japan /Technical Expert, DENSO Corporation, Japan
Mr. Somwang Boon, Senior Advisor, Thai-German Institute (TGI), Thailand
[Registration]
Register here
Vietnamese Prime Minister official visit to Japan
and Japan-Vietnam Investment Conference

(Photo: MOFA) https://www.mofa.go.jp/mofaj/s_sa/sea1/vn/page1_001073.html
(Photo: METI) https://www.meti.go.jp/press/2021/11/20211125005/20211125005.html
H.E. Pham Minh Chinh, Prime Minister of the Socialist Republic of Vietnam, made an official visit to Japan from the 22nd to the 25th of November 2021. Prime Minister Chinh was the first foreign leader to visit following the inauguration of Japan's new administration, The Kishida cabinet.
On 24th November, Prime Minister Chin and Prime Minister Kishida held a summit conference and the two sides consented to work closely together to elevate their current extensive strategic partnership to new stage. Detailing the above, a joint statement "Toward the Opening of a New Era in Japan-Vietnam Extensive Strategic Partnership for Peace and Prosperity in Asia" has been issued.
Please see here for the full text of the joint statement.
On 25th November, Japan External Trade Organization (JETRO) and Ministry of Planning and Investment (MPI) of Vietnam jointly organised the Japan-Vietnam Investment Conference. Prime Minister Chinh, H.E. HAGIUDA Koichi, Minister of Economy, Trade and Industry (METI) of Japan and many representatives from the business communities of both countries attended the conference.
Minister Hagiuda expressed hope for the future development of Japan-Vietnam economic relations in preparation for the 50th anniversary of the establishment of diplomatic relations between the two countries next year, while expressing cooperation towards supply chain resilience and carbon neutrality.
Dr. Do Nhat Hoang, Director General of Foreign Investment Agency (FIA) of Viet Nam and representatives of several Japanese companies such as Sojitz Corporation, Sumitomo Corporation, AEON MALL Co.,Ltd, Fujikin Incorporated took part in the panel discussion and actively discussed their activities, future business development plans, the business environment and investment expansion in Viet Nam.
With the gradual resumption of international travel, the conference was a highly encouraging occasion to look ahead to the post-COVID era and to see how business between Japan and Southeast Asia, including Viet Nam, is expected to flourish.
After the conference, Minister Hagiuda had individual meetings with Prime Minister Chinh and H.E. Nguyen Hong Dien, Minister of Industry and Trade (MOIT) of Vietnam, and confirmed the further deepening of economic relations between the two countries. After the meeting with Minister Dien, The Joint Statement for Cooperation on Energy Transition to carbon neutrality was issued.
Please see here for the full text of the joint statement.
The Kishida cabinet announces new economic measures,
including policies for economic cooperation with ASEAN
On 26th November, the Japanese Government announced "Economic measures to overcome new coronavirus infections and to carve out a new era" and a related supplementary budget plan. Please click here for overview.
The economic measure, which is the largest ever in terms of fiscal expenditure at 55.7 trillion yen, consists of four pillars: "Prevention of the spread of new coronavirus infections", "Resumption of socioeconomic activities in the 'Live-with-Corona' environment and preparation for the next crisis", "Launching a 'New Form of Capitalism' to carve out a future society", and "Ensuring safety and peace of mind through measures to prevent and reduce disasters and to enhance national resilience".
Among the pillar of "Launching a 'New Form of Capitalism' to carve out a future society" includes a policy of economic cooperation with Asia and ASEAN. These include programmes to promote cooperation on green growth and energy transitions in Southeast Asia and other Asia, and programmes to promote business collaboration between Japanese and ASEAN companies using digital technology in the Indo-Pacific region, including Southeast Asia. It is expected that AMEICC Secretariat, which is responsible for management of the DISG, will also be engaged in these programmes.
The economic measure needs to be approved by the Japanese parliament and will be debated this month. Please stay tuned for more information on the ASEAN regional related programmes as they become available in this Newsletter, the DISG website, and the AMEICC Secretariat's social media platforms.