Volume 12 – October 2021
Greetings from DISG Secretariat
Dear Readers,
I hope all of you are safe and well.
In September, we were pleased to see significant progress in our initiatives. The most notable event was the ASEAN Economic Ministers'(AEM)-METI Consultations. This is the most important meeting for economic and industrial cooperation between ASEAN and Japan. Joined by top business leaders, participants had sincere discussions on how to overcome this pandemic, restore economic resilience, and where ASEAN-Japan cooperation should particularly focus. My colleagues from AMEICC Secretariat and I were honoured to participate in some part of the discussions and receive a strong endorsement on the DISG initiatives. You can find details in this Newsletter.
I am also happy to inform you that next week will be "Beyond Zero Week" in Tokyo, where a number of conferences will be integrally hosted to talk about climate change and energy transition in and beyond Asia. Ministers and business leaders from a number of countries in the region including ASEAN member states are expected to join the event. Some of the sessions will be open to the public online, and we look forward to your participation.
Stay safe and well,


KOBAYASHI Hirokazu
Chair of AMEICC DISG Task Force
Executive Director, JETRO Singapore
The 27th AEM-METI Consultation and related meetings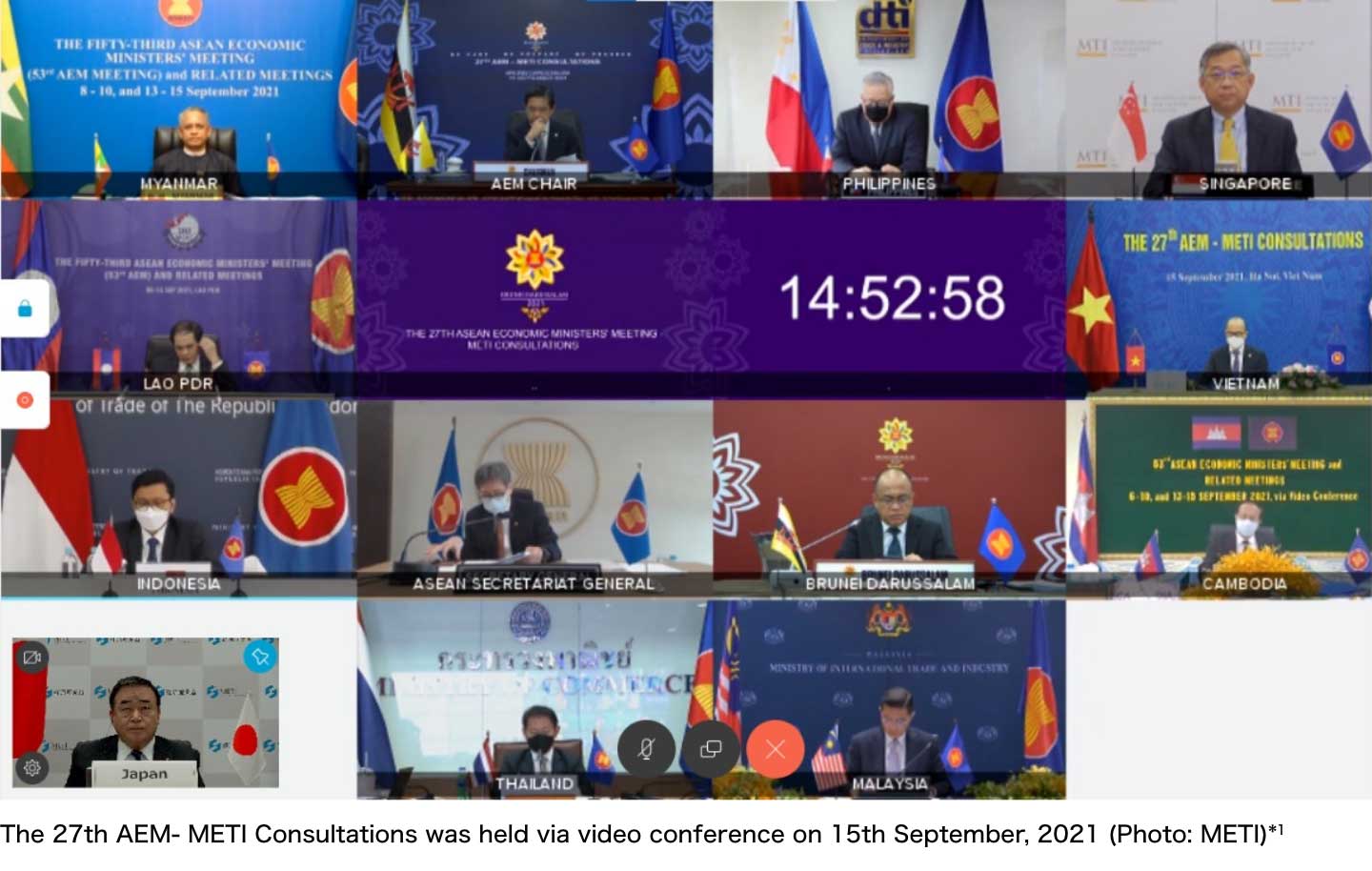 The 53rd ASEAN Economic Ministers' Meeting was held, and resulted in fruitful outcomes such as the endorsement of the Bandar Seri Begawan Roadmap: An ASEAN Digital Transformation Agenda to Accelerate ASEAN's Economic Recovery and Digital Economy Integration, which outlines a multi-year plan to deepen ASEAN's digital integration and connectivity from 2021 to 2025 against the backdrop of COVID-19.
Looking at ASEAN-Japan cooperation, the 27th ASEAN Economic Ministers'(AEM)-METI Consultations was held on 15th September. In the meeting, the participants shared their progress on implementing the ASEAN-Japan Economic Resilience Action Plan issued in response to the COVID-19 pandemic at the Special AEM-METI Consultations held in July last year. Particularly worth highlighting is the "ASEAN-Japan Priority for Innovative and Sustainable Growth", which H.E. KAJIYAMA Hiroshi, Minister of Economy, Trade and Industry, Japan, proposed as a priority for both ASEAN and Japan to address for post COVID-19 economic growth.
The priory contains the following four matters:
1. Steadily implement the ASEAN-Japan Economic Resilience Action Plan.
2. Identify priority fields for focusing on innovation & sustainability in 3 areas; "Industry", "Urban areas" and "Rural areas".
3. Review and upgrade the ASEAN-Japan Economic Resilience Action Plan based on the above-mentioned three priority areas.
4. Further promote public-private partnerships between ASEAN and Japan based on the Dialogue for Innovative and Sustainable Growth (DISG).
The priority was welcomed by the ASEAN side, and DISG will continue to develop its activities based on the discussion in this AEM-METI consultation to meet further expectations.
You can see further detail of AEM-METI consultation from here.
Besides, there were other related meetings including "Mekong-Japan Economic Ministers Meeting", "ASEAN Plus Three Economic Ministers Meeting" and "East Asia Summit Economic Ministers' Meeting". There were fruitful discussions to overcome current severe situation and revitalize economy by strengthening our cooperation.
Please see here for further details of "Mekong-Japan Economic Ministers Meeting", "ASEAN Plus Three Economic Ministers Meeting".
Please see here for further detail of "East Asia Summit Economic Ministers' Meeting".
ASEAN+3 and East Asia Summit Energy Ministers Meeting,
and Introduction of Tokyo "Beyond-Zero" Week 2021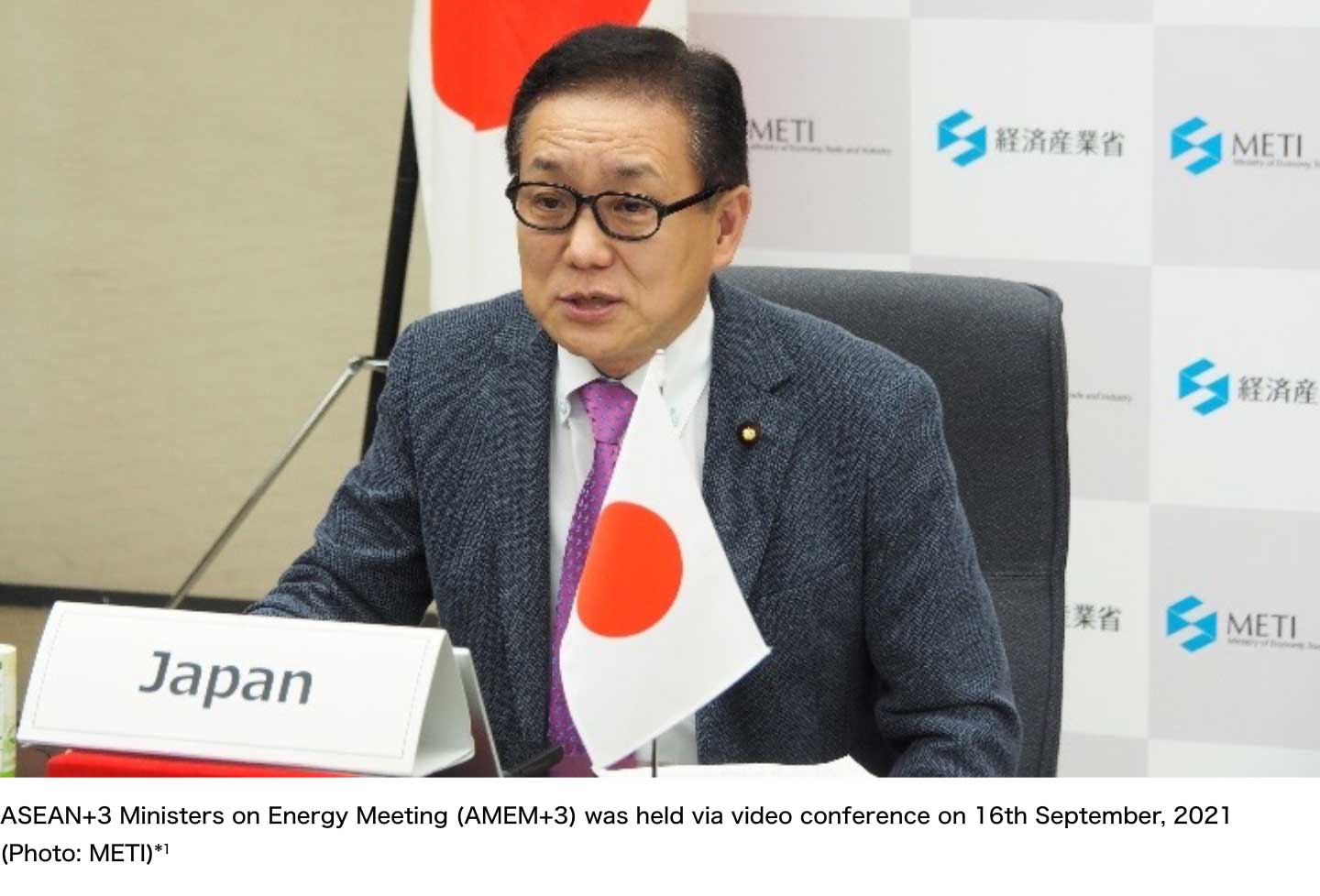 An ASEAN+3 Ministers on Energy Meeting (AMEM+3) and an East Asia Summit Energy Ministers Meeting (EAS EMM) were held on 16th September. Both meetings were held online. 10 ASEAN countries, several other countries and international organizations participated.
With energy demand in Asia growing, these meetings were inaugurated to ensure a stable energy supply and enhance measures for energy security and climate change in the region, by providing an opportunity for its countries' energy ministers to discuss policy harmonization and international cooperation.
Representing Japan, H.E. EJIMA Kiyoshi, State Minister of Economy, Trade and Industry, attended both meetings. Minister EJIMA emphasized Japan will support ASEAN countries toward realistic energy transitions through "the Asia Energy Transition Initiative (AETI)" which was proposed and welcomed in the Asia in the Special Meeting of ASEAN-Japan Ministers on Energy this June.
Besides, Tokyo "Beyond-Zero" Week 2021, in which energy and environment related international conferences are held intensively from 4th to 8th October, aiming at presenting realistic means and pathways to realizing virtuous cycles of environmental and economic growth in order to achieve global carbon neutrality and "Beyond-Zero" initiatives for retroactively reducing carbon dioxide (CO2) emissions.
As one of the conferences included in Tokyo "Beyond-Zero" Week 2021, the Ministry of Economy, Trade and Industry (METI), Japan will host the Asia Green Growth Partnership Ministerial Meeting (AGGPM) on 4th October. In this first-ever meeting, will deepen the discussion on the importance of various and pragmatic energy transitions in emerging countries such as those in Asia, which are indispensable for the realization of global decarbonization in the midst of the urgent need to address climate change.
The 7th DISG Webinar of the Series:
"Promoting Smart City in ASEAN region with Japan's Solution"
We're pleased to announce in advance the 7th DISG webinar in the theme of "Promoting Smart City in ASEAN region with Japan's Solution" to be held 9:00-10:00AM(UTC+7) on 2nd November (Tue).
In this webinar, key figures from ASEAN and Japan will share the latest information of ASEAN-Japan collaboration in Smart City field as well as the importance of promoting Smart City in ASEAN region with Japan's advanced solution.
[Speakers (Tentative)]
Mr. Lim Chze Cheen, Head of ASEAN Connectivity Division, ASEAN Secretariat
Mr. Hiratsuka Nobuyuki, Deputy Director-General for International Projects Promotion, Trade and Economic Cooperation Bureau, METI, Japan
Mr. Hirose Masayoshi, General Manager, Social Infrastructure Development Department, Energy & Social Infrastructure Division, Sojitz Corporation, Japan

*Speaker's information will be updated soon
We will soon announce once it is open for registration. Please look forward to it.
The 2nd Supply Chain Resilience Forum

On 17th September, the 2nd Supply Chain Resilience (SCR) Forum was held online hosted by the Japan External Trade Organization (JETRO). Experts from industry, government, and academia of ASEAN economies, Japan, Australia, India etc. discussed in the theme of " How supply chain management evolve by digital transformation?".
The main points discussed in this forum were as follows:
The three elements of a supply chain (followability, redundancy and recurrence) are significant. As an enabler of these elements, it is necessary to focus on digital transformation, which is also the theme of this Forum.
In order to improve the resilience and competitiveness of supply chains, integrated supply chain management, including upstream suppliers, is essential. In terms of policy, it is of importance to provide an infrastructure for companies to coordinate their data through the development of standards for supply chain data and guidelines for data sharing.
In the context of the increasing global demand for addressing non-economic values such as the environment and human rights, consideration of sustainability, including the circular economy, needs to be positioned in the broad sense of supply chain resilience.
Supply chains and circular economies can be optimised more broadly through collaboration and linkages. ASEAN, Japan, Australia and India are linked by the Indo-Pacific region, making them a potential unit of cooperation in the pursuit of supply chain resilience and circular economy.
We look forward to continuous discussion in this forum and let you know if there's any updates.
Please see here for further detail of this Forum.