Promoting Smart City in ASEAN region with Japan's Solution:
November 2nd (TUE) 9:00 – 10:15 (UTC+7)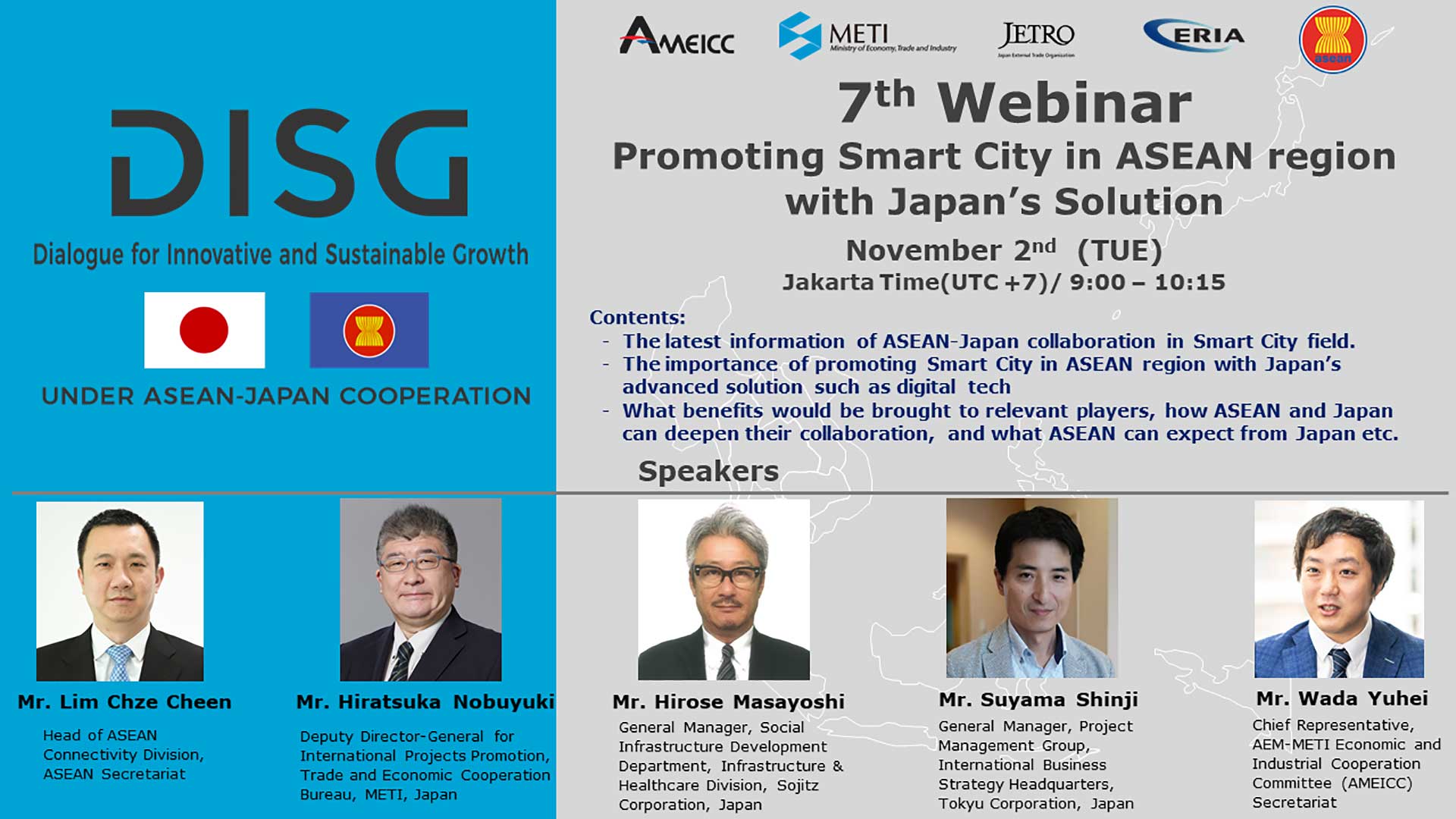 Overview
From now on, ASEAN-Japan Economic and Industrial Cooperation will be focusing on innovative and sustainable growth in 3 areas; "Industry", "Urban areas" and "Rural areas". Regarding the second area of "Urban areas", theme of "Smart City" is covered in this webinar which is gaining more attention in Southeast Asia. Urban areas in the region experiencing rapid growth are facing various challenges such as city congestion, water/air quality, poverty etc., and "smart" solutions are desired to solve these issues. Activities such as ASEAN Smart City Network (ASCN) is taking place actively, and "Smart City" is one of the most important themes in ASEAN.
Japanese companies also actively participate in smart city projects in respective Southeast Asian countries, and it is highly expected for Japan to further contribute to this field for sustainable growth of urban areas in Southeast Asia.
In this webinar, key figures from ASEAN and Japan will share the latest information of ASEAN-Japan collaboration in Smart City field as well as the importance of promoting Smart City in ASEAN region with Japan's advanced solutions such as digital tech.
Also, this webinar will cover what benefits would be brought to relevant players, how ASEAN and Japan can deepen collaboration, and what ASEAN can expect from Japan etc.
Speakers
Mr. Lim Chze Cheen, Head of ASEAN Connectivity Division, ASEAN Secretariat
Mr. Hiratsuka Nobuyuki, Deputy Director-General for International Projects Promotion, Trade and Economic Cooperation Bureau, METI, Japan
Mr. Hirose Masayoshi, General Manager, Social Infrastructure Development Department, Infrastructure & Healthcare Division, Sojitz Corporation, Japan
Mr. Suyama Shinji, General Manager, Project Management Group, International Business Strategy Headquarters, Tokyu Corporation, Japan
Mr. Wada Yuhei, Chief Representative, AEM-METI Economic and Industrial Cooperation Committee (AMEICC) Secretariat, Japan
Date and Time
November 2nd (TUE) 2021
Jakarta Time (UTC+7) 9:00 – 10:15