Japanese FDI Recovers Rapidly especially in ASEAN region: Post Covid-19
Resuming Business Trips to ASEAN; JETRO Promotes Attractive Investment Packages of ASEAN Member States (AMS)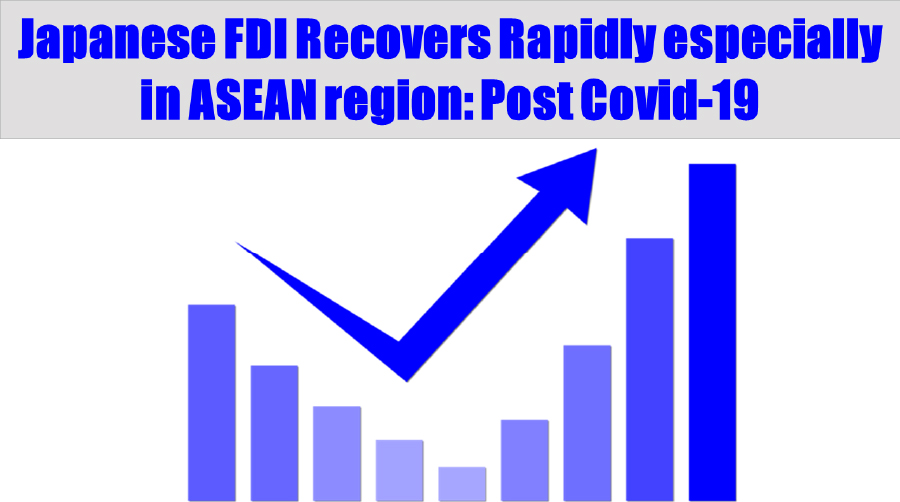 The following is an analysis of recent Japanese investment trends in Southeast Asia, based on outward direct investment statistics for 2021, released by Japan's Ministry of Finance. In the same year, Japan's direct investment in ASEAN (net and flow) grew 64.3% over the previous year to 3,190 billion yen (About US$ 24.9 billion, US$1=\128). Investment in Singapore, Vietnam, and Malaysia expanded.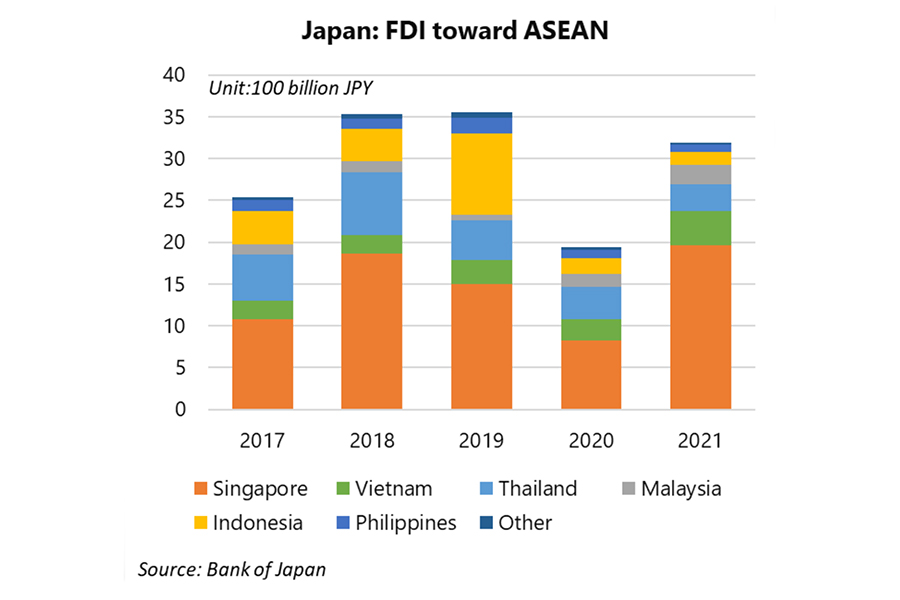 Japan's outward FDI (worldwide) slightly increased to 16,368 billion yen (+4.5%, YoY), but along with the U.S. (6,771 billion yen [US$ 52.9 billion], + 49.7%), ASEAN is the driving force behind Japan's FDI. As a percentage of Japan's total outward FDI, ASEAN accounted for 20%, about half that of the U.S. (41%), but doubled the size of the EU (10%) and about 3 times that of China (7%).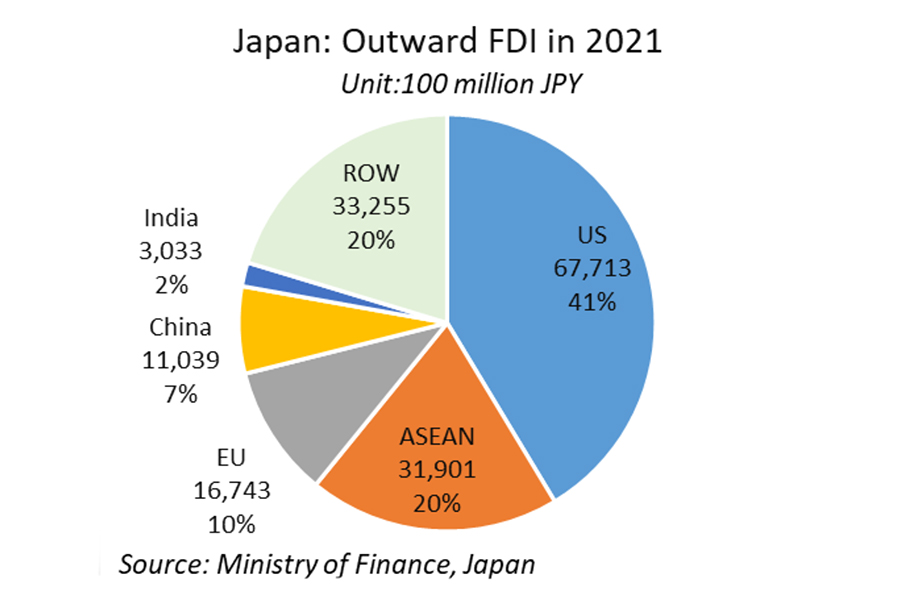 Within ASEAN, Singapore was the largest destination for direct investment, increasing 2.4 times over the previous year to 1,958 billion yen [US$ 15.3 billion]. Vietnam followed, expanding 65.2% to 416 billion yen [US$ 3.3 billion] to take second place. The amount of direct investment in both countries was the highest since 2014 when statistics based on the current standard began. Malaysia also performed well, increasing 49.0% to 228 billion yen [US$ 1.8 billion], the highest amount since 2015.
On the other hand, Thailand, which ranked second in ASEAN last year, dropped to third place with 322 billion yen [US$ 2.5 billion], down 18.7% from the previous year. Indonesia was also sluggish, down 16.8% to 150 billion yen [US$ 1.2 billion], and the Philippines was also poor, down 19.8% to 87 billion yen [US$ 0.7 billion].
However, looking at the foreign direct investment statistics of each AMS, which are leading indicators, there are high expectations. Japan's situation in terms of foreign direct investment in each country is as follows.
Thailand: According to the Board of Investment (BOI) foreign direct investment approval statistics, Japan topped the list with THB 281 billion (US$ 8.3 billion, US$ 1 = THB 34), up 47.5% from the previous year. Large investments were made in petrochemical manufacturing (18 billion baht [US$ 545 million]), industrial chemical manufacturing (6.8 billion baht [US$ 206 million]), and transportation equipment ball bearing manufacturing (3.3 billion baht [US$ 97 million]).
Vietnam: According to FDI approval statistics from the Foreign Investment Agency, Japan tripled its FDI approvals from the previous year to US$3,650 million, a significant expansion, ranking third after Singapore and South Korea. In terms of the number of approved investments, Japan was second, with 331 approved. Large investments were made in thermal power plant projects, corrugated paper manufacturing projects, and others.
Malaysia: According to data obtained by JETRO from the Malaysian Investment Development Authority (MIDA), Japan's investment in Malaysia expanded rapidly by 4.6 times over the previous year to 7,537 million ringgit (US$ 1,713 million, US$ 1 = 4.4 ringgit). These include the construction of a new semiconductor plant, investment in the expansion of laminated ceramic capacitor manufacturing, and investment in the expansion of automotive semiconductor manufacturing.
Cambodia: According to data obtained by JETRO from the Cambodia Development Council (CDC), Japan was the fifth largest investor in Cambodia with a solid inward direct investment (on an approved basis) of approximately US$ 62 million, 8.6 times that of the previous year. Investment in business expansion in the manufacturing sector and investment in the expansion of the shopping mall stand out.
In general, there is an increase in investment by Japanese companies in ASEAN countries. Although many Japanese firms remained wait-and-see in the COVID-19, the approval statistics indicate that there are high expectations for future investment.
In many countries, the easing of immigration restrictions is progressing, and the number of Japanese business travelers visiting JETRO's offices in each country is also increasing. There is a movement to gather information in preparation for the resumption of investment. JETRO intends to introduce the attractive investment attraction programs that each ASEAN country is offering.