Focus on ASEAN-Japan Collaboration 1: SCG Yamato Express, Yamato Holdings
ASEAN-Japan collaborations to address social challenges in ASEAN region
AMEICC Secretariat is interviewing several Japanese companies which provide innovative and sustainable solutions to social challenges in ASEAN region. Let us introduce such activities contributing to ASEAN development as examples of ASEAN-Japan cooperative projects. Today, we would like to introduce SCG Yamato Express Co., Ltd., which has provided the "Cool Ta-Q-Bin service", small lot refrigerated delivery services, since 2017 in Thailand, and Yamato Holdings Co., Ltd., which contributed to the establishment of international standards for small-lot refrigerated delivery service.
Interviewee: Mr. Yamazaki Sakae from SCG Yamato Express Co., Ltd. and
Mr. Ogami Naoki from Yamato Holdings Co., Ltd.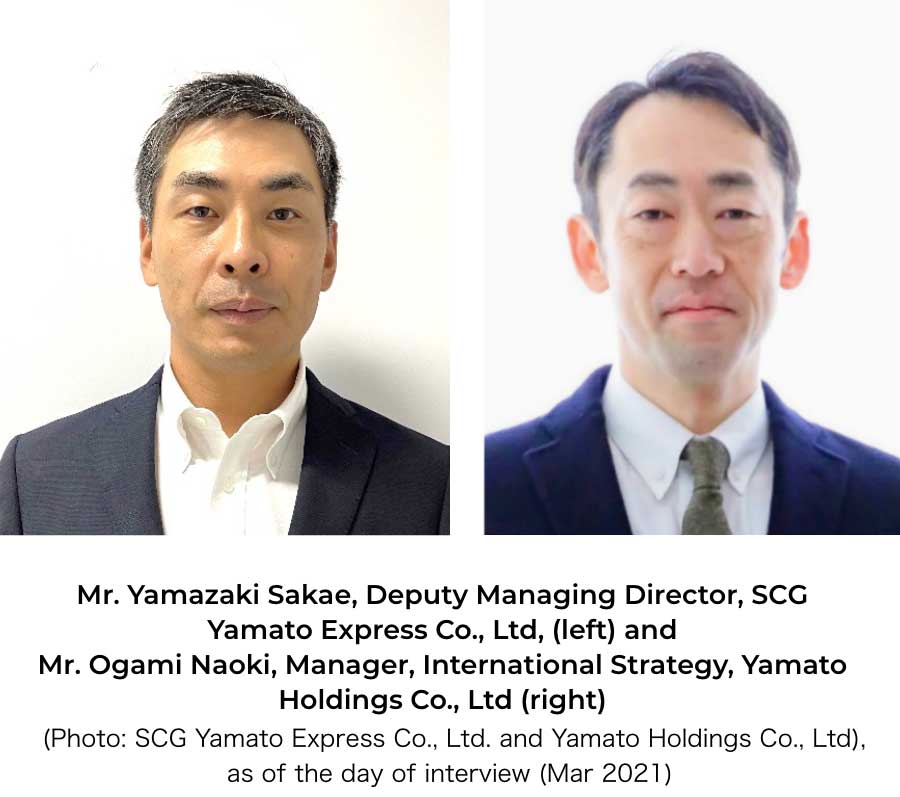 Q :
What is "Cool Ta-Q-Bin" service?
A :
"Cool Ta-Q-Bin" is a small-lot refrigerated delivery service using vehicles with temperature-controlled equipment. In Japan, people use the service when sending perishables such as freshly caught fish or fresh fruits to restaurants or to others as gifts. In Thailand, there had been no small-lot refrigerated delivery service except transporting products in Styrofoam containers with ice until 2017 when we began providing the service. Nowadays, we handle many kinds of products, including, but not limited to fresh food, pet food, and baby food.
For sellers, the service enables them to expand sales areas and provide services that used to be available only in limited local districts. A successful business expansion we came across was a hotel in the southern part of Thailand, facing a huge drop in visitors due to COVID-19, started delivering food cooked at the hotel to Bangkok which is 700 to 800 km away by using our Cool Ta-Q-Bin service.
Q :
Why did you choose Thailand?
A :
We see a growing potential in small-lot delivery services in Thailand where the income level and the consumption rate are rapidly increasing among ASEAN countries. Particularly, with the widespread use of smartphones, the E-commerce market is expanding fast, showing double-digit growth.
Some transport companies are providing small-lot delivery service, but small-lot refrigerated delivery service has not been fully established yet. Some companies still provide the "traditional delivery method" of using Styrofoam containers with ice which is not sufficient for delivering perishable items and maintaining their freshness. In some cases, some of the perishables get spoiled and disposed of. Consumers are not familiar with the concept of the small-lot refrigerated delivery service, either.
Through Cool Ta-Q-Bin, our goal is to let consumers understand the "value" of refrigerated delivery service becoming possible even for small-lot products.
Q :
What are the steps taken to tackle issues surrounding small-lot delivery service market in Thailand?
A :
We have contributed to creating and expanding the small-lot refrigerated delivery service market in Thailand by shaping high-quality standards for the service and by promoting awareness among customers that these standards are the proof of service quality. International standard "PAS 1018" was established in 2017, by the collaboration of Japanese and overseas refrigerated delivery service providers, together with experts of related fields. This standard targets small-lot refrigerated services with intermediate transfer, specifies requirements in regards to temperature management of the refrigerated vehicles and intermediate transfer of parcel to secure quality and consistency of service.

In 2020, "ISO 23412", the international standard for refrigerated parcel delivery service, which was developed based on "PAS 1018", was issued. In October 2020, Yamato Transport in Japan became the first company in the world to be certified under ISO 23412 standard, and in January 2021, SCG Yamato Express became the first ISO 23412-certified company in Thailand, providing high-quality small-lot refrigerated delivery service assured by the third party.
Q :
What is the uniqueness of "Cool Ta-Q-Bin" or the international standard?
A :
Cool Ta-Q-Bin itself is unique in the sense that it contributes to sustainability. Unlike Thailand's current delivery system, Cool Ta-Q-Bin reduces energy consumption and food loss by only delivering the necessary quantity of products with the ISO-certified high-quality transportation method.
Although some companies do provide small-lot refrigerated delivery service in Thailand, SCG Yamato Express is the only company with the high-quality service standard certified by the third party under ISO 23412. This visible and transparent standard allows sellers and consumers to identify service providers even under a new market.
Changes brought about by international standard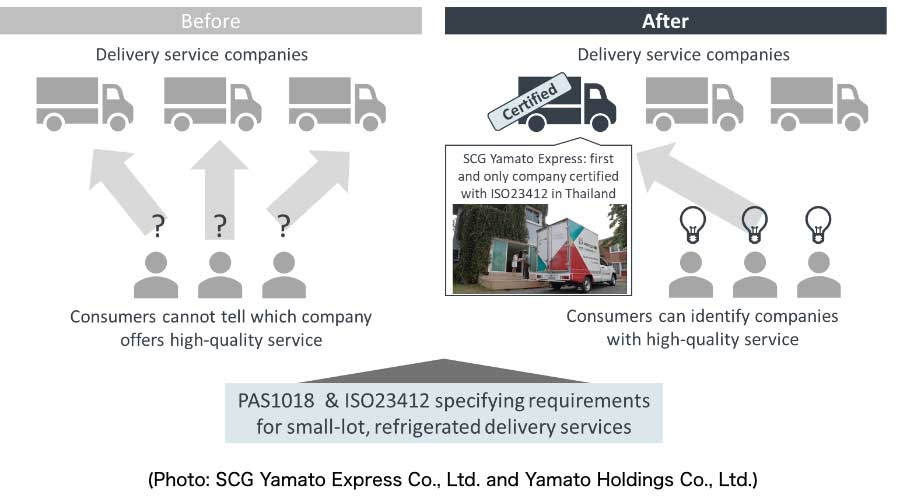 Q :
Why did you partner up with Siam Cement Group?
A :
We share a vision of creating and expanding the "parcel delivery service" market in Thailand. The main business of our partner, Siam Cement Group (SCG), has been to develop cement-building materials, chemicals, and packaging, but they also established logistics companies to focus on service for businesses. The company's intent to offer parcel delivery service to individuals and small businesses in the growing e-commerce market also pushed us to collaborate with them.
Another reason for the collaboration is that we feel our strengths can generate synergy. Yamato Holdings can leverage the well-spread-out logistics network SCG has built in Thailand while SCG can take advantage of our know-how on parcel delivery services for individuals and businesses.
Members of SCG Yamato Express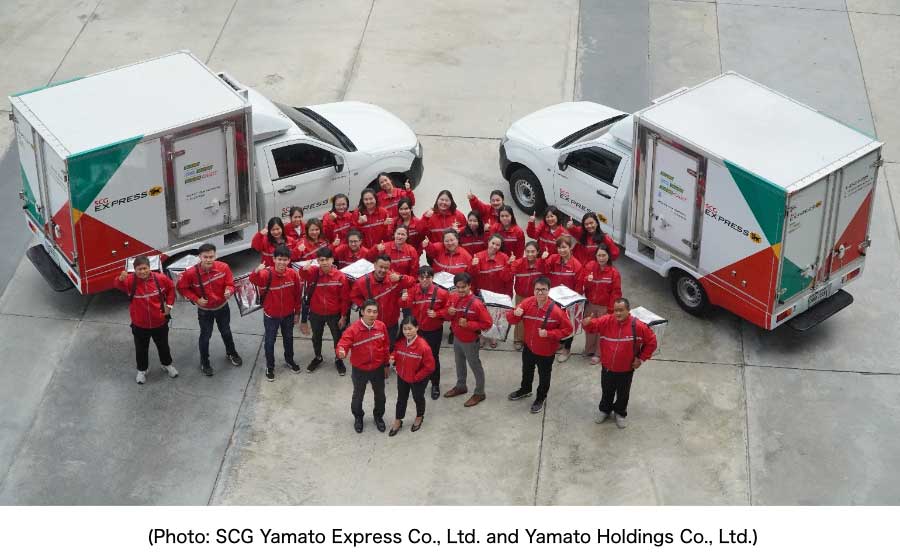 Q :
What are the next steps of "Cool Ta-Q-Bin" service in ASEAN/in the world?
A :
Our aim is to build safe, reliable, and sustainable food distribution around the world, including the ASEAN region. With this in mind, we established a global consortium for small-lot refrigerated delivery service on 24th March 2021, in cooperation with DPD Group, who have the largest parcel delivery network in Europe. Within this consortium, we created a common brand called "Fresh Pass", and through the brand, we will provide ISO 23412-based, high-quality small-lot refrigerated services, leveraging each company's logistic network. The consortium is open not only to logistics companies with ISO 23412 certification but also to all companies providing services that satisfy the same level of standard as ISO 23412. We are eager to expand the consortium to the ASEAN region and welcome any companies interested in becoming a partner.
Through "Fresh Pass" brand, ISO 23412-based,
high-quality parcel refrigerated services will be provided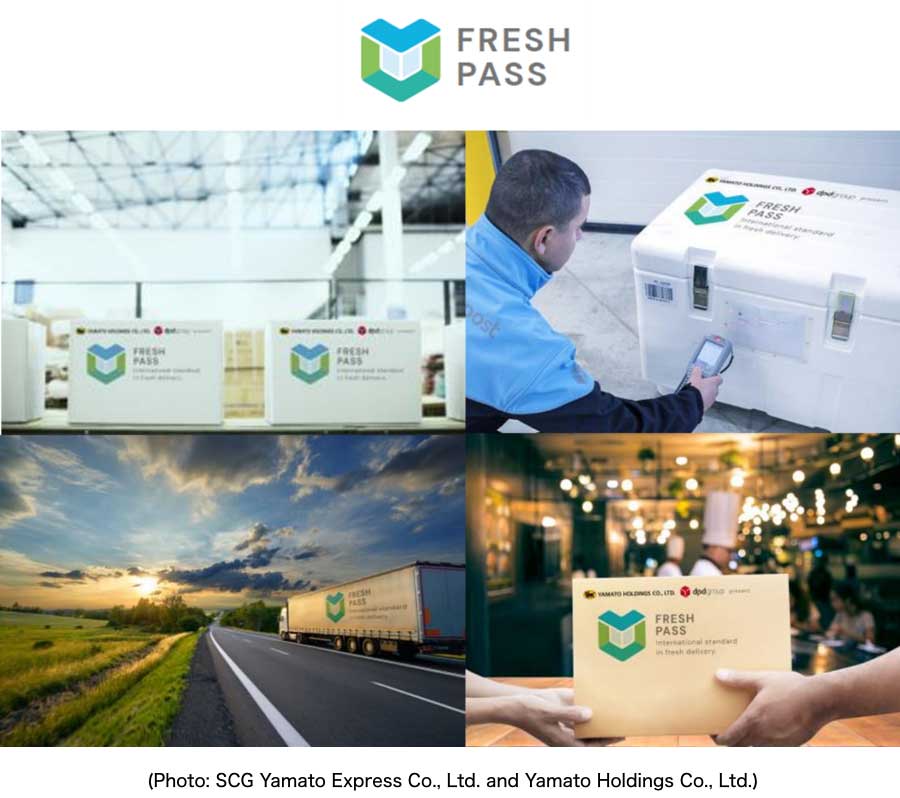 Comments from Ms. Oranee Pensirisombun,
Managing Director, SCG Yamato Express Co., Ltd.
For consumers, our service provides convenience for those who want to order fresh food in a small portion as necessary. For sellers who aim to expand their e-commerce sales, our service allows them to gain more sales opportunities and helps them achieve a higher margin by selling the products directly to the consumers in a small quantity.
Since Thailand is a country with a variety of food products, we are confident that our service can better serve their demand for the sustainable food supply chain.