Southeast Asia Start-ups in the three hottest fields
-DX Platform Program
May 28th (Fri) 2021 11:00~13:00(UTC+7)

Summary
In this session, venture capitals and startups in the three key fields of retail, mobility, and healthcare, representing companies in Southeast Asia region, discussed the importance and possibility of collaboration between Japanese companies and ASEAN startups.
Mr. Suzuki, president director of JETRO Jakarta, began the opening remarks by stressing that startups are major players in the rapid changing businesses in the ASEAN region. The collaboration between ASEAN business and Japanese companies provides a win-win situation where Japanese companies would provide technologies and business models and have access to a potential market and growth in the region. He hopes both ASEAN and Japan companies to work together as equal partners. To conclude his speech, he introduced "J-Bridge" and "Invest Japan" as business platforms provided by JETRO to encourage further collaboration.
Mr. Ben Mathias, Managing Partner of Vertex Ventures Southeast Asia & India gave a keynote speech on the environment surrounding ASEAN startups where digital innovation is advancing, as well as the future prospect of investment and business opportunities to be focused in specific fields and sub-sectors.
In the e-commerce field, along with the traditional e-commerce business models such as Amazon, the emergence of new e-commerce models is also seen including social commerce, D2C (Direct to Consumer) and live commerce provided by influencer.
In the B2B field, vertically integrated platforms and supply chain logistics services are expected to grow further in the future as driven by digitalization. For the digital financial services field, micro-lending platforms and digital insurance and services as examples are attracting attention as the demand for digital payments and digital transactions is increasing. Increase in B2B SaaS (Software-as-a-Service) business opportunities related to data and infrastructure management and SaaS for SMEs are expected. With regard to health tech field, businesses that make full use of cutting-edge technologies such as AI, virtual primary care, hospital tech, as well as mental health and wellness products are anticipated to grow further.
Finally, Mr. Mathias further highlighted that in the field of digital entertainment, there could be more business opportunities especially in the Augmented Reality and Virtual Reality in the future.
Followed by the panel discussion session, there are two key startup companies in each sector of retail, mobility, and healthcare introducing their respective business models. These startup companies also welcomed collaborations with Japanese companies in a wide range of forms, for instance from business alliances to investment in order to solve the social issues in the ASEAN region.
In the field of the retail, SOCASH and Wahyoo introduced their businesses and services. SOCASH, a fintech company in Singapore, offers a platform solution that transforms retail stores into a business that can provide banking services called "Virtual ATMs". Wahyoo supports the digitization of MSME F&B in Indonesia in terms of business processes and financial management.
In the field of mobility, SWAT Mobility and Phenikaa X took the stage. SWAT Mobility is a Singapore-based mobility startup that leverages its high-precision algorithms to develop ride-sharing services and on-demand buses in seven countries in the world. PhenikaaX is a Vietnamese startup that centers its business in developing self-driven vehicles including passenger cars, forklifts and tractors, as well as robot technology.
Finally, in the field of healthcare, eDoctor and HealthMetrics gave their speeches. eDoctor is a digital technology startup focusing on the Vietnamese medical market. HealthMetrics, as a Malaysian health fintech startup, supports companies to manage, measure and improve in term of management and deployment of employees' benefit programme.
Opening Remarks
Suzuki Keishi (President Director, Japan External Trade Organization (JETRO) Jakarta)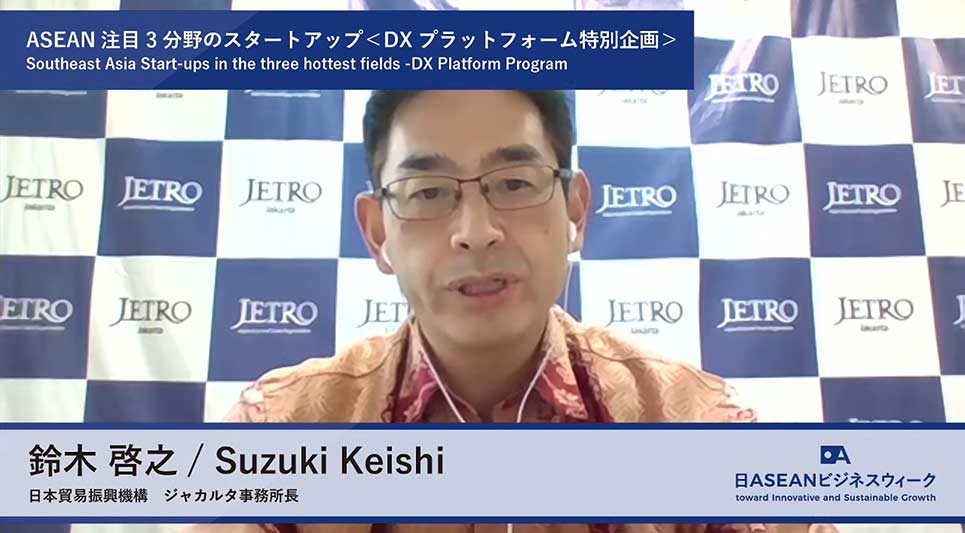 In Indonesia, there are six unicorn companies working together and many startups are being established. Leapfrogging phenomenon is being seen in the ASEAN region as there are many startups being established also in other ASEAN countries, aiming at solving social challenges and turning them into business opportunities, with the ideas of young generation and digital technologies.
Businesses in the ASEAN region, not only startups, are seeking collaboration with Japanese companies with hope to present themselves as the potential market and growth to become a win-win business partner of Japan. This is because they fully recognize the risks faced by Japanese companies for instance the declining birthrate, increasing aging population, difficulty to hand down technology to their posterity, enabling to possibly shrink the Japanese market. The forthcoming partnership between Japanese and ASEAN companies should be as equal partners. Therefore we believe that the collaboration between ASEAN startups and Japanese companies will be a great and important step toward discovering new business model for the next generation of Japanese companies.
"J-Bridge" was launched by JETRO as a support scheme/business platform to promote partnership and collaboration between ASEAN startups and Japanese companies. Through this business platform, Japanese companies can arrange meetings with startup companies, obtain relevant business information (e.g. potential partners/companies, specific market information), as well as receive individual consultations. In addition, overseas companies can also receive the services of "J-Bridge", and "Invest Japan" which supports the business expansion into Japanese market.
Keynote Speech: The Overview of Eco Systems and Start-ups in ASEAN region
Ben Mathias (Managing Partner, Vertex Ventures Southeast Asia & India)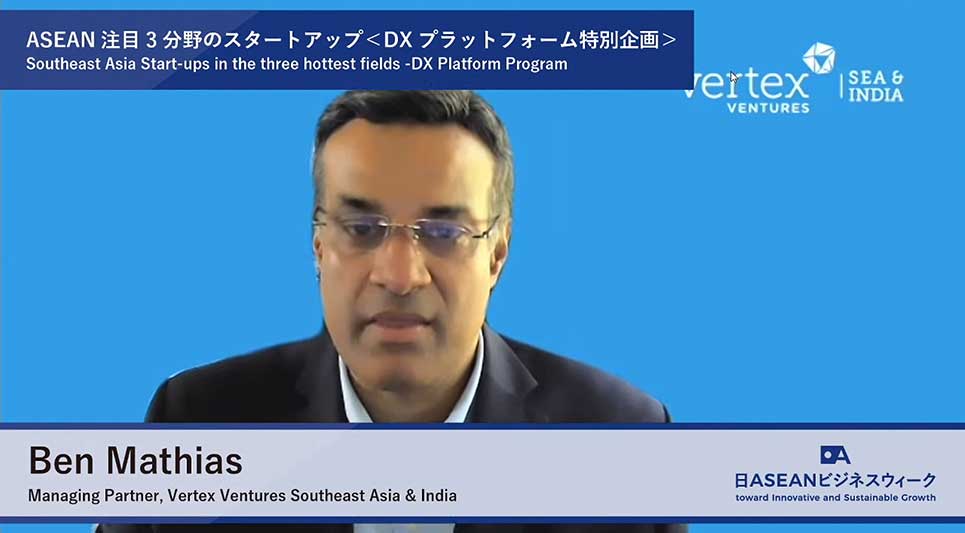 Vertex Venture is a global venture capital firm under the umbrella of Temasek Holdings, a Singapore-based investment company with operations across the world e.g. SEA, India, China, the US, Israel.
SEA and India in particular present very significant investment opportunity across multiple sectors with more than 2 billion population of which are 1 billion tech and social media savvy youth i.e. young people. We are engaged in investment activities in various fields such as consumer internet and fintech, focusing on early-stage investment in the SEA region. Singapore, Indonesia, Malaysia, Thailand, Vietnam are the primary focus, investing in diverse themes and sub-sectors.
Considering on the investment climate in SEA for venture capital, it showed that from 2016 the SEA early-stage investments has been growing consistently even amid pandemic in 2020-2021. Singapore and Indonesia remain top deal destinations while Vietnam, Thailand and Philippines are emerging strongly as investment destinations.
E-commerce 2.0 has become a hot topic against a backdrop of substantial growth in internet use in SEA region. We have also seen the emergence of new e-commerce models including social commerce, D2C (Direct to Consumer) and live commerce provided by influencer in addition to traditional e-commerce models like Amazon.
In the B2B field of commerce market where businesses are doing online purchasing activities, vertically integrated platforms and supply chain logistics services are expected to grow further in the future as driven by digitalization. We are expected that SEA B2B commerce market is projected to reach USD57 billion by 2025 largely driven by digitalization as a result of pandemic.
Regarding the field of digital financial services, demand for digital payments and digital transactions, will gain more attention in the future. Opportunities and trends can also be found in neo-banks and micro-lending platforms, buy-now-pay-later, digital insurance and services for unbanked and underbanked.
Another sector with a lot of opportunities in SEA would be in the area of B2B SaaS (Software-as-a-Service) which number of players in this sector have increased from 140 SaaS companies in 2015 to about 3,000 this year. Clearly, SEA SaaS is at a point of the new wave of growth in next decades with advantages such as a large talent pool of software professionals. Opportunities can also be found in data and infrastructure management, vertical SaaS, AI driven process optimization as well as SaaS for SMEs.
With regard to health tech, delivering healthcare through technology is essential in SEA with big opportunities in healthcare companies using technologies such as AI to help guiding through diagnosis process, virtual primary care provided at home, hospital tech as well as mental health and wellness products.
Digital entertainment has grown significantly over the past years against a backdrop of COVID-19 lockdown measures. We also expect opportunities to rise especially in the areas of Augmented Reality and Virtual Reality in the future.
Pitch Session: Retail Industry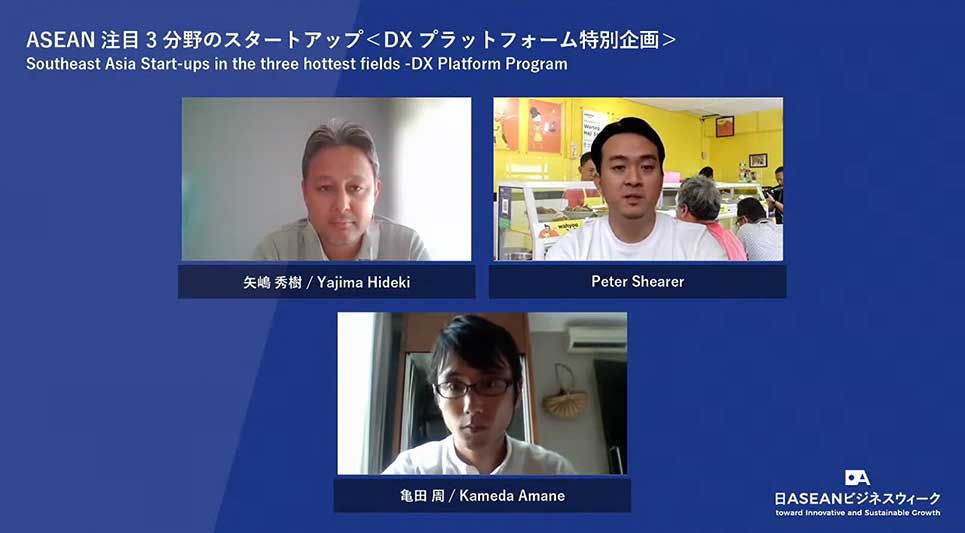 Business Introduction of Each Company
Yajima Hideki (Vice President/Business Development and Partnerships, SOCASH SOFTWARE JAPAN (Singapore))
SOCASH is a fintech company in Singapore operating mainly in ASEAN countries and now making a road to Japanese market.
In recognition of the ASEAN's rapid economic growth, the traditional network of banking and financial services (providing conventional services through bank branches and ATMs) can no longer serve its increasing needs, especially in this digital era. It is therefore necessary to build an ecosystem in expanding the next-generation financial services by utilizing conducive networks such as retail stores network. Providing financial services through retail services, the retail stores would then become "Virtual ATMs", with an integrated platform providing services such as payment and fund transfer services, digital cash services, and the last one-mile financial services.
Based on our SOCASH platform, major ASEAN financial institutions in particular, can use retail stores as the network by taking its advantage of stability and economic rationality as well as being able to generate new sources of fee income from new customers when expanding services. Also, the financial institutions could use SOCASH service as alternative to ATMs and consolidated branches, while reducing costs and maintaining conveniences for customers. Clearly, digital banking trend is moving forward in the region while banking and financial services would be highly sophisticated in combination with both physical and digital services.
Toward the future, SOCASH would like to further expand business in both ASEAN countries and Japan especially in seeking partners with the banks and retail companies.
Peter Shearer (Wahyoo CEO & Founder)
We are an ecosystem builder focusing on digitalizing and improving the business operations and financial management of F&B MSMEs as well as supporting three type of SMEs including family business restaurants, SME restaurants, home industry in Indonesia. In this regard, we see market potential as MSME's market size is huge in Indonesia and less digitalized. The digitization ratio of 3.5 million MSME in Indonesia is only at 18%.
Through Wahyoo as an integrated ecosystem by providing self-developed apps to these F&B MSMEs, we can solve their operational and financial problems related to raw material supply, quality of business, finance and additional income program. Furthermore, through Wahyoo's supply chain management process, having a direct contract with farmers allows F&B MSMEs to procure the raw materials directly and efficiently from them even for small restaurants. We also offer a wide variety of products that are commonly consumed by F&B MSMEs.
With 16,000 registered members, we are the largest MSME F&B community in Indonesia, currently with our coverage in four cities including Jakarta, however, we are planning to expand to more other cities this year.
Expectations for Collaboration with Japanese Companies
Mr. Yajima (SOCASH SOFTWARE JAPAN)

ー

We plan to develop partnerships with Japanese companies from two perspectives namely (1) banks, it is of importance to further discuss on their digital and network strategies for business expansion and (2) retail stores, it is necessary to examine potential business alliances by expanding and utilizing network base.
Mr. Peter Shearer (Wahyoo)

ー

In term of collaboration with Japanese companies, we need support for sharing knowledge and expertise, particularly with distribution companies to further expand the business in Indonesia.

ー

Another support is also required for Fast-Moving Consumer Goods (FMCG) products by utilizing Wahyoo's MSME F&B community to penetrate the products to middle and low-end market segments.

ー

We are also raising funds and looking for more investments in term of value-added operation and distribution for sustainable business in the future.
Pitch Session: Mobility Industry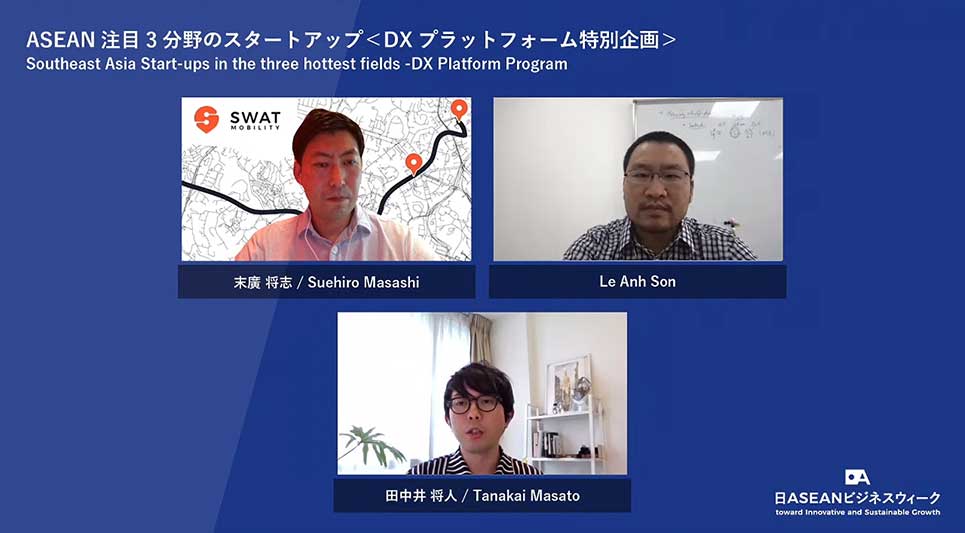 Business Introduction of Each Company
Suehiro Masashi (Country Head, SWAT Mobility Japan (Singapore))
SWAT Mobility is a Singapore-based mobility startup founded in 2015, offering ride-sharing services and on-demand buses, and currently operating in seven countries in the world. In term of technology, we have developed the dynamic routing algorithms connecting multiple points. Along with the implementation and development of distribution application system through this technology, the operational costs would be lower by reducing the number of buses and travel distances, and simultaneously improve convenience by increasing the number of bus stops.
Focusing on the market situation, on-demand ride-sharing transportation is growing rapidly in many countries with numerous demonstration projects in worldwide basis. Asia market including Japan is also growing and catching up with European and North American markets.
SWAT Mobility entered to Japanese market in February 2020 and has been offering services and demonstrations in nine regions. The key feature of our services is highly accurate algorithm. It has achieved the best results in the on-demand bus function measurement benchmark, with the highest ability to reduce the number of vehicles. Moreover, our application includes a user interface that is friendly to both the passengers and the drivers and allows administrator to run the analysis of transportation management and movement performance.
At the moment, we are looking for collaborative partners to expand our on-demand transportation services and other businesses in ASEAN, Japan, and/or other regions.
Le Anh Son (PhenikaaX CEO)
Our startup was established in 2020 as a spin-off from Phenikaa University, with its main mission to bring new self-driving technology for the better life. The key business areas are focused on self-driving forklift, self-driving drone and UAV application, self-driving car, self-driving robot and self-driving tractor.
Regarding the area of self-driving car, which Tesla and Uber are in the stage of developing autonomous vehicles, our company is targeted on level 4 and level 4+ of advanced driving automation and focused on minibus, sedan and EV. Currently, we are also concentrating on localization in Vietnam by building the Real Time Kinematic (RTK) base station and own 3D and HD map. Focusing on our first prototype of fully self-driving vehicle, its typical lithium battery-powered automated driving vehicle can run for 100 km with a maximum speed of 40 km/hour and a maximum load capacity of 600 kg. The company's next step is to fully produce self-driving vehicle with optimized quality and acceptable price for future business expansion.
It is also of importance to have technology that will change the future of society and we are always welcome for collaborations with Japanese companies in various fields.
Expectations for Collaboration with Japanese Companies
Mr. Suehiro (SWAT Mobility Japan)

ー

We would like to pursue collaborations in various countries as mobility is one of the fundamental human rights which is to be used in term of basic services like commuting services, smart driving, on-demand bus for public transportation etc. With mobility data, through our technology we could carry out the simulations for optimal benefits.
Mr. Le Anh Son (PhenikaaX)

ー

Collaboration with Japanese companies is more than welcome, especially in the fields of smart mobility and smart city mapping.

ー

Robotics is also a very promising field. A large number of Japanese-made robots are imported to Vietnam every year, therefore we hope to have collaborations in term of investments and partnerships in this area for the local production of "made-in Vietnam" robots.
Pitch Session: Healthcare Industry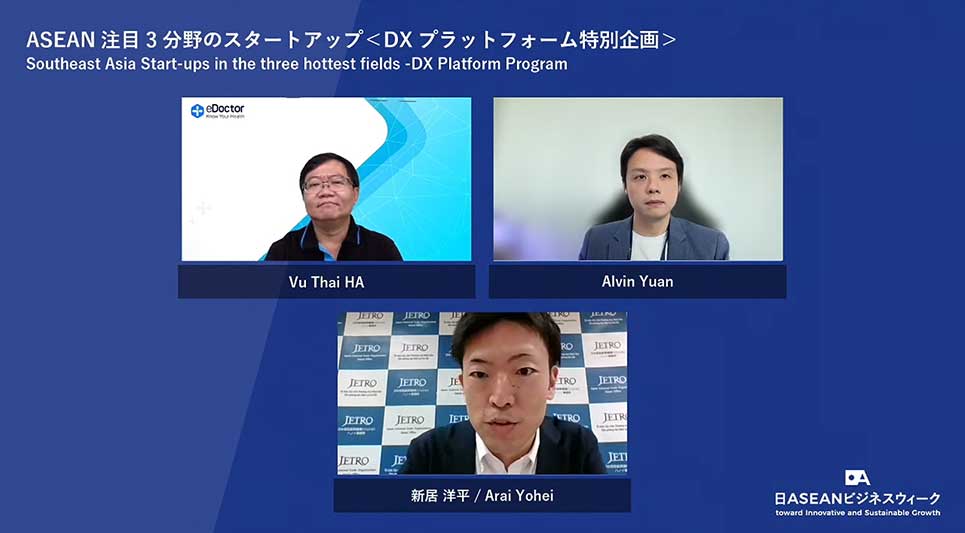 Business Introduction of Each Company
Vu Thai HA (eDoctor COO & CPO)
Our company was founded in 2014 and has been developing healthcare business focusing on our Vietnamese market.
Vietnam's domestic medical market is expected to grow significantly in the coming years with high potential comparing to other ASEAN countries. Efforts in the government's policies and legislations are supportive for instance the formulation of medical-related laws to promote telemedicine and home medical care to be expected within this year. Against this background, we would like to further accelerate our business and deliver services to the end-users.
Currently, the Vietnamese medical market has been encountered with challenges/pain points over the lack of patients' knowledge, limited access to medical resources, weakening quality of medical treatment services (e.g. overcrowding and high occupancy, lack of consultations), as well as inefficient medical record management/access. As a result, we offer a solution by eDoctor mobile application so-called "Virtual Medical Assistant" aiming to help the people live healthier and better lives with key features of providing health literacy, personal health profile, virtual wellness support, comprehensive medical service as well as personalized insurance packages.
Focusing on our service roadmap towards the future, we plan to expand our service lines into the fields of consumer healthcare, online health store, online medical service, offline health hub/retail clinic in communities' area, and medical advertising services.
Alvin Yuan (HealthMetrics CEO)
We are a Malaysia-based Health Fintech SaaS Employee benefits platform founded in 2015 that supports companies to manage, measure and improve in term of management and deployment of employees' benefit programme.
Focusing on the problems that many companies are facing today across the world, it could be seen in increasing of medical expenditure in SEA, lack of health data, high administration costs, decline in employee satisfaction, etc.
Within the conventional administration overview particularly in SEA, there are multiple parties involved such as brokers, insurance companies and third-party administrators, causing confusions and gaps among the HR department and their employees which still exists even today. In term of HealthMetrics, we are able to connect all these stakeholders into a single platform and assist company's HR department to deploy into employees' benefit programme effectively.
Expectations for Collaboration with Japanese Companies
Mr. Vu Thai HA (eDoctor)

ー

As a startup, we are looking for investment and possible collaboration with companies that have funds, good IoT solutions, knowledge of healthcare & medical solutions & products & insurance as well as medical expertise both from Vietnam and overseas.
Mr. Alvin Yuan (HealthMetrics)

ー

Through HealthMetrics, as the present moment, we are serving over 200,000 employees and have access to more than 4,000 healthcare providers in Malaysia which could help reach out to access them.

ー

There is also a potential for partnerships/collaboration through HealthMetrics network of more than 1000 companies in the interest of health/insurance/fintech spaces.

ー

In line with this, being as funded company, HealthMetrics is also looking into raising Series B soon, expanding into other ASEAN countries for future business growth.