Transforming Southeast Asia, Transforming Japanese Business
24th May (Mon) 2021 14:00~16:00 (UTC+7)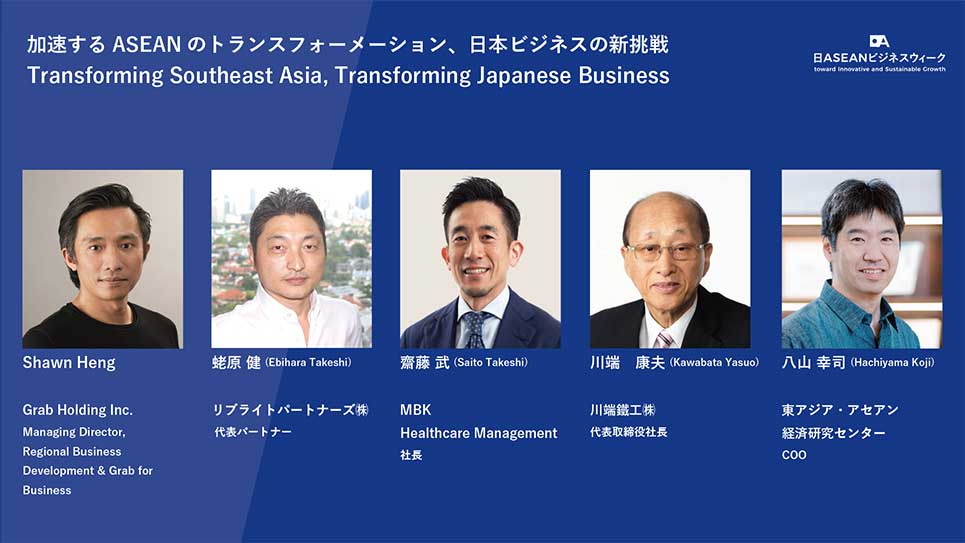 Summary
In this session, speakers from ASEAN unicorn, venture capital, Japanese large company, Japanese SME and research institutions discussed rapid transformation of ASEAN businesses' dynamism and future prospective while touching on the outline of entire programme of "ASEAN-Japan Business Week".
Mr. Shawn Heng, from Grab Holding Inc., which is a phenomenal unicorn in Southeast Asia, shared the story of their leapfrog growth from a ride-hailing mobile app to a super app. He introduced Grab vision of "Tech for Good for Southeast Asia" with certain initiatives on improving digital inclusion and literacy, empowering SMEs, building future-ready workforces in Southeast Asia for digital age. He further stressed that amid the challenge of COVID-19 pandemic, no one should be left behind in the trend of digital adaption, which is also reckoned as an inner engine of Grab's continuous efforts. At last, Mr. Shawn Heng delivered an encouraging message to Japanese companies that today's effects on digitization will never be futility in the future. The potential of Southeast Asia has bolstered with strong demand for products and services whereas Japan's know-how and hyper-localized partners would be helpful for Japanese companies to leverage and expand business opportunities in Southeast Asia.
Mr. Ebihara Takeshi, the Founding General Partner from Rebright Partners, gave an informative speech on the current status of digital transformation (DX) in the filed related to micro-business, financial, education and agriculture, as well as the trend and business case studies. He suggested to Japanese companies that cooperation with local startup is becoming more important nowadays, and all forms of collaborations such as alliance, investment and acquisition should be considered.
After that, as an example of a new challenge of a large Japanese company, Mr. Saito Takeshi of MBK Healthcare Management, a subsidiary of Mitsui & Co., Ltd., introduced the business development status and future direction of their healthcare business. He also shared the view that, in Asia medical care business is shifting the focal point from quantity to quality, which accelerate the paradigm shift from the "hospital-centered" to the "individual (patient) -centered" concept. He further emphasized the importance of digitization, collaboration with startups, and strengthening of local human resources.
As an overseas business development case of small and medium-sized Japanese enterprises, Mr. Kawabata Yasuo, president of KAWABATA Company Limited, from Toyama Prefecture took the stage. While mentioning that he has been expanding into Southeast Asia over the past 20 years, he introduced a current project related to off-grid electrification in rural areas in ASEAN region. He advised that small and medium-sized Japanese enterprises should effectively utilize the support measures of public institutions such as JICA and JETRO in order to expand the overseas business, adding his anticipation that more and more small and medium-sized Japanese enterprises will engage in overseas business actively.
At last, Mr. Hachiyama Koji, COO of Economic Research Institute for ASEAN and East Asia (ERIA) took the stage by introducing that the steady economic recovery and continuous growth of ASEAN countries are expected through the support of strong international production network (IPN). He pointed out that the progress of digitization, the cybersecurity and protection of personal data as well as the circular economy would be key concepts to drive the growth of ASEAN region in the future. He further emphasized that in the energy transition field, it is crucial to support the formulation of energy transition roadmaps based on the actual conditions of each country through Asia Energy Transition Initiative (AETI) etc. Lastly, he mentioned that there is great potential for future growth of ASEAN region in areas such as further progress of digitalization and the revival of the service industry including tourism.
Envisioning the Future of the Region with 650 Million People
Shawn Heng (Managing Director, Regional Business Development & Grab for Business, Grab Holding Inc.)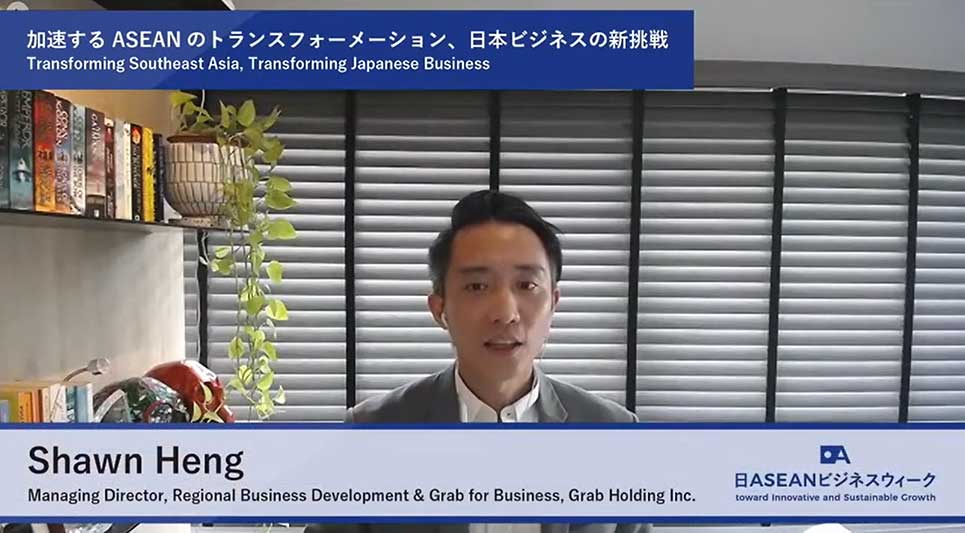 [Presentation]
Grab started as a ride-hailing mobile app in 2012 and has evolved into a super app in Southeast Asia that offers a variety of services available in every aspect of consumers' daily life including core businesses (e.g. deliveries, express, mobility) and financial offering (e.g. insurance, investment, loans, remittance etc.).
Based on the company's vision "Tech for Good, For Southeast Asia", we have three core missions: 1) Improving digital inclusion and literacy, 2) Empowering micro-entrepreneurs and small businesses, and 3) Building future-ready workforces in Southeast Asia for digital age. Those core missions are also recognized as "double bottom line" within our company, which means that financial profit is not the only thing we are pursuing, we need to consider the benefits of all stakeholders also when promoting our business.
Considering Grab's presence in Southeast Asia region, in 2020 the company has 40 million new Grab users showing key opportunities to drive digital inclusion and literacy goal in financial service. However, there is still the need to push forward the digitalization in the region as 60% of population is considered to be underbanked/unbanked consumers in Southeast Asia.
Amid the challenge of COVID-19 pandemic, Grab has used their digital platform to support the communities and people to overcome social issues such as unemployment and widening social disparity with three broad initiatives, 1) ensuring stakeholders to get access of income opportunities (e.g. training program for drivers to shift from taxi-driving to food delivery as a response to the sharp decline in demand for transportation); 2) providing services in safe and healthcare needs by launching "Grab Protect" and a new fixed-rate transportation service for medical professionals so called "GrabCare"; and 3) enhancing support programs for digital payments and online sale for micro-retailers who are no longer able to carry out their business face-to-face.
Grab is also promoting collaboration with Japanese companies. Due to the difficulties in launching a ride-hailing service solely in Japanese market, we cooperated with JapanTaxi and now it has leveraged a business scale with 70,000 taxis in five cities of Japan (i.e. Tokyo, Kyoto, Sapporo, Nagoya and Okinawa). In addition, in cooperation with partners like Softbank and Splyt, the company is promoting the business by exchanging talents to integrate mobile apps with travel reservation platforms.
In Southeast Asia, there are a lot of potentials for expanding new services for consumers who use online services (food delivery, payment services, etc.), and there are also strong needs for Japanese products, services, and know-how. We believe that there are many opportunities for collaboration with Japanese companies.
[QA session]
COVID-19's Impacts to Business Environment
Actually, the momentum of digitalization had already existed before COVID-19, but COVID-19 rapidly make it more inevitable. We also recognized that "safety" is becoming more important in our business, which results in our new support measures including the provision of effective tools and trainings to business partners. For example, we have built a fresh food procurement system called GrabAssistant, which is being used by many micro-enterprises now.
Key points for sustainable and socially-beneficial digitalization
As I mentioned above, digitalization is now indispensable necessity for everyone. It is very important to continue evolution in a way that no one is left behind, and in order to realize it, we must promote the education by creating digital literacy, increase access to digital opportunities in sustainable and affordable way as well as develop hyperlocal services with new technologies/solutions and microfinancing for companies especially SMEs and consumers.
Message to Japanese Companies
Although facing the restriction of movement under COVID-19, the ongoing digitalization will never be futility. Southeast Asia still has huge potential, and I hope that Japanese companies will enter the market actively. In doing so, it is very important to work with excellent local partners.
Southeast Asia's DX Driven by Start-ups
Ebihara Takeshi (Founding General Partner, Rebright Partners)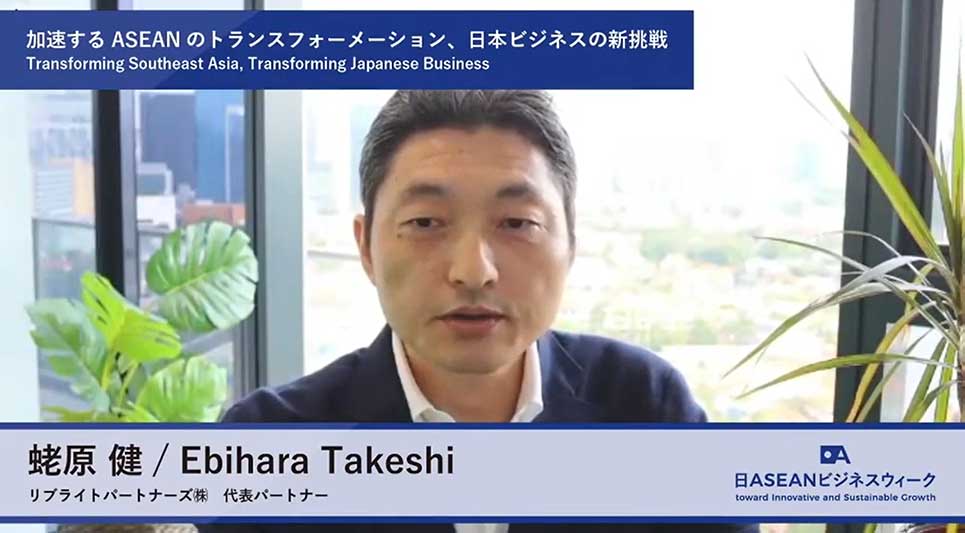 [Presentation]
We are investing in Southeast Asian and Indian start-ups in our three offices: Singapore, Bangalore (India) and Tokyo (Japan).
ASEAN start-ups has grown remarkably in their funding amount in recent years. Although market adjustments have been made to the global start-ups boom that was recently going too far, funding amount of start-ups in Southeast Asia has increased about 40 times in the six years during 2012~2018, and now it has reached the scale of 1 trillion yen. Among them, "Unicorn" and "Decacorn" such as Grab, GoTo Group (Merger of Gojek and Tokopedia), and SEA Limited which their market capitalization are comparable with the conventional top 10 listed companies in Southeast Asia, mainly in the banking and telecommunications sectors. Clearly, ASEAN digital start-ups are seen in much progress.
"Leapfrogging" is one of the reasons for the rapid growth of start-ups in ASEAN. Since the infrastructure is not well developed, digital technologies will be utilized to create solutions that skip the conventional steps. In addition, in ASEAN, there are large amount young people mostly in their 20s and 30s, who are familiar with technologies and willing to adopt new ones. These young people as entrepreneurs and programmers, are also taking the lead in policy making and building of legacy systems.
Looking at the current status of retail DX business in Southeast Asia, for example, Bukalapak is operating an E-Commerce (EC) business by adopting an ambassador system/model in remoted cities with no internet access. These retail revolutions have triggered micro-business revolutions and contributed to the empowerment of small and medium-sized enterprises (SMEs). While Financial digitalization, it provides conveniences for financial inclusion which individuals could access to services through smartphones. Also, logistics digitalization further makes supply chain connected end-to-end through urban logistics and last-mile logistics. Besides, digitalization for hospitals, education, and agriculture is in progress, which will bring dramatic changes to the industries and daily life in ASEAN.
With regard to the examples of partnership between ASEAN start-ups and Japanese companies, I would like to introduce the capital and business alliance between Tookitaki, which provides anti-money laundering AI service and Nomura Securities, as well as the Murata Manufacturing Co., Ltd.'s acquisition of Vios Medical, a company with chest sensor technologies and related cloud services.
In Southeast Asia, start-ups are thriving in the areas of "digitalization outside the Internet", "solutions to local issues and social impacts", while the market environment has some unique characteristics like "subdivided", "non-modern", and "leapfrog". It is very different from Japan and the United States, giving implication that it would be of importance for Japanese companies to collaborate with local start-ups, and experts from research institutions as well as governments.
[QA session]
Future Prospects of Southeast Asia's Start-ups and Ecosystem
It is said that digitalization starts in the general consumer field, which is relatively easy to promote, then spreads to the fields such as fintech and ride sharing, and finally spreads to all industries including agriculture and education etc. In Southeast Asia, investment is active in the final stage industries, while excellent start-ups are emerging constantly, which accelerate digitalization in all directions.
Opportunities for Japanese Companies under the Shade of Chinese Digital Giants
Since the Southeast Asian market is very large, there are still many business opportunities. The two major digital giants Alibaba and Tencent invested aggressively in the field of e-commerce through acquiring Southeast Asian start-ups. However, some areas like the aforementioned "digitalization outside the Internet" are still blue ocean where Japanese companies can play an active role in the future.
Winning strategy for Japanese Companies' in ASEAN region
As mentioned above, local partners are of importance. A JETRO survey also showed that, in ASEAN region, the most profitable form of entry was neither a full ownership of capital nor joint venture, but an acquisition or investment in start-ups. Though there may be many forms like collaborations, acquisitions, or capital and business alliances as an intermediate approach, what is most important is the enthusiasm of doing all the various methods and as well as awareness of standing in the field first. We also recommend that Japanese companies should diversify their investment to multiple alliances/partners to see optimal type of investment and expand it further as well as engage with equity investment in the seed-stage or the early stage of start-ups.
New Business Frontier for Japanese Companies
Saito Takeshi (Managing Director & CEO, MBK Healthcare Management)
[Presentation]
As a subsidiary of Mitsui & Co., Ltd., we focus on the healthcare business in Asia. After investment in IHH, as our core business in 2011, we expanded from 16 hospitals at that time to 80 hospitals in 10 countries at present, which take the 1st or 2nd share in Malaysia, Singapore, India and Turkey. After making an additional investment in 2019 and becoming the largest shareholder, we mainly concentrate in 1) Strengthening the management system and creating synergies between businesses, 2) Strengthening and expanding our business portfolio, and 3) Cluster Strategy as our new growth strategies, with focuses on 1) DX & data platform, 2) Geographical & business area expansion, 3) Spin-out from peripheral businesses.
In Southeast Asia healthcare market, medical expenses are expected to increase along with the market growth backed by population growth and expansion of the middle class, therefore improvement in the quality of medical care becomes the most important issue. Although digitalization is delayed in this industry, it is expected that it will be accelerated due to the widespread use of smartphones and digital technologies as well as the increasing need for contactless services due to the spread of COVID-19. We are trying to improve the transparency and efficiency of medical quality and cost by integrating the data accumulated in personal smart devices and in medical institutions.
Current medical care is "hospital-centered" with incentives designed to emphasize the volume of medical treatment, whereas the information gap is widened between medical institutions and patients. In the future, we will shift to an "individual-centered" system with an emphasis on outcomes, to help us enter an era in which patients can choose their own medical services. The current state of health care industry is just similar to what happened in the taxi industry before Grab services, where the cost, time, destination, etc. cannot be seen in advance. We aim to trigger a major paradigm shift in this field and realize value based healthcare system based on the "individual-centered" value.
In the United States, health care initiatives that utilize personal big data collected by GAFA are active. However, there are no such players in Asia yet, and we will use our IHH data platform as a lever to create a wellness business group through collaboration of technologies and networks, including Allm Inc., a medical start-up in which we have invested.
[QA session]
Collaboration with Start-ups in Digitalization
Heavy IT systems such as electronic medical records are applied in each country, however in the future, we aim to extract more data and manage it in one place to create innovative services for patients. Allm Inc., which I mentioned earlier, has technologies that enable for remote data utilization while ensuring the anonymity and security. Those innovative technologies are emerging from start-ups rather than traditional system vendors. We would like to include these start-ups in our network for our business roll-out.
View on Discovery of New Technology and Start-ups
We don't have any preferences on specific countries and regions. Compared to Japan and the United States, the medical market in Southeast Asia is still short in supply and in the stage of quantity increasing. On the other hand, the quality of medical service is catching up with the rest of advanced world, especially in the field of digitalization. In that perspective, I would like to apply more advanced technologies in this industry to accelerate the transformation.
Approaches to Expanding Healthcare Business Globally
Although medical care itself needs to be delivered in each country, centralized procurement and data management as well as its utilization are the functions that can be handled globally. It is thus important to allocate human resources with strengths in operations at the local level, while global perspective is needed at headquarter. For this reason, IHH has set up its headquarter in Singapore, which has excellent access to other countries and multinational talents. As is evident in the current COVID-19 situation, cooperation with the government is also essential as it is important to improve the legislation on data integration toward the expansion of digital-driven medical services.
Trend of Remote Medical Service in Southeast Asia
Remote medical care is growing at a rapid pace. We would like to utilize remote medical care to make hospital serves as a place for advanced medical care. Currently, remote medical care in Southeast Asia is completed locally within a country, but there are needs for cross-border remote medical care, so we will consider global expansion of remote medical services while observing the development of related legislation.
Kawabata Yasuo (President, KAWABATA Company Limited.)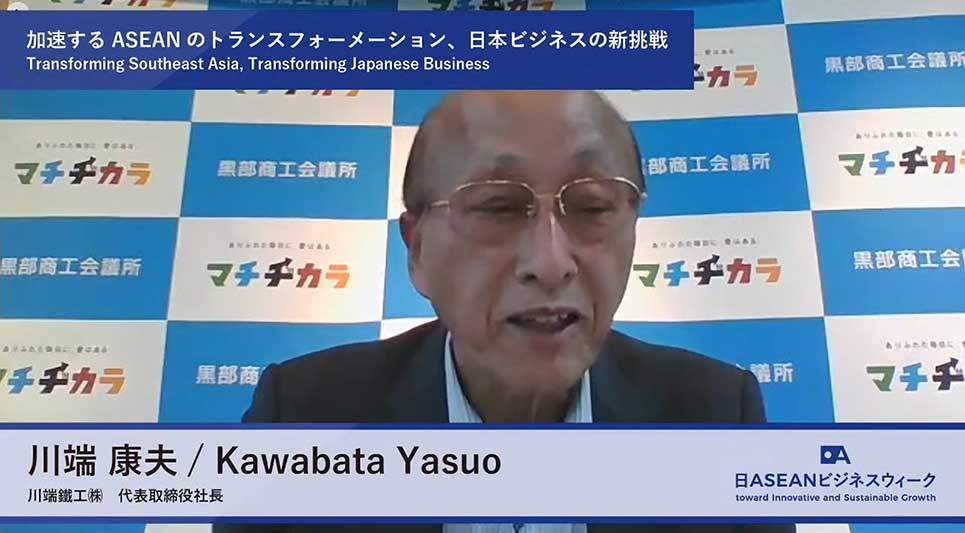 [Presentation]
From the perspective of a Japanese company doing business in Southeast Asia, I would like to talk about our overseas business and human resource development under the theme of "new challenges for small and medium-sized enterprises."
Our company is an industrial equipment manufacturer based in Toyama prefecture. It has been 30 years since we entered Southeast Asia in the 1990s, and currently we have several local subsidiaries in Thailand, Philippines, and Myanmar, and affiliated companies in Malaysia and Indonesia respectively. We decided to expand our business to Southeast Asia just after a business trip arranged by the Japan Chamber of Commerce and Industry. Initially, it started from procurement of cheap components from local factories, gradually increased importance as a market, and now Southeast Asia becomes an important business partner.
Global businesses are facing challenges amid COVID-19 crisis, however looking beyond this pandemic, it gives opportunity to reassess our overseas businesses in order to solve social issues by partnering with local companies, and we expect other small and medium-sized companies to take on overseas challenges. Of course, there is a risk in entering a new market, but it can be mitigated by taking proper measures.
We are proceeding with an off-grid electrification project in a remote village in the ASEAN region. In addition to selling hydroelectric and solar power equipment, we also aim to operate power supply business through establishment of a regional electric power company. Since this project requires negotiations with the local government and partners, we utilized support measures from JICA and JETRO. With the support of feasibility study as well as dispatch of experts, we were able to progress the project rapidly. So it is also important to make full use of the available support measures from such public institutions especially for small and medium-sized enterprises to expand their overseas businesses.
To develop human resource who are capable to take in charge of overseas business within the company is a challenge and also vital for small and medium-sized enterprises. We have been utilizing Toyama Prefecture's scholarship program for hiring ASEAN engineering students with master's degree to welcome them into our company. It is a good system for small and medium-sized enterprises with limited access to excellent international talents. We have also prepared training programs for them in Japan, and eventually we would like to send them to their home countries as candidates for management positions at the local subsidiaries.
While methods to expand overseas business might change due to the COVID-19 and digitalization, we would like to continue to apply new technologies and mechanism in order to actively engage and challenge further more in overseas business.
[QA session]
Funding of Off-Grid Electrification Project and Tips for Continuous Overseas Businesses in SEA
Since neither the local government nor the central government has sufficient funding capacity, the project is mainly funded by sponsors, in cooperation with international organizations and financial institutions. In addition, in order to continue overseas businesses, it is very important to cooperate with local partners and proceed the businesses from a local perspective as well as to build a solid relationship with local people.
Local Human Resources Development
The quality of local human resources has changed considerably in the last 20 years. In ASEAN region, there are abundant talented people, and it is very attractive to SMEs in terms of the rich pool of human resources. In addition to the ASEAN international student program in Toyama Prefecture as mentioned earlier in the presentation, we also utilized the training program from AOTS to train ASEAN engineers in Japan. After some basic Japanese language lessons, we further gave in-house skill and knowledge training by the company which enabled to transfer technologies smoothly. The trainees will then be back to their home countries and play a key role as local executives to coach other local staffs.
Message to Japanese SMEs
First of all, it is important to have interest in overseas businesses. Overseas business expansion can be realized with a small opportunity and a little courage to take the first step. There are also various triggers such as participating in JETRO seminars. It is unnecessary to set a high target from the beginning. As a manufacturing base and a large consumption market, the ASEAN region is attractive and ideal for Japanese SMEs.
ASEAN to Lead the Post-COVID-19 World
Hachiyama Koji (COO, Economic Research Institute for ASEAN and East Asia (ERIA))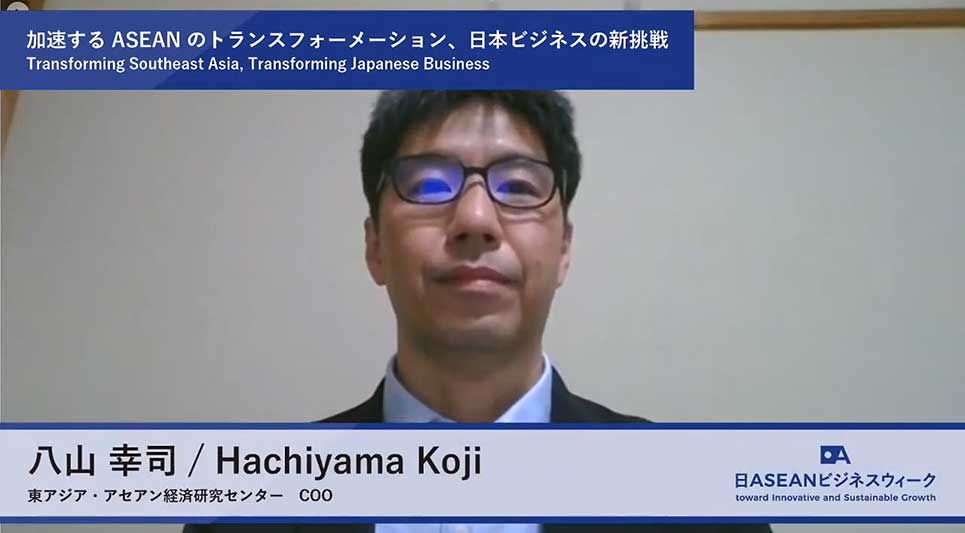 [Presentation]
In 2020, the growth rate of the ASEAN region was -3.3%, which is same as world average level. The service industry, including tourism, has been declining continuously due to the lockdown policy. Meanwhile, the manufacturing industry is expected to recover from a temporary downturn to pre-COVID-19 levels in 2021 due to the robust International Production Network (IPN). Moreover, the ASEAN region is likely to achieve the high economic growth at the 5% range after 2022.
Based on our recent survey, more than 60% of companies answered that they made changes and modifications in their supply chains in response to the COVID-19 shock. By upgrading the supply chain to a more flexible one, the industrial dynamism of the region is moving into a new recovery path. However, according to the same survey, more than 60% of companies are taking passive measures such as cost reduction by cancelling unnecessary and unurgent business trips etc., while only 20% of companies are taking active measures such as digitalization.
ASEAN's share in global e-commerce market is growing rapidly and is expected to grow further in the future. Especially, Indonesia is the biggest and fastest growing e-commerce market in ASEAN region. On the other hand, according to a United Nations survey in 2020, the progress of e-government (digital government) in ASEAN countries is still at a low level.
In contrast with the progress of digitalization, many countries in ASEAN have issues on cyber security. There is a high and severe risk that security problems would damage the real economy by the rapid progress of digitalization without security measures. However, there are business opportunities in such issues which Japan's technology could actively contribute to the development of ASEAN.
As is the main theme of ASEAN meeting this year, the circular economy is considered as one of the key drivers for future growth in ASEAN region through attracting new technologies and investments and making major changes in the social system. In order to promote the circular economy, it is important for the government to set a high-level direction, and actually ASEAN is doing so. Japan has world class technologies in many areas, so applying these technologies into ASEAN's circular economy in an early stage will bring significant growth in the future.
[QA session]
Reasons for the Rapid Growth of E-Commerce in Indonesia
Large population, high penetration rate of cell phones as well as archipelago geographical characteristic could be key factors.
Cyber Security Issues in ASEAN region
At the moment, we can say there are several concerns about cyber security. However, awareness of this kind of issues is increasing, and there are also movements in legislation in each country. Cooperation across countries is also of importance, and it is necessary for Japan to face it together with ASEAN and build a reliable systems and mechanisms.
Financial Sustainability in Promoting Circular Economy
It is important for the governments of each country to come up with major policies and establish related systems and frameworks. In addition, consistency in social awareness is also essential to create better investment environment for private companies.
Comments on Support of Roadmap Formulation via AETI
Given the situation is different in each country and region, it is very important to formulate scenarios toward carbon-neutral society based on the actual situation of each ASEAN country. We are making our efforts from this perspective.
ASEAN's Potential in Post COVID-19
There are two important points. The first is the deepening of digitalization into next level. The second is the revival of the service industry including tourism, which has terribly been damaged by COVID-19 pandemic. Various initiatives should be considered such as the promotion of vaccination roll-out and proposals for new way of travels.