Business confidence improved among Japanese companies in Asia and Oceania:Results of JETRO's 2021 Survey on Business Conditions of Japanese Companies in Asia and Oceania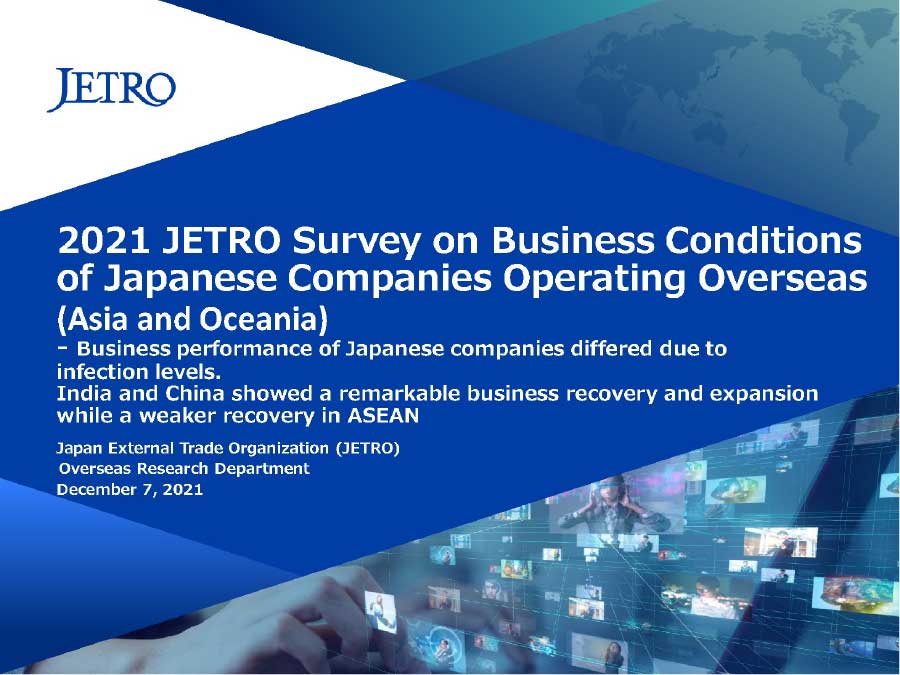 Japan External Trade Organization (JETRO) released its latest survey on the business conditions of Japanese companies in 20 countries and regions in Asia and Oceania in English this March, which is translation of original report in Japanese which was released in December 2021. The survey has been conducted since 1987, making this year the 35th version. The results are as follows.


Method: Questionnaire
Period: From 25th August to 24th September, 2021
Target companies: Japanese-affiliated companies active in a total of 20 countries and regions.
Number of surveys sent out to: 14,175 firms.
(Valid responses: 4,635 firms with a valid response rate of 32.7%.)


One of the important key findings is that with the resumption of economic activities amid the pandemic of Covid-19, demand recovered through increased sales in local markets and exports. Business confidence of Japanese companies in most countries/regions improved. In some countries/regions, the percentage of profitable companies exceeded the level before the pandemic of Covid-19(2019). It showed a V-shaped turnaround in India, where the restrictions on economic activities were almost lifted. On the other hand, in ASEAN, capacity utilization rates declined due to the tightening of operational regulations amid the spread of the delta variants. Recovery was lagging in several countries such as Vietnam.


Other key findings are as below.
1. Operating Profit Forecast (Proportion of profitable companies)
【Fig.1】Operating profit forecast for 2021 (by country/region)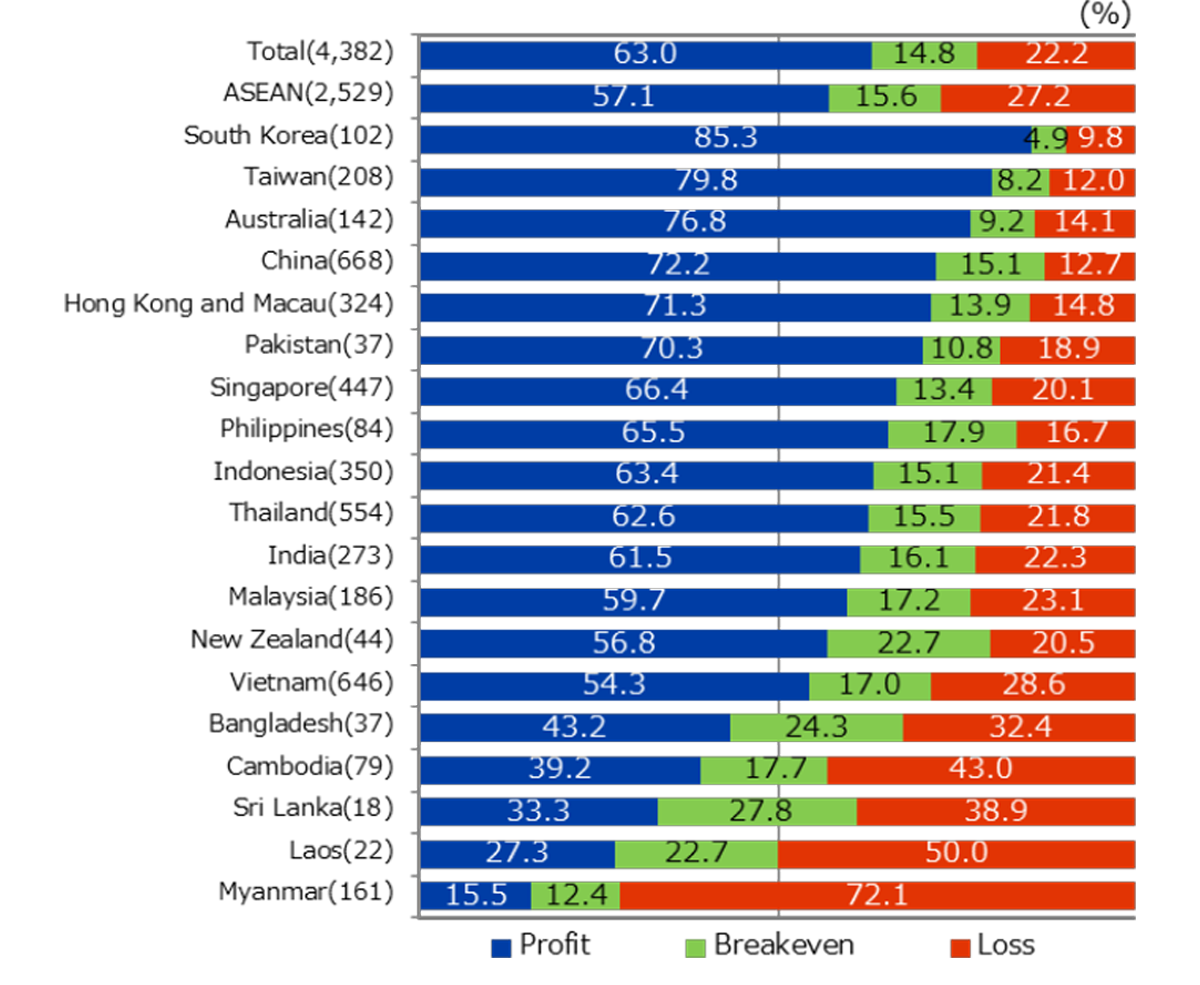 The proportion of Japanese companies expecting operating profit in Asia and Oceania region was 63.0%, which improved from the previous year (48.9%). As economic activities resumed from the COVID-19 crisis, increase in sales from local markets and export seems to be the reason for the improvement. The proportion of profitable companies exceeded the 2019 results (before the Covid-19 pandemic) in India, China, South, Korea, Hong Kong / Macau, and Singapore.


【Fig.2】2021 DI (by country/region)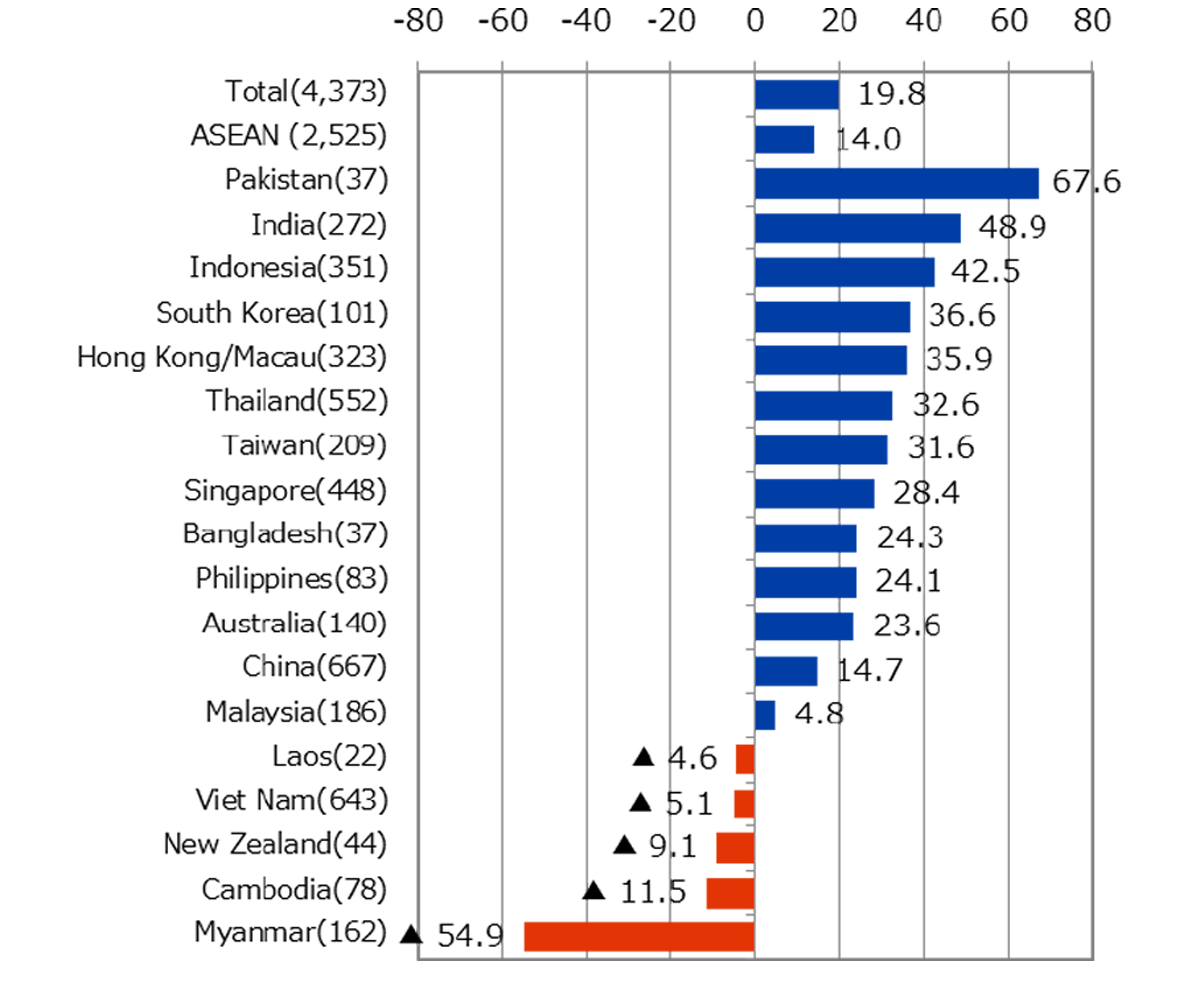 The overall average of DI (*), indicating business confidence for 2021 operating profit, was 19.8 points. Many countries and regions turned positive, compared with the survey in 2020(△40.7) which hit a record low. Among the countries with negative DI figure, it seems that profit forecast for companies in Laos, Vietnam, Cambodia and Myanmar have been negatively affected by COVID-19 and its new variant, which has worsened the operating environment and led to deterioration in the operation rate.
*DI is an abbreviation for Diffusion Index, which is the proportion of companies expecting an increase (improvement) minus the proportion of companies expecting a decrease (worsening). This figure reflects changes in business confidence.
2. Intention to expand business (Approach to future business plan/activities in the next 1 to 2 years)
【Fig.3】Approach to future business plans/activities in the next 1-2 years (by country/region)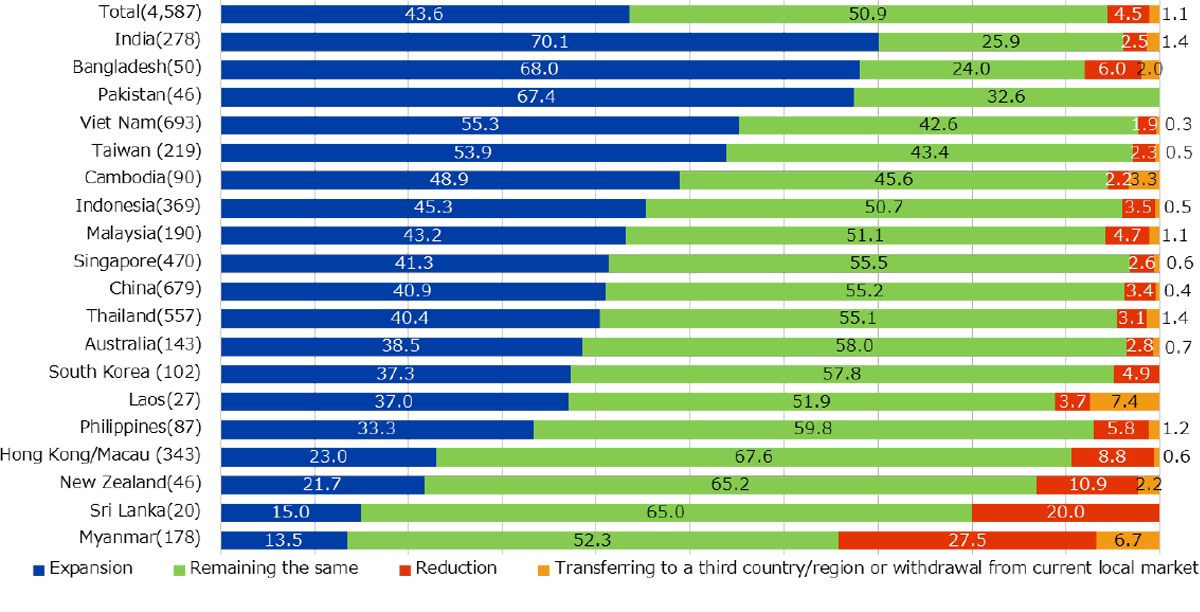 A total of 43.6% of the companies selected "Expand" as their approach to future business plans/activities in the next one or two years, up from 36.7% in the 2020 survey. By country/region, over 50% of companies in India, Bangladesh, Pakistan, Vietnam and Taiwan chose "Expand". On the other hand, 5.6% of companies selected "Reduction" or "Transferring to a third country/region or withdrawal from current local markets", a decrease from the 2020 survey (9.1%). Companies that selected "Remaining the same" accounted for over 50% in many countries. In ASEAN, many countries are not reaching the pre-Covid19 level.
3. Management matters
【Fig.4】Common problems to all regions/sectors (Top 10 items, multiple answers)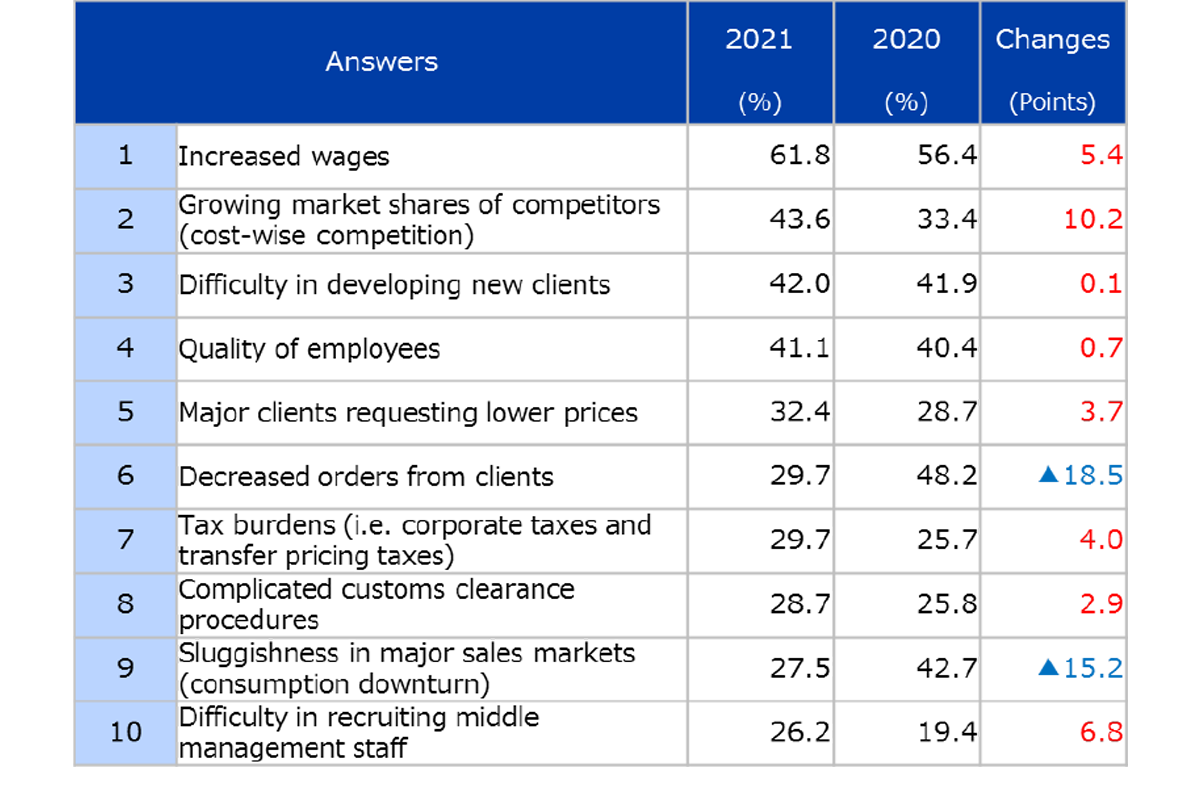 "Wage hikes" (61.8%) was most frequently cited as a management matter, which is the same result as in the 2020 survey. Compared with 2020 survey, more companies in ASEAN countries such as Laos, Indonesia, Malaysia selected "Growing market shares of competitors (cost-wise competition)".


【Fig.5】Problems in all regions and manufacturing industries (Top 10 items, multiple answers)
In terms of problems only for manufacturing industry, "rising procurement costs" (63.3%), which ranked second, rose sharply from 30.2% in the previous survey. The shortage of semiconductors, rising prices of steel and other raw materials, and increased overseas transportation costs due to container shortages are believed to have affected procurement costs.
4. Decarbonation
【Fig.6】Efforts toward decarbonization (reduction of greenhouse gas emission)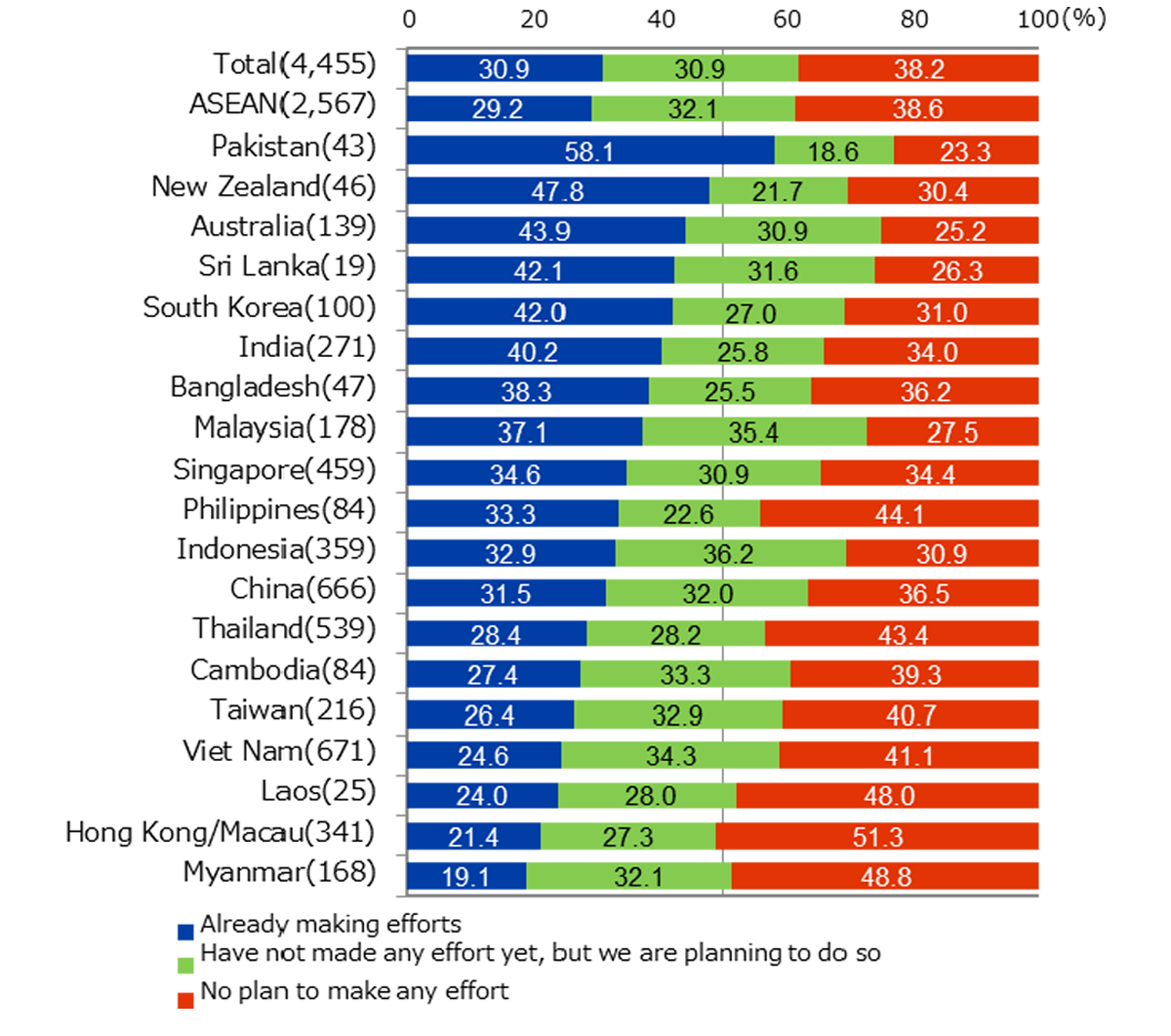 More than 30% of companies are already working on decarbonization (reducing greenhouse gas emissions), and more than 60% are planning to do so. However, there is a large gap between large companies and small and medium-sized companies.
5. Innovation and Digital
【Fig.7】Use of digital technology in business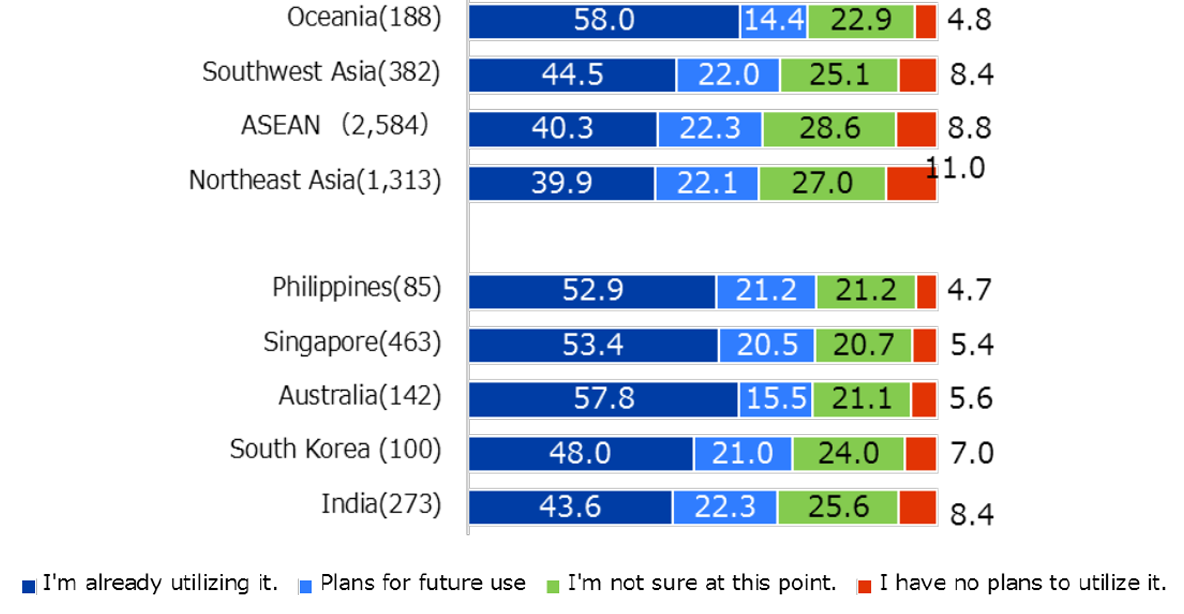 In ASEAN, 62.5% of respondents use (including plan to use) digital-related technologies.


【Fig.8】Digital technology using(2019, 2021, multiple answers)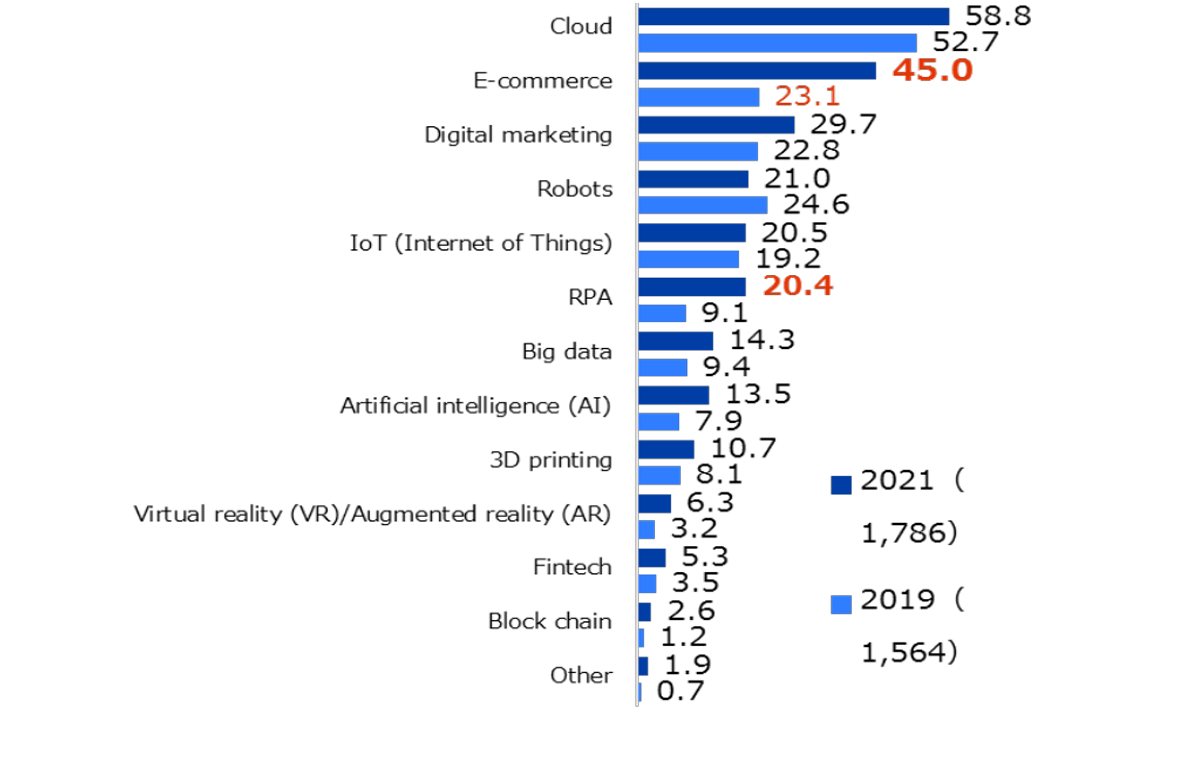 45.0% of respondents are using electronic commerce (EC). This is a significant increase from 23.1% in 2019, before the pandemic. The use of RPA(Robotic Process Automation) also increased from 9.1% to 20.4%.


【Fig.9】Shortage of engineers who can manage digital technologies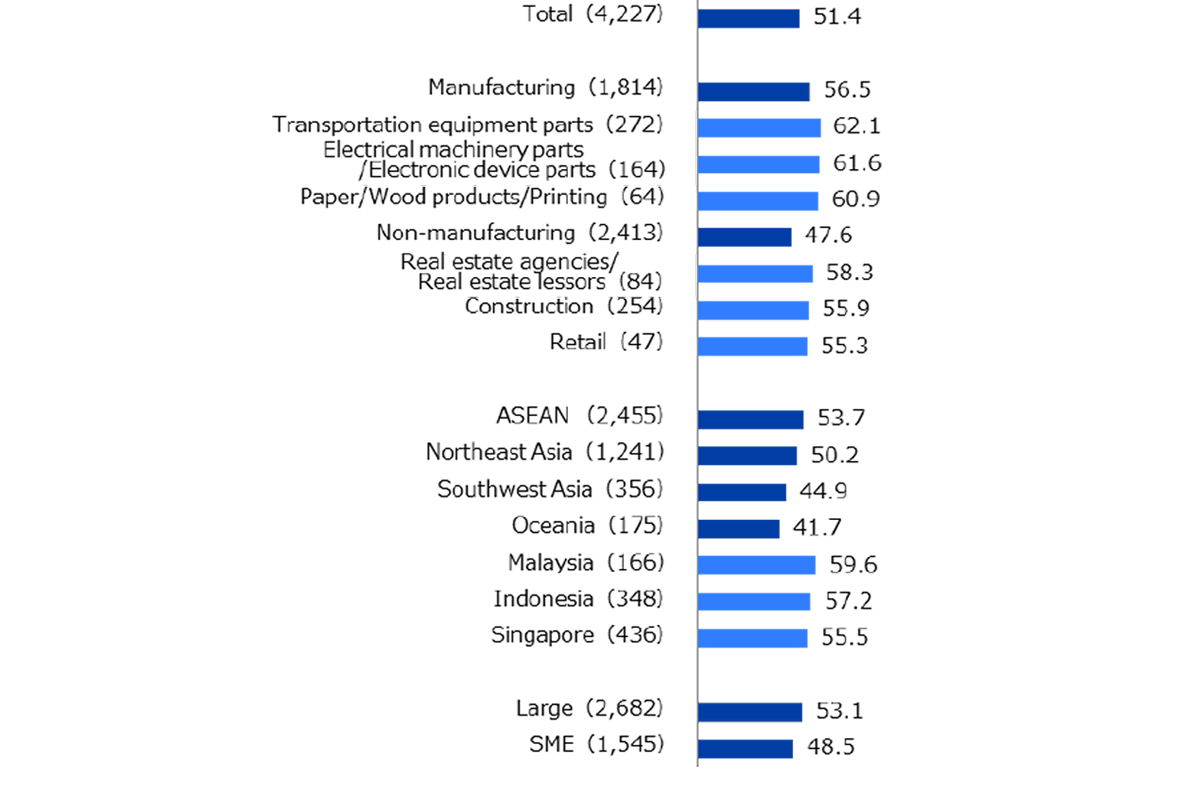 The majority of respondents (51.4%) cited the shortage of engineers and other human resources as an issue in the use of digital technology. A majority (51.4%) cited a shortage of engineers and other human resources as a challenge in using digital technologies, with Malaysia, Indonesia, and Singapore having the most significant shortages.
For full details of the report, click here.