[ Hemmi Nobuhiro(Partner/Chief Strategist, Deloitte Tohmatsu Consulting Head, Monitor Deloitte Institute, Japan)]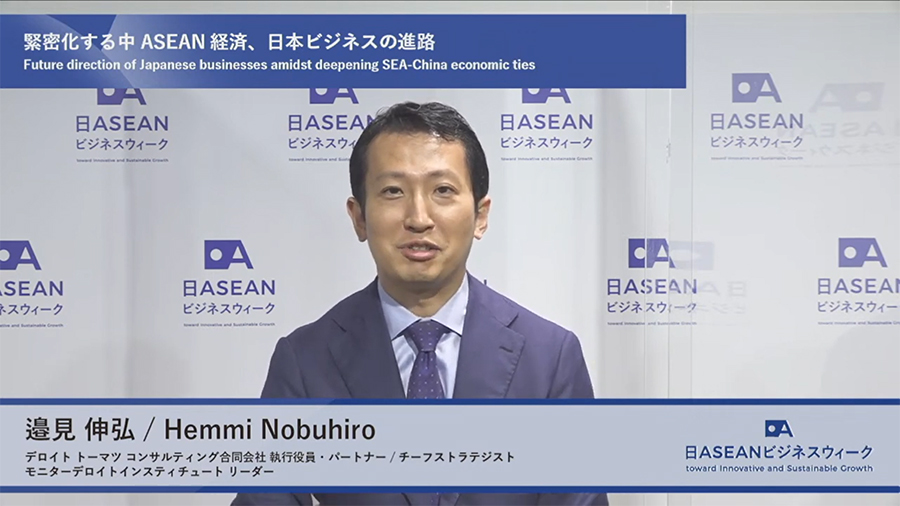 Since my speech at last year's ASEAN-Japan Business Week based on my book 'The Impact of China-ASEAN', I would like to talk about the situation facing the world today and how this should be perceived within ASEAN. I would like to briefly review four key points from the book.
The first is the 'China-ASEAN Economic Circle': even amid COVID-19, the economic ties between China and Southeast Asia are growing stronger, both at the macro and micro level. In external circulation of China's Dual Circulation Strategy, which is linked to ASEAN, ties are growing stronger, starting with Southeast Asian cities. These cities are expected to exceed the economic scale of Japan's ordinance-designated cities by 2030. Local large enterprises will also emerge in line with this.
The second is 'Gigantic Cities Leading China ASEAN', which is also related to the first topic. It is important to look at China from the perspective of city clusters, and within China it is necessary to be aware not only of the Beijing and Shanghai economic zones, but also of the Greater Bay Area, including Shenzhen, and western city clusters such as Chongqing and Chengdu. These areas and the Mekong region in South-East Asia are connected by highways and other means, and logistics are improving dramatically. Against this backdrop, e-commerce, live commerce and other forms of commerce are very active, and economic links between cities within China-ASEAN are deepening.
The third is 'Evolving cross-border EC'. In addition to the development of road, rail and other infrastructure, the combination of Chinese capital and Southeast Asian local EC platforms is stimulating two-way business.
The fourth is the 'Overseas Chinese/Chinese network'. Chinese and overseas Chinese are also at the center of these new movements, and it is important to note the new generation of Chinese and overseas Chinese networks. There is also the aspect of connected political, business and academic communities, where information is gathered quickly and decisions are made more promptly.
I will explain what progress has been made based on what I shared at the AJBW last year, as described above. First of all, there is the fact that the importance of ASEAN as a trading partner of China is rising, surpassed the EU to become the top trading partner in 2020, and has been growing very rapidly in the most recent 1Q2022. On the other hand, Japan was China's fourth largest trading partner until 2021, after ASEAN, the EU and the US, but was overtaken by South Korea in 1Q2022. This macroeconomic situation from the Chinese perspective needs to be kept in mind. ASEAN's ties with China from an ASEAN perspective are also growing stronger. 'Dependence on China in trade' and 'Size of trade relative to GDP' have both risen in each country over the three-year period 2018-2021. In other words, ASEAN economies are becoming more dependent on trade with China and their economic ties are deepening.
I would like to touch upon three points where China has accelerated in terms of business, even under the COVID-19 pandemic, in a sphere that is invisible to Japanese companies.
The first is how to invest in invisible demand in the face of increasing uncertainty about economic growth. Chinese companies are actively investing ahead of time in future growth and new products.
The second is the increase in geopolitical uncertainty, i.e. whether the other party is visible or invisible. China and Southeast Asia are connected to each other through improved logistics, and more and more goods are being transported to Southeast Asia from factories in China. Thus, investment in places that are not directly visible from Southeast Asia is also becoming more significant.
Third, as uncertainty in the supply chain increases, it is also important to look at how to work with partners and invest in invisible partners. Chinese companies are successfully working with top industry partners, including Japanese companies, in the value chain.
When looking at China's manufacturing industry, it can be classified according to two factors: high or low industry concentration, and whether it is a developing or matured industry. In descending order of industry concentration and growth potential, it can be broadly divided into the Core Materials Industry Group, Processing and Assembly Industry Group, Daily Life Related Industry Group and Heavy and Large Industry Group. China's business expansion pattern can be summarized in line with the aforementioned: the Core Materials Industry Group competes domestically in China and exports its products from China to ASEAN because the high added value has a low transport cost ratio. The Heavy and Large Industries are too heavy to transport and require high transport costs, so the pattern is to produce locally in ASEAN for local production and consumption. In between are the Processing and Assembly Industry, such as cars, and the Daily Life related Industry, which is a hybrid of export and local production. Let's take a look at EV battery separators in the Core Materials Industry Group and cement in the Heavy and Large Industry Group as case studies.
First, let us present a case study of the separator industry. The strategy of a Chinese separator company is 'investment in invisible demand', and it has already made an upfront investment in a new commercial material, aluminum film for example, as it sees the separator business peeking out in the near future, looking ahead to the technological evolution of EV batteries. In addition, from the perspective of 'investment in invisible places', the production base is concentrated in Yunnan Province in China, and the strategy is to export to ASEAN as a market. This is a dynamic that is not visible from South East Asia. Also, in terms of 'investing in invisible partners', China itself is unique in its policy of specializing in manufacturing and forming alliances with top manufacturers of raw materials, machinery and technology in Europe, Japan and South Korea. And the key point in this process is the way in which the production capacity of the factories is secured first, making it impossible for other countries to keep up.
The next case is in the cement industry, where 'investment in invisible demand' takes into account the fact that it is easier to respond to stricter environmental regulations later on, such as waste incineration and CO2 emission control, at the plant building stage. In terms of 'investment in invisible locations', the Chinese are investing not only in Thailand and Indonesia, but also in Vietnam, the Philippines and other countries in South-East Asia. In regard to 'investing in invisible partners', in technology, they are accelerating technological alliances with Japanese and European manufacturers. Looking also at the two industries from a cost perspective, there is a large difference in production costs between Japanese and Chinese companies. There is a price difference of two to three times for separators and four to five times for cement. With such cost differences and the global market share of Chinese companies increasing, we need to consider how Japanese companies can compete on a factual basis.
Although the current situation is challenging for Japan, in order for Japanese industry to win in Southeast Asia and the rest of the world, it is important to recognize the following possible gaps in the perception of the business environment by Japanese companies.
The first gap in perception is whether Japan tends to regard Southeast Asia only as a production base. China, Europe and the US see Southeast Asia's growing market affluence and the cities' increasing purchasing power as an attraction.
The second gap in perception is that Japanese products are superior to those of other countries because of the high quality and technology. We need to recognize the importance of securing customers and production infrastructure as well as technology.
Thirdly, we are too concerned about protecting technology and maintaining old value, overlooking the fact that technology will eventually become obsolete.
Fourthly, we need to consider whether we should partner with other Japanese companies or with top global companies as future business alliances.
Finally, it is important to consider whether priority should be given to building partnerships from a long-term perspective or to pursuing economic rationality on a business or deal-by-deal basis.
In these points above, I believe that it will be a focus of discussion as to where Japan should target.