Growing Opportunity for SMEs
in ASEAN region
25th May (Tue) 2021 12:00~14:00 (UTC +7)
Summary
The session was started with the opening remarks by Mr. Nishitani Kazuo, Executive Director, International Division, the Japan Chamber of Commerce and Industry (JCCI), sharing his standpoint of supporting for SME's overseas expansion. He further reiterated the importance of the Southeast Asia as a "Growth Frontier" for Japanese SMEs and expressed hope to explore the business prospects and potentials for SMEs through this session.
Followed by the two experts from leading university and company with highlights of the favorable business environment, business opportunities, and support measures to be utilized for further accelerating the expansion of SMEs into the ASEAN region. Also, several speakers from five Japanese SMEs gathered at the panel discussion to introduce their business experience in the Southeast Asia and gave hints for other Japanese SMEs to find new business opportunity in the region.
First, focusing on the keynote speech by Mr. Iwadare Yoshihiko, Associate Professor, J.F. Oberlin University, he gave emphasis on SME business opportunities in ASEAN in post-pandemic period as digitalization, innovation and sustainability would be pursued. He further recommended the Japanese SMEs to take advantage of the use of support measures offered by the Japanese government and individual governments of ASEAN countries to bolster the way of doing businesses in ASEAN region. He also provided his suggestion for the Japanese SMEs to consider these core focuses on (1) ASEAN as not only manufacturing base but also a great market; (2) importance of securing industrial human resource specialized in IT and innovation; and (3) business opportunity awareness in doing conventional businesses.
Secondly, Mr. Sakata Kohki, Partner, Industrial Growth Platform, Inc. and CEO, Industrial Growth Platform Pte. Ltd., based in Singapore, pointed out that the large variation in quality of services catered to the growing middle class in ASEAN, as well as digital transformation ("DX") in the B2B space, presents attractive business opportunities. In relation to pursuing DX opportunities in B2B, he highlighted the following three points of advice: (1) to be "strategic" in combining the steady collection of on-the-ground data with the adoption of digital technology; (2) to be "effective" in doing so through building strong local networks and ecosystems to gather relevant intel, and (3) to "localize" business operations and management in ASEAN region for business continuity.
During the panel discussion, five Japanese SMEs gave the brief introduction of their companies, their businesses in ASEAN region with discussion on the key following four points including (1) establishment of local subsidiaries in the region; (2) support schemes/programmes related to feasibility studies utilization, demonstration projects, expert dispatching led by JETRO, JICA, financial incentives by local governments; (3) the necessity of long-term plan for business development in ASEAN region based on company's achievements they overcame hard time for sales in the region, and experiences in Japan. And (4) human resources (e.g. development of local talents with successful training cases and company's motivation towards local HRD to lead their subsidiaries in ASEAN).
At the end of the panel discussion, Mr. Sakata commended the strong sense of purpose and commitment that Japanese SMEs have in developing their business in Southeast Asia. He also added that ASEAN's expectations of Japanese companies in terms of ESG are shifting from the conventional G (governance) element into areas like E (environmental) and S (social) which have a direct and tangible impact on industrial reforms, and this should be kept in mind when engaging with local governments and partners in ASEAN.
In addition, Mr. Iwadare as the moderator of the panel discussion expressed his gratitude to learn of strong capabilities of Japanese's SMEs including technologies and fields capabilities in this session and concluded the discussion by reaffirming that that there are many business opportunities and potentials in ASEAN market especially in the post COVID-19 era.
Opening Remarks
Mr. Nishitani Kazuo (Executive Director, International Division, the Japan Chamber of Commerce and Industry (JCCI))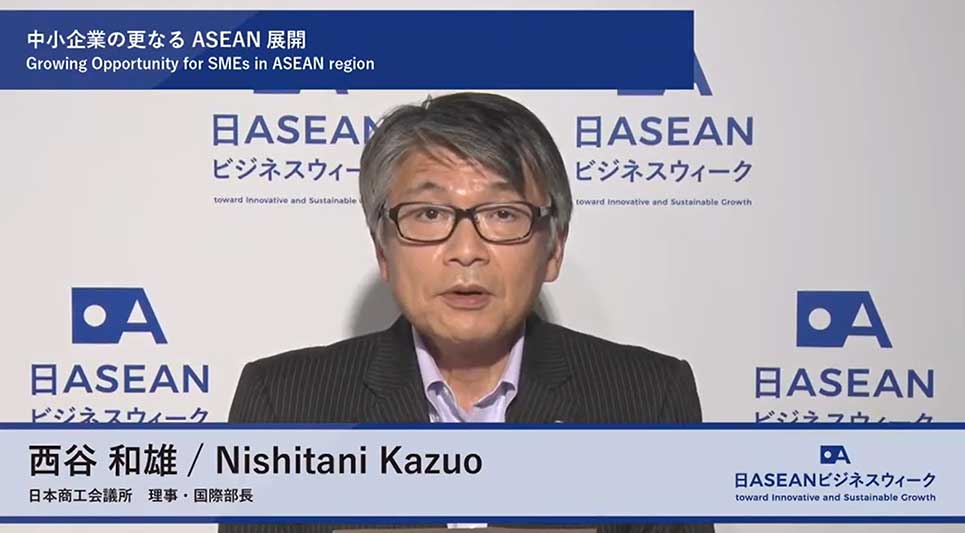 At present, there are 3.59 million companies in Japan, of which 99.7% or 3.58 million companies are SMEs. Japanese SMEs are severely hit along with the decline in population and the low birthrate which made the domestic market shrink in the long run.
On the other hand, Southeast Asia with a population of 660 million has enjoyed the demographic dividend and expected high economic growth. So far, 13,000 Japanese companies have set up a wide range of businesses in Southeast Asia.
The Japanese Chamber of Commerce and Industry regards Southeast Asia as a " Growth Frontier" for Japanese SMEs. On this occasion, we also invited Mr. Iwadare, the Associate Professor of J.F. Oberlin University and Mr. Sakata, the CEO of IGPI Singapore as speakers to deliver keynote speeches on business opportunities and measures for developing businesses in Southeast Asia. Through the panel discussion attended by Japanese SMEs deploying business in Southeast Asia, I hope to explore the future prospects and potentials of businesses for Japanese companies, especially SMEs in Southeast Asia.
Keynote Speech (1) Business Opportunities in ASEAN region
in Post-COVID-19 Era
Iwadare Yoshihiko (Associate Professor, College of Business Management, J.F. Oberlin University)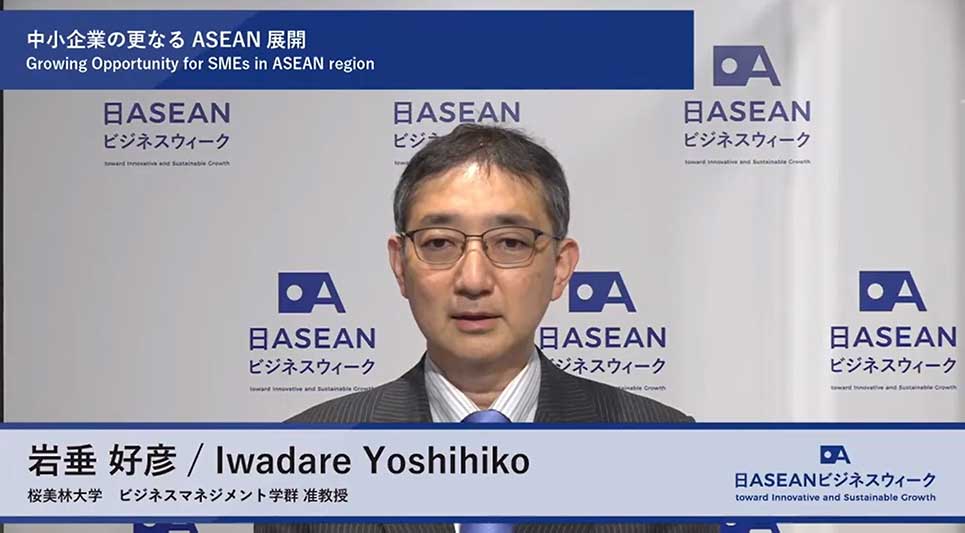 ASEAN countries' efforts to promote digitalization and smartification
Despite the ASEAN economy has continued to be adversely affected amid COVID-19 pandemic, their industrial structure reform has been underway. Since the latter half of the 2010s, each ASEAN country has extensively promoted digitization, innovation, sustainability, inclusive growth, as key focuses in the new industrial policies aiming to break out of the "Middle Income Trap", including "Thailand4.0" as promoted by Thailand and "Making Indonesia 4.0" by Indonesia.
Taking into account of inclusive growth issue, it would be of importance especially in the rural areas where would not be left behind. While in urban areas, digitization and IT introduction (e.g. IoT, IT human resources development, etc.) have grown in the manufacturing industry, which is also expected to be applied to local economies within ASEAN and their industrial revitalization.
Business opportunities for SMEs and support schemes for ASEAN market penetration
To create the business opportunities for SMEs, it is vital to give focus on the growth and development of the target country in ASEAN. Business opportunities are growing in ASEAN for SMEs similar to Japan where increasing demand for technologies and practical structure could contribute to solve various social challenges. Such areas for SME opportunities in ASEAN are included agriculture, food processing, manufacturing, environment and renewable energy, urban development, data platform business, etc.
Taking advantage of using the networking and support measures offered by the Japanese government such as the Ministry of Economy, Trade and Industry (METI), Japan External Trade Organization (JETRO), the Ministry of Foreign Affairs (MOFA), and Japan International Cooperation Agency (JICA) would be one of the efficient ways to enter ASEAN market. It is important for the companies to also consider exploiting the support measures provided by local governments in each ASEAN country to bolster the way of doing businesses in ASEAN region.
Perspective on ASEAN business in a new era
Three core focuses are highlighted for Japanese SMEs to be considered.
First, to see ASEAN as a promising market not only manufacturing base for low-wage processing, assembly and export.
Second, to realize the importance of securing industrial/IT human resource specialized in IT and innovation.
Third, to concentrate on the business opportunity awareness in doing conventional business. Conventional business in ASEAN region is still facing piles of challenges though virtual business is developing in the field such as E-Commerce and IT platform. ASEAN private and government sectors are expecting for installation of Japanese technologies and skills in the business.
Keynote speech (2) DX in ASEAN region, Leveraging the Strengths of Japanese companies
Sakata Kohki (Partner, Industrial Growth Platform, Inc. and CEO, Industrial Growth Platform Pte. Ltd.)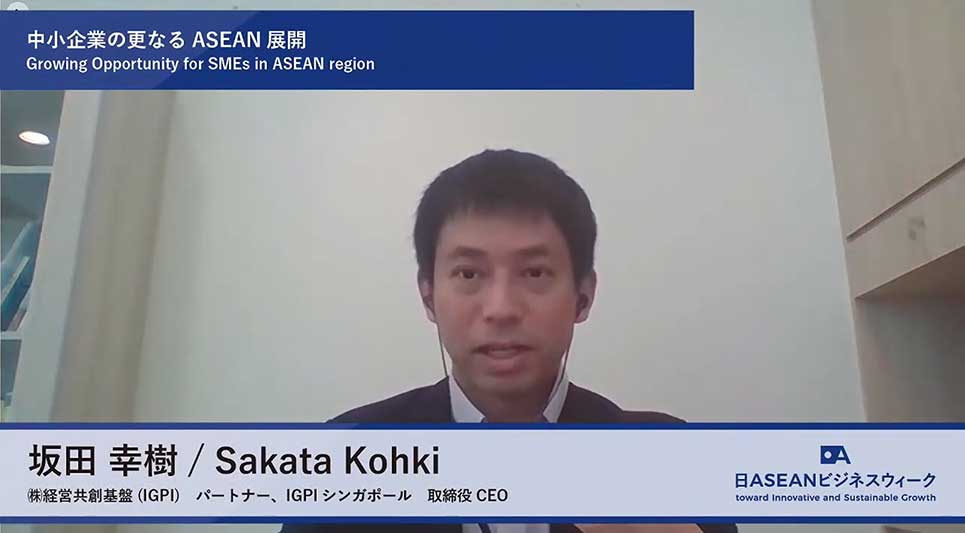 In ASEAN region, urbanization and the related economic growth have led to a rising middle-class, who play a central role in the regional economy today. However, services targeting this consumer segment remain limited and the disparity in the quality of products and services available continue to be large. Japanese companies, who often provide high quality services at a premium in ASEAN region, could thus take this opportunity to offer solutions that elevate and stabilize the overall level of quality offered to these middle-class consumers.
It is also important to identify the appropriate DX approach for the ASEAN market. In the early half of 2010, Grab and Gojek successfully leveraged on the conversion of consumer data into big data and became the notable unicorns in the B2C DX business in ASEAN region. The key reason why Grab and Gojek emerged at the top among B2C DX businesses was due to their ability to improve drivers' loyalty, maintain service quality and process payments smoothly. On the other hand, the market for B2B DX businesses remain nascent and could be a potential area of development for Japanese companies.
With the focus now being on realizing DX business potential in the B2B segment, it is vital not to neglect ground-level operations, and to steadily collect data while implementing business improvements (or "Kaizen") based on a thorough understanding of the core business issues. It is necessary to build up a local ecosystem and incorporate the technologies and knowledge of startups and local companies across industries to achieve this effectively, yet many Japanese companies have not been able to do so. It is also important to ensure the continuity of the local business, such as through promoting local management, developing local talent within the company and establishing capital alliances with local business partners.
Panel Discussion
Company Introduction by Each Speaker
Tsuji Akihisa, Executive Director, Tsujiko Co., Ltd
Tsujiko Co., Ltd. is a company, headquartered in Shiga Prefecture, which has shifted the company's line business from manufacturing lighting fixtures, processing, inspection of electronic components to manufacturing food ingredients, production of raw food materials and processed agricultural products.
Among the food ingredients, the company focused on blue food coloring with use of butterfly peas. Through JICA support programme, the company collaborated with Lao PDR and Thailand, etc. in cultivating organic butterfly peas for food nature-based coloring business and commercializing them.
With the slogan "Let's fill the world with the blue of happiness", we aim to become the global leader using the butterfly peas.
Fujimoto Kohei, President, DM KOKOKUSHA Co., Ltd.
DM in DM KOKOKUSHA Co., Ltd. stands for "Direct Mail & Direct Marketing" and has operated a business to deliver direct advertisement and flyers to customers in 3 categories (i.e. logistics, sales promotion and global expansion support). The company has warehouse function in Thailand and Vietnam which its branch in Thailand was the first overseas expansion plan of the company. Giving Thailand's case as example, with JETRO support, the company was able to connect with Thailand's big local conglomerated like Saha Group whose executive connected with our executive through social media for warehouse renting at the beginning of business operation.
In addition, we also offer the global expansion support to Japanese companies for their overseas business expansion in ASEAN and to Thailand companies for their penetration into Japan.
The company has a motto, that is to become a "partner that enhances customer value" and a group to represent Japan and ASEAN as the only company to optimize overseas logistics and sales promotion (SP).
Tsuboi Iwao, President, Trim Co., Ltd.
Trim Co., Ltd. is a company, headquartered in Okinawa Prefecture which has run the waste glass recycling by using technology in turning glass into pumice stone. Through the company's technology and equipment in 5 processes, the company made final product of "Super-Sol". An artificial pumice that made of waste glass Super sol has characteristics of excellent porosity, water retention, drainage, inorganic minerals, ultra-lightweight, degradable, and is widely used in variety of fields such as civil engineering work and agriculture and fisheries.
In Japan, by using Trim's technology, the affiliated companies located nationwide have formed cooperation so called, the Glass Foam Materials Business Cooperative, to jointly develop quality control to meet JIS standard/requirements, and building commercial distribution flow to be actively used for public works and demands. We plan to expand product use to water purification, rainwater storage systems, and combine microorganisms for deodorization.
The company has also received inquiries from overseas including Southeast Asia, with hope to proactively contribute to international overseas businesses in post-pandemic period.
Yamada Hiroshi, Director (Overseas Division), NABEL Co., Ltd.
NABEL Co., Ltd. is a company, headquartered in Kyoto city, serving as manufacturer doing development, manufacturing, sales and maintenance of products such as automatic egg washing, grading and packing system. Focusing on the relationship between the company and ASEAN region, it started in 1992 when the company shifted their system to overseas markets through first shipment of equipment to Malaysia and setting up the local subsidiary in Malaysia in 2003 to serve as Southeast Asia based production, marketing and maintenance, the company has enjoyed growth 30-40% in overseas sales mainly in Southeast Asia. In 2020, NABEL was selected as one of the Global Niche Top 100 Companies by the Ministry of Economy, Trade and Industry (METI).
The company motto is to make optimal management decisions based on local business customs and culture as well as to train employees. Since 2007, the local subsidiary in Malaysia has run by local top managerial level.
Under the slogan "Let's pack the eggs of the world with a NABEL machine!", the company is aiming focus on Asia to become world no. 1.
Ito Masahiko, Senior Managing Director, FOMM Corporation
FOMM (First One Mile Mobility) Corporation is an automobile manufacturing company, headquartered in Kawasaki City, Kanagawa Prefecture, and plans and develops small electric vehicles (EVs). The Thailand subsidiary FOMM(Asia) manufactures and sells. Witnessing the aftermath of tsunami caused by the Great East Japan Earthquake in 2011, the FOMM Corporation was established with a concept to develop an ultra-compacted electric vehicle to float on the water and easy to move in 2013.
Three business strategies of the company are comprised of 1) Mobility Technology (planning and developing mobility to meet market needs), 2) Mobility Services (planning and developing service using small mobility and technology) and 3) Micro-Fab (offering optimum production system for small mobility production over the world).
Established its affiliated company in Thailand as production plant, and this EV has been actually used for support activities in the event of a flood in Thailand
Panel discussion (moderator: Iwadare, Associate Professor, commentator: Sakata CEO)
1st topic: The reason for entering ASEAN
Mr. Iwadare

ー

I see that each company has its unique business and such technologies and services are required by ASEAN countries. Please share the reasons for coming to the conclusion to enter ASEAN market.
Mr. Tsuji(Tsujiko)

ー

We came across butterfly pea by chance in Lao PDR, during the visit for JICA support project, to which we could apply our own coloring manufacturing technology.
Mr. Fujimoto (DM KOKOKUSHA)

ー

I felt there's a business opportunity when I visited a site in Thailand.

ー

It was indeed a lucky coincidence that management from Saha Group and our executive connected on social media. However, we got a chance to explain our business in detail which led to partner-up with them and the expansion.
Mr. Tsuboi (Trim)

ー

We participated in exhibitions in Thailand and Vietnam. We aim to use Super sol for waste treatment in a small economic area.
Mr. Yamada (NABEL)

ー

Initially, export sales were carried out through local agency. And when the sales in Malaysia increased and thanks to further increase by depreciation of the yen, the situation pushed us to establish a local subsidiary. As our product is an industrial machine, high demand for after-sales service of our machines also helped us to make such decision.
Mr. Ito (FOMM)

ー

In Thailand, our product is also sold to the general public, but the cost reduction is an issue that needs to be addressed in the future.
2nd topic: Utilization of Japanese and local government support schemes
Mr. Iwadare

ー

What are the Japanese and local government support schemes each company used?
Mr. Tsuji(Tsujiko)

ー

JICA's support schemes such as project research, dissemination, demonstration, and commercialization projects.
Mr. Fujimoto (DM KOKOKUSHA)

ー

We received support from dispatched experts of JETRO Bangkok.
Mr. Tsuboi (Trim)

ー

In addition to JICA's project development survey, we also took advantage of overseas expansion subsidy from Okinawa Prefecture.
Mr. Yamada (NABEL)

ー

"Pioneer Status" was awarded to us as a leading company by Malaysian Government and corporate tax payment was exempted for a total of 10 years.
Mr. Ito (FOMM)

ー

We received support to establish new regulation of small EV and corporate tax incentives from Thai government.
3rd topic: Long-term perspective required for ASEAN business development
Mr. Iwadare

ー

Are there any concerns with recouping of upfront investment, what are your views?
Mr. Yamada (NABEL)

ー

Although the market was staggered and there were hard times for sales, we succeeded in increasing sales in recent years due to the transactions with local financial conglomerates. I think it is important to continue working on it and see it as a long-term investment.
Mr. Tsuboi (Trim)

ー

The crucial part to overseas expansion is having long-term business plans. As long as the factory is run according to the maintenance manual, which was prepared based on more than 20 years of experience in Japan, there should be no operational problems. If we could communicate with the locals remotely, we can expect further development of our business.
4th topic: Utilization and training of local human resources
Mr. Iwadare

ー

We all know the importance of securing local human resources and training. What are the measures taken by your company?
Mr. Tsuji(Tsujiko)

ー

We want to establish local subsidiaries in Lao PDR and Thailand as soon as possible and plan to hire locals for plant cultivation.
Mr. Fujimoto (DM KOKOKUSHA)

ー

We hope to train the locals to become part of management.
Mr. Tsuboi (Trim)

ー

We received inquiries from the CP Group in Thailand, so before we proceed with the expansion, we plan to secure buyers first.
Mr. Yamada (NABEL)

ー

We've managed to appoint a Malaysian person as management within 4-5 years after the establishment of the local subsidiary. Malaysia is a multi-ethnic country and has a complicated cultural background, so we thought putting a local person in charge was imperative to company's success.
Mr. Ito (FOMM)

ー

We will also promote human resources development by ourselves but in Thailand, where the automobile industry is well advanced, has abundant human resources.
Mr. Sakata(IGPI)

ー

I can see that each company has a strong sense of mission and commitment to their business, which enabled them to connect with local partners like financial conglomerates and business managers.

ー

Pre-COVID-19, there were many governance-related inquiries ("G" of "ESG") from ASEAN local companies, but post-COVID-19, it seems that their expectations of Japanese companies have shifted more to concrete industrial reforms relating to environmental ("E" of "ESG") and social ("S" of "ESG") topics.
Mr. Iwadare

ー

Listening to the stories of each company, I was impressed by their strong technical and field capabilities. I think the audience of this session realized that ASEAN is a big market full of potential business opportunities in post-COVID-19. Thank you very much.