Upcoming Webinar
April 25th 2022
Asia Green Growth Partnership Ministerial Meeting (AGGPM)
Public-Private Forum
25th April (MON) 13:00 – 16:30 (UTC+7)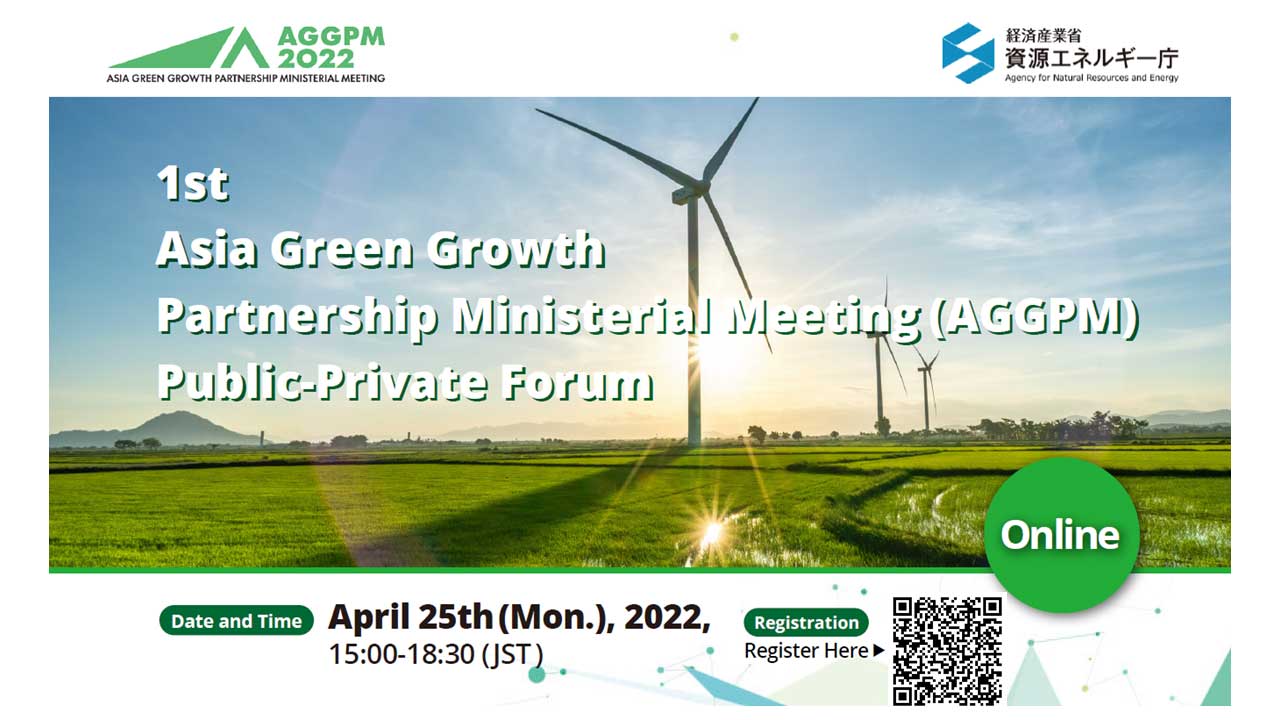 On 25th April, Monday, 13:00-16:30 (Jakarta Time, UTC+7), the Ministry of Economy, Trade and Industry (METI) will hold the "Asia Green Growth Partnership Ministerial Meeting (AGGPM) Public-Private Forum" online for the first time.
This forum will be held as a big event under "the Asia Energy Transition Initiative (AETI)," which was also introduced in the 9th DISG webinar held last month (click here to refer summary), and the 6th DISG webinar held last year in August (click here to refer summary).
This forum will be held to disseminate the importance of industry-government-academia efforts, innovation promotion, and international cooperation for accelerating various and pragmatic energy transitions in Asia, as confirmed at the First AGGPM held on 4th October, 2021.
The forum will focus on "innovation" and "finance" to support energy transitions, and feature a variety of sessions to present concrete projects and efforts by industry, government and academia in Asia and Japan.
The forum will open with keynote speeches by ministers from Asian countries including Indonesia, Thailand, and Vietnam, followed by a special ceremony session that includes 1) an MOU signing ceremony among private companies on projects and initiatives contributing to energy transitions in Asia, 2) the presentation of interim report on the discussion of promoting Transition Finance in Asia by the ATF Study Group led by private financial institutions, and 3) the presentation of final report on a roadmap analysis for the realization of carbon neutrality in ASEAN by the Economic Research Institute for ASEAN and East Asia (ERIA) and the Institute of Energy Economics, Japan (IEEJ).
Additionally, the forum will hold panel discussion sessions under the themes of 1) the mobilization of finance and 2) the promotion of innovation that are essential for promoting energy transitions in Asia. Prominent figures from international organizations and private companies are confirmed to join the sessions to have lively discussions on the future pathways of energy transitions in line with actual situations in Asia.
We look forward to your prior registration and attendance in this productive event.