Upcoming Webinar
March 4th 2022
Japan's New Initiatives AJIF and AETI - For starting new economic relationship between Asia and Japan -
March 4th (FRI) 9:00 – 10:00 (UTC+7)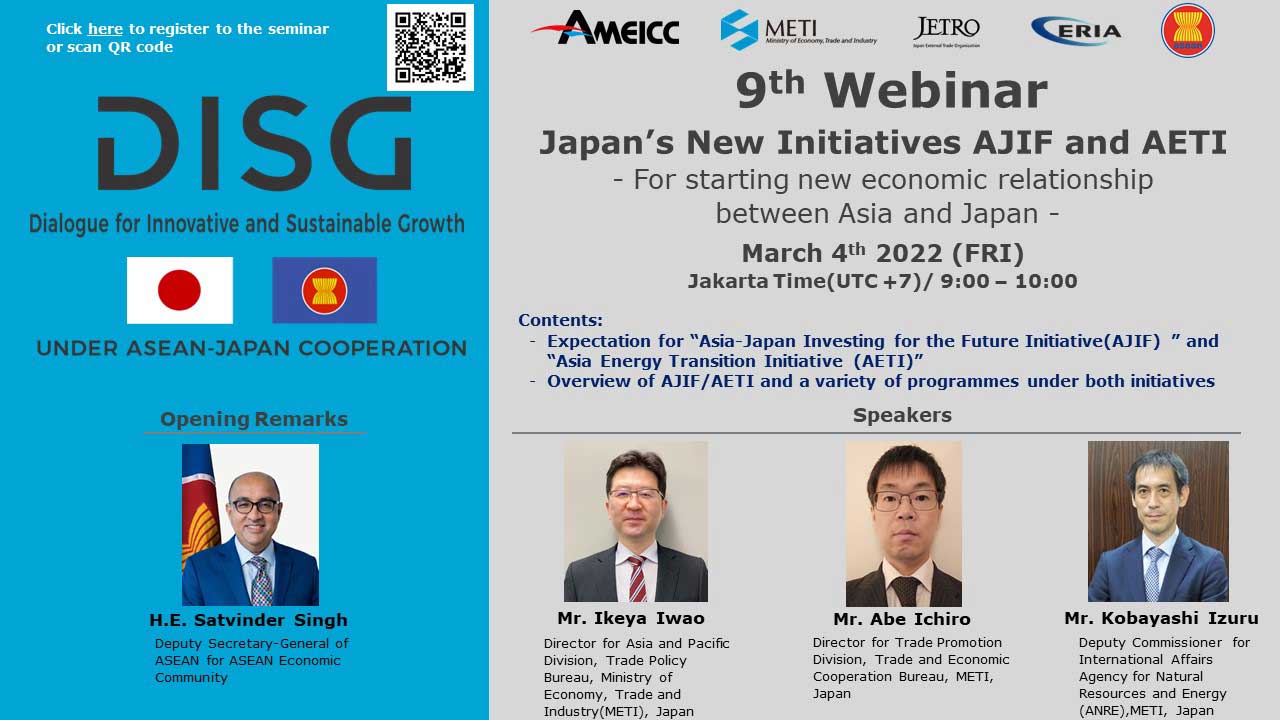 Overview
In this webinar, Japan's two new significant initiatives for Asia region will be focused on : "Asia-Japan Investing for the Future Initiative (AJIF)" which was announced by H.E. Hagiuda Koichi, Minister of Economy, Trade and Industry of Japan in January 2022, and "Asia Energy Transition Initiative (AETI)" which was announced by former Minister H.E. Kajiyama Hiroshi in May 2021.
For opening remarks, H.E. Satvinder Singh, Deputy Secretary-General of ASEAN for ASEAN Economic Community, will talk about ASEAN-Japan relations and expectations for further strengthening cooperation between ASEAN and Japan toward the 50th Anniversary milestone in 2023.
Then officials from Government of Japan introduce overview and major programs of both initiatives and will reveal program details and way forward of both initiatives through responding to questions from ASEAN audiences.
Speakers
H.E. Satvinder Singh, Deputy Secretary-General of ASEAN for ASEAN Economic Community
Mr. Ikeya Iwao, Director for Asia and Pacific Division, Trade Policy Bureau, Ministry of Economy, Trade and Industry (METI), Japan
Mr. Abe Ichiro, Director for Trade Promotion Division, Trade and Economic Cooperation Bureau, METI, Japan
Mr. Kobayashi Izuru, Deputy Commissioner for International Affairs, Agency for Natural Resources and Energy (ANRE), METI, Japan
Date and Time
March 4th (FRI) 2022
Jakarta Time (UTC+7) 9:00 – 10:00