SDGs and Business Contribution
in Southeast Asia
May 25th (Tue) 2021 10:00~11:30 (UTC+7)
Outline
In this ISEAS-RIETI joint webinar, the speakers looked into the progress achieved in meeting some of the key elements of SDGs in Southeast Asia and reflected on the importance of aligning post-pandemic economic and social recovery with the SDGs.
Opening Remarks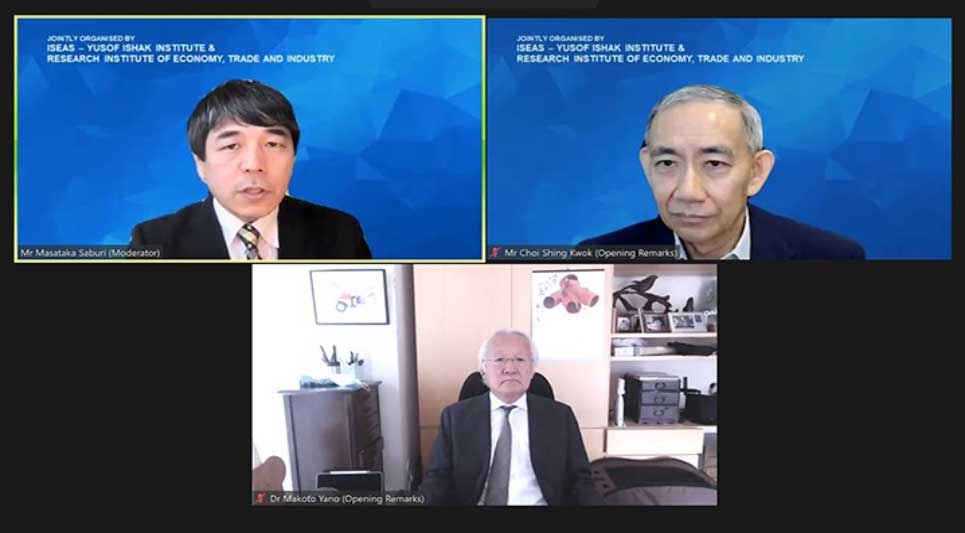 Presentations by Speakers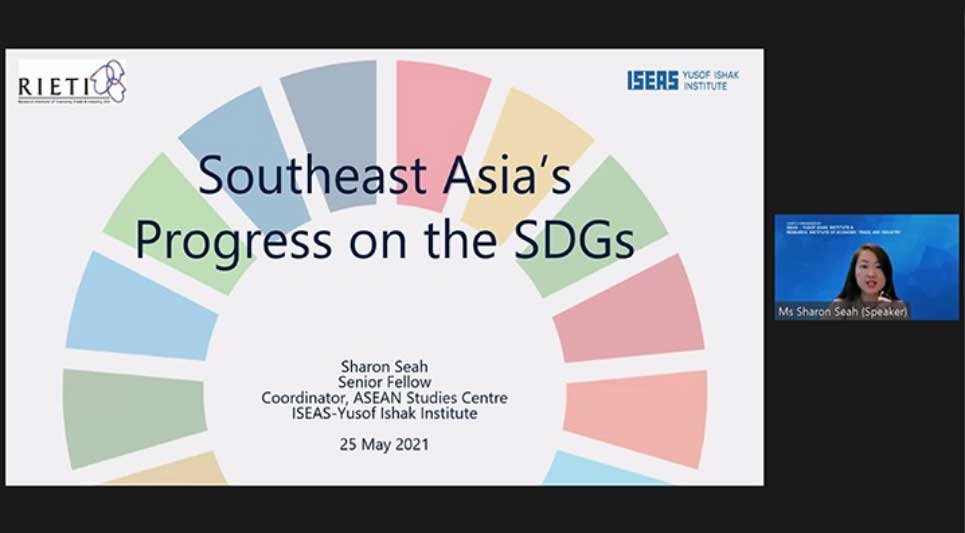 Ms. Seah began the webinar by giving an overview of the progress in each Sustainable Development Goals (SDGs) in Southeast Asia since 2000. There has been significant progress in several development goals, namely in achieving "No Poverty", "Zero Hunger", and "Good Health and Well-being", and considerable headway in the development goals of "Quality Education" and "Industry, Innovation and Infrastructure". Between 2016 and 2018, ASEAN reported key achievements in four areas: reduced poverty, decent economic growth, gender equality and quality education. However, there has been negative trends in the work towards achieving some development goals, namely "Reduced Inequalities", "Climate Action" and "Peace and Strong Institutions". She also highlighted that climate change is critical as it is interlinked with seven different SDGs and adversely impacts the lives of people in Southeast Asia in a life-threatening way. However, she noted that Southeast Asian countries had areas of improvement in fighting environmental challenges and emphasised that is it imperative to identify the SDGs that affect drivers of climate change and to work on them. Ms. Seah then pondered upon the question on who should be responsible for tackling climate change. About 75% of respondents in the Southeast Asia Climate Outlook 2020 Survey were of the opinion that national governments, individuals, businesses and local governments should bear the responsibility. She also considered another question on who should bear the cost of climate change measures. In response, at least 80% of respondents felt that businesses and governments should shoulder the costs. Many respondents of the survey agreed that increased dependence on renewable energy, which has substantial potential, is beneficial to ASEAN economies in the long run and that climate change has threatened their country's food security. Miss Seah concluded on the potential of ASEAN-Japan cooperation towards SDGs advancement, especially in the area of public health, sustainable energy and transportation.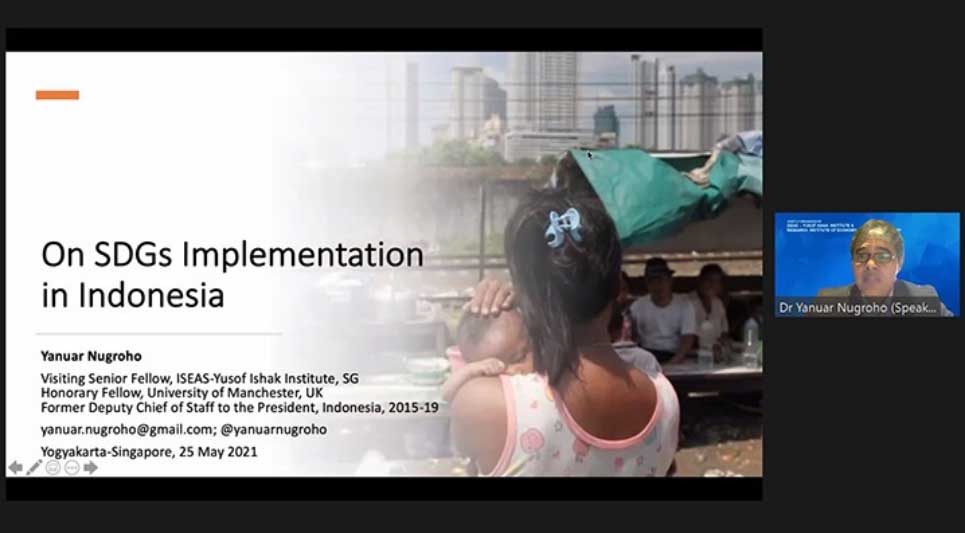 The webinar was then handed over to Dr. Nugroho who gave an overview of SDGs implementation in Indonesia. Between 1990 and 2015, Indonesia did very well in reducing the proportion of population below national poverty line, promoting gender inequality, reversing the spread of AIDS and cooperating with the private sector. However, there was still room for improvement in significant proportion of population who suffered from hunger, maternal health, incidence of malaria and other major diseases, and others who were deprived of safe drinking water and basic sanitation. Moving forward, after aligning SDGs with national priorities, Indonesia aims to improve its governance and economy as well as the security and living standards of its people. It also seeks to develop its regulatory and policy framework, institutional arrangement framework and accountability mechanism framework in addition to coordinating all levels of government, civil society, academics, philanthropists and private sector. Indonesia had declared these national objectives to the High-Level Panel of Eminent Persons of the Post-2015 Development Agenda (HLPEP) in its Voluntary National Review (VNR). In 2019, Indonesia reviewed its SDGs achievements, and reported an improvement of approximately 25-33% in each of the dimensions (social, economic, environment, governance) that needed special attention previously. Mr. Nugroho concluded that the way forward for Indonesia is to recalibrate its national priorities and reallocate its budget to tackle these remaining challenges and to improve the country's capacity to deliver on its development outcomes.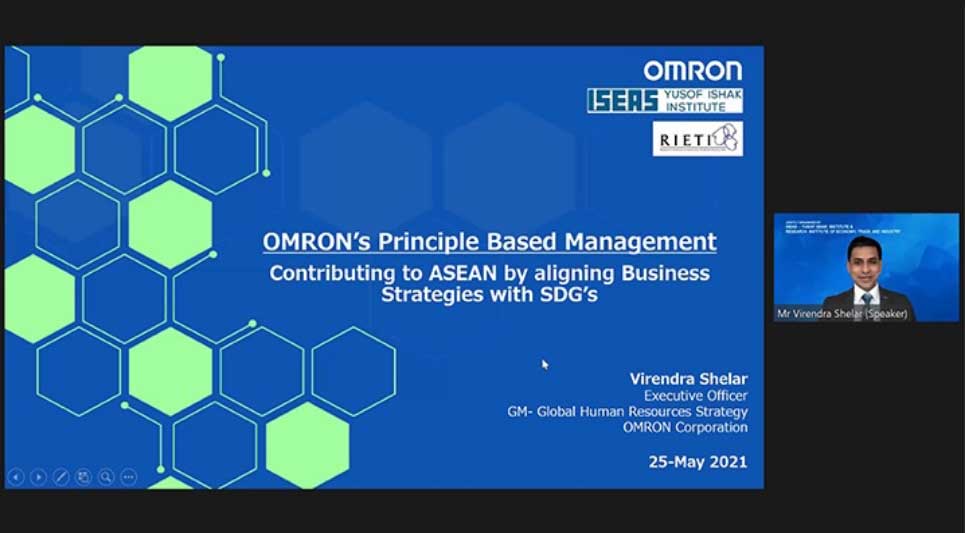 Subsequently, Mr. Shelar delivered a case study on businesses that contributed to ASEAN's Development Goals. He began by introducing OMRON, which was founded in 1959 with a mission to solve social issues through business, improve lives and contribute to a better society. Currently, OMRON is focusing its efforts on AI, Internet of Things and Robotics. It also continues to collaborate with partners to solve social issues such as labour shortage, ageing population, climate change and issues of urban environment. Some of its innovations in healthcare include its UVC Disinfection Mobile Robot, its ventilator machines and its Bionic Leg. OMRON aims to expand its business operations in ASEAN as it perceives ASEAN as a source of untapped economic potential. OMRON's vision of human resource management entails the hiring of right talents with the right capabilities and place them at the right places at the right time. Since 2010, it has gained recognition from different ASEAN countries for its social impacts.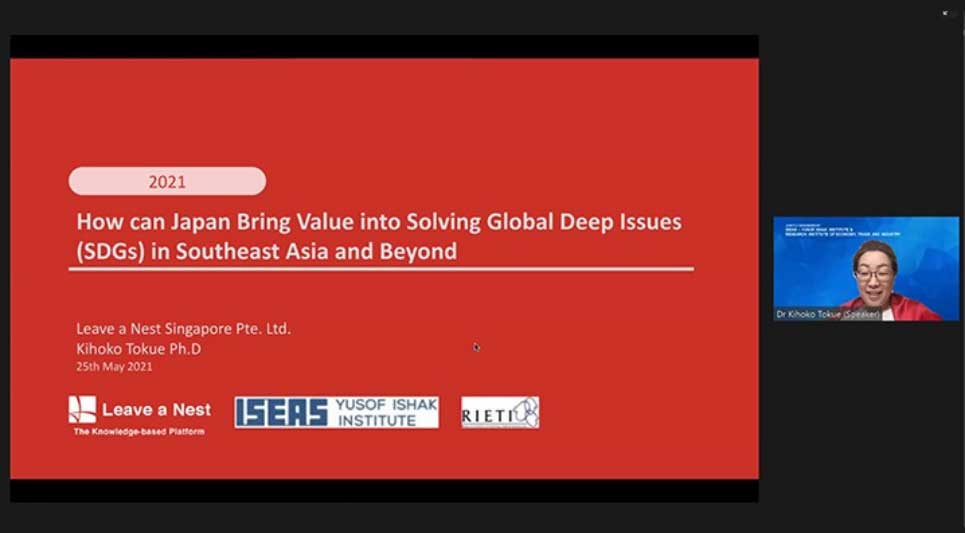 The presentation was then handed over to Dr. Tokue, who shared her experience and Leave a Nest's journey in solving social issues through scientific and technological research and developing researchers with the same goal. Leave a Nest started in Japan in 2002 and began with science workshops for children and moved on to support academia and bridging industry partners into the process in 2009. In 2014, it moved towards accelerating business creation by identifying social issues and exploring deep technologies that may contribute to solving them. Leave a Nest's current mission in solving global deep issues is to bridge communicators and entrepreneurs equipped with a solid scientific background and allowing them to venture out to develop businesses that can solve these issues. Dr. Tokue concluded by sharing that Leave a Nest is now looking into building the same ecosystem in Southeast Asia as there may still exist a gap in scientific and technical knowledge in Southeast Asia which if filled, could bring progress in the development of social issues in Southeast Asia.
Question-and-Answer Session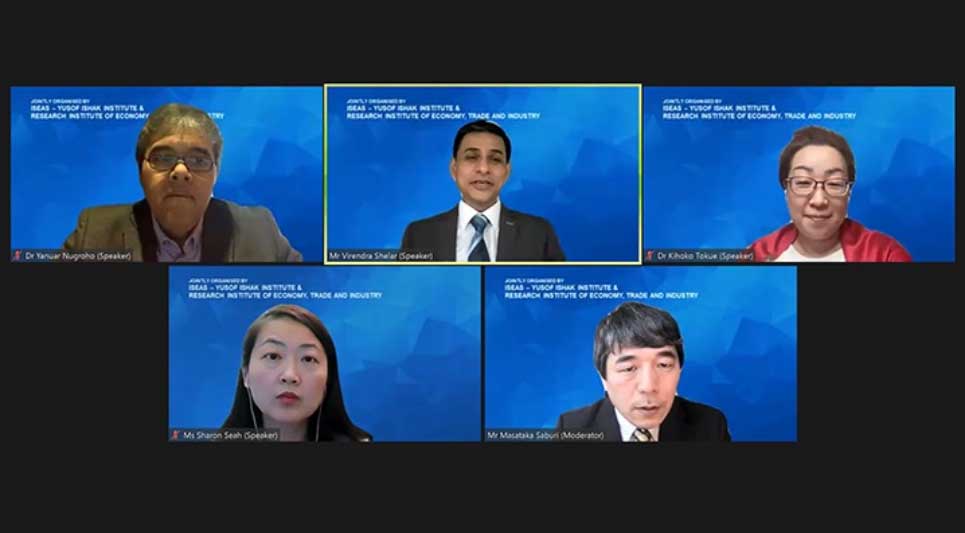 The webinar concluded with the four presenters engaging in a question-and-answer session. Questions asked included the details of OMRON's plans for ASEAN countries, and the specific plans OMRON and Leave a Nest have towards climate change issues in ASEAN countries.